Graham Reid | | <1 min read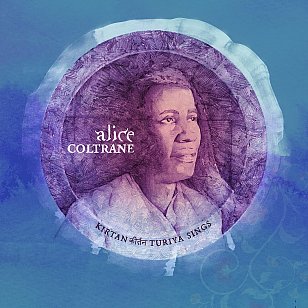 The wheel turns again, and -- more often today than just a few years back -- we are hearing spiritual music entering the consciousness.
Last month soulful singer Durand Jones said he wanted his music to heal people, a not uncommon sentiment right now.
And hardly surprising in these days of uncertainty.
Elsewhere has reviewed quite a few ambient, spiritual albums in recent times but Alice Coltrane's comes at us from half a century ago when – after the death of her husband John and seeking deeper spirituality and solace – she adopted the name Turiyasangitananda and recorded a series of meditative, Hindu-framed albums.
These songs – Coltrane, who died in 2007, only accompanied by a low Wurlitzer – were recorded at the ashram she established in California in the mid-Seventies and are Sanskrit hymns (Krishna Krishna, Rama Katha, Govinda Hari among them) and over the hour they have a powerful but subtle spiritual quality which is both meditative and transporting.
Far from the massed chanting of the Radha Krsna Temple or her other work, Kirtan -- more pared back than her recent Ecstatic Music similarly rescued from cassette tapes -- is a deep immersion which is intimate and restful.
Not for everyone of course, but these days probably more welcome than many albums.
.
You can hear this album on Spotify here.