Graham Reid | | 2 min read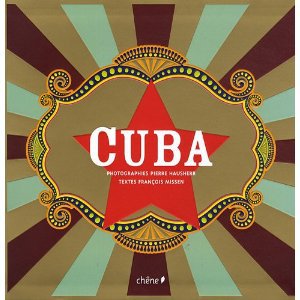 With the geriatric Fidel Castro literally shuffling off the stage leaving it to his brother Raul and a cadre of elders, these look like the end days of the Cuba which has existed in proud but imposed Leftist isolation and has stared down an American trade and cultural boycott for decades.
This has come at a price for Cubans who enjoy high literacy and endure poor living standards, but also possess a country which entrances the outside world for its buildings of fading grandeur and broke-down classic automobiles which are raided for spare parts just to keep the motor turning.
Cuba exists in the realm of the imagination for most: Big cigars and good rum; tattered architecture and cobbled streets; tough boxers and exotic music (the latter given a huge bump by the Buena Vista Social Club more than a decade ago); images from the past of it being a gangester's paradise where Sinatra hung out with Sam Giancana and his Mob buddies at the great hotels . . .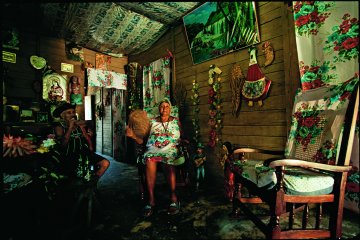 Cuba, and Havana particularly, is bathed in a golden and romantic glow . . . and quite literally so in this coffee table page-turner of photos by Pierre Hausherr who picks that time at dusk when walls shimmer in the gilt-edged sunset, the shadows are long and hard, and the light hits the facades of old buildings square on.
He also gets inside homes and bars, some none too grand or charming, to give an insight into the lives of ordinary folk. And by reading the decor as much as the people's faces we do get a deeper insight into the culture.
But to his credit Hausherr also moves the lens to the hinterland -- which seems equally photogenic -- and to rural scenes away from Havana where we are reminded of the tropical fertility of this island nation.
Interpolated also are historic images from the Thirties and Forties which resonate with, or act as counterpoint to, the contemporary photos. There are working people (big cigar smokers too) and curiously unexpected images (a boy in stars'n'stripes shorts).
Of course colourful street dancers, steamy bars and old musicians are featured strongly but you also get the sense -- those of us who haven't been there -- that most of these photos are unscripted and unrehearsed.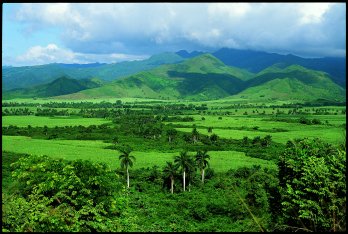 Some people -- kids mostly -- look a little bored by the glamorous (to us) circumstances in which they find themselves, but we get no insight into youth culture in this place which also has hip-hop goin' on.
The text here is another matter and charitably we might say that the translation from French has rendered some of this rather purple and overly poetic.
Whether Missen wrote from inside the character in photos -- for example "Hola amigo! Tell me; don't you think life is just beautiful?" which then shifts to the descriptive "I've got a cigar firmly planted between my teeth and the sun's not being cheap today" -- is up for debate.
With Cuban poetry and song lyrics dropped in -- sometimes enhancing your understanding of the images, at other times a propos of not a lot -- this is a book to look at perhaps more than read. Although every now and again a poem or description takes you just that little deeper into a Cuba which looks impossibly exotic . . . but also like a romantic love affair coming to a slow and crumbling end.
Cuba: The Sights, Sounds, Flavors and Faces. $59.99 Published by Black Dog & Leventhal www.bookreps.co.nz
Interested in more about Cuba? Then start here and here and follow the intralinks until you get a'weary.