Graham Reid | | 2 min read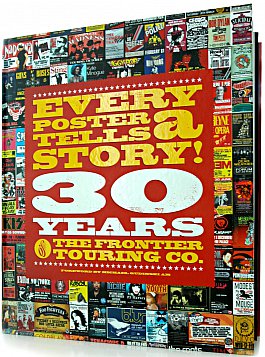 Many people who have grown up in the rock era have band posters knocking about the house. Some of these are artistic (my framed one of Big Brother and the Holding Company with Moby Grape in San Francisco in '68) and some aren't that special but evoke a particular memory (mine of John Cale at the Gluepot in September '83).
Posters can speak of an era -- compare brightly coloured late Sixties designs with the DIY black'n'white punk period imagery -- or resonate with some iconic image of the artist.
Rock posters go up on walls and billboards, pub walls and lampposts . . . and then are gone.
Usually.
But a good poster, or even a bad one, can -- as the title of this coffeetable-bending hardback volume says -- tell a story.
When Frontier Touring -- Michael Gudinski's company -- celebrated 30 years in the game (starting with UK Squeeze and the Police) it looked for ways to celebrate what Gudinski notes in his introduction here, "a business where you can be just one tour away from total disaster, 30 years in quite an achievement".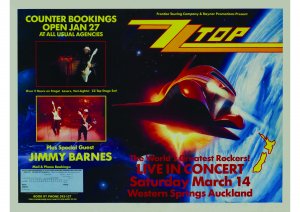 And you might guess just compiling this superb collection of full colour posters didn't exactly come easy either.
But here for page turning and pondering are literally hundreds (many, many hundreds) of tour posters of everyone from Joan Jett and Billy Idol to Frank Sinatra/Liza Minnelli and Sammy Davis Jnr.
In that alter-world where touring artists make strange bedfollows at any given moment, posters of Tracy Chapman and Kylie Minogue share a page with Skid Row and Bobby Brown.
What do we learn by looking through these pages?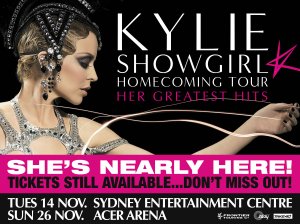 That Yothu Yindi had wonderful colourful artwork, that skulls are the most common imagery for hard rock band (Guns N'Roses, Suicidal Tendencies), that Radiohead were always serious and somewhat glum, that we'd forgotten about many people (Dione Farris, Pennywise, Bardot) and that Sting just seems to have toured and toured and toured . .
And that Kylie has always looked pretty hot.
As business picked up for Frontier so did the number of tours and so the first pages skip many months but from the mid Nineties onwards there are bands and artists falling over themselves on the live circuit.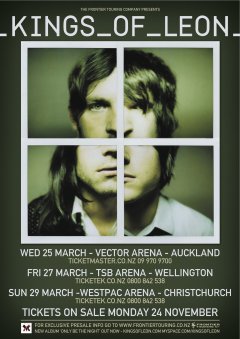 With fold-out pages for essays (Russell Baillie covering Frontier's foray into a new market, New Zealand) and a pleasingly inclusive selection (the Titanic Artefact Exhibition on the same page as Vampire Weekend), this is a real prompt to memory and will often make you say, "I didn't know they toured here".
Unlike the late Sixties or the punk era where one style (or variants of it) imposed itself on poster art, this book shows how diverse graphic design has become.
The 50 Cent tour poster looks like a glossy magazine cover, Franz Ferdinand's like some Russian Constructivist design and the Mars Volta 2007 tour poster some strange Surrealist confection.
And of course by having tour dates and venues noted, this is a book which will allow you to fill in those gaps in your autobiography when you were sure you saw Van Halen in the late Nineties but can't quite remember where. (Queens Wharf in Wellington, North Shore Events Centre in Auckland, August 1998)
See? Pretty to look at.
And pretty useful as well.
To order a copy of this 286 page large format book direct from Frontier go here.