Graham Reid | | 4 min read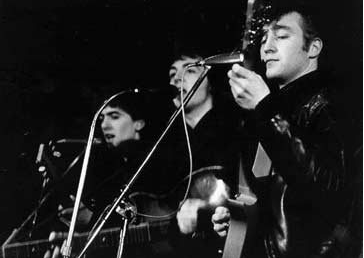 If the name Jurgen Vollmer isn't familiar at all, it's because it only ever appears somewhere around the first chapter of even the most brainless Beatles biography -- then drops out forever.
Vollmer was one of a group of self-styled existentialist art students in Hamburg -- photographer Astrid Kirchherr the most well known -- who, around 1960, adopted the Beatles, then playing in a local and somewhat seedy club.
The Beatles at the time were a five-piece (Lennon, McCartney and Harrison, Stuart Sutcliffe on bass, Pete Best on drums) and were playing all-night sessions in one of the toughest bars in the district. Vollmer, Kirchherr and Klaus Voormann (who did the Revolver cover, later to become a bassist with Manfred Mann, and with Lennon in his solo career) were all attracted to the primal rock'n'roll the band was pumping out.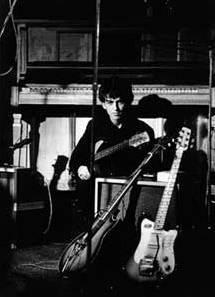 Friendships and relationships developed, notably between Kirchherr and Sutcliffe (who died of a brain haemorrhage in 1962 aged 21).
Like Kirchherr, Vollmer had an interest in photography and both assisted photographer and director William Klein. Inevitably both photographed the Beatles, individually and as a band.
Kirchherr's early work consisted of stark, strongly contrasting black-and-white images which the the British photographer Robert Freeman -- consciously with their prompting or unconsciously -- adopted for their classic With the Beatles album cover in 1964 and which set a style much copied at the time, and occasionally since.
Vollmer too set up shots with various Beatles who were enthusiastic participants in both arty and humorous sessions.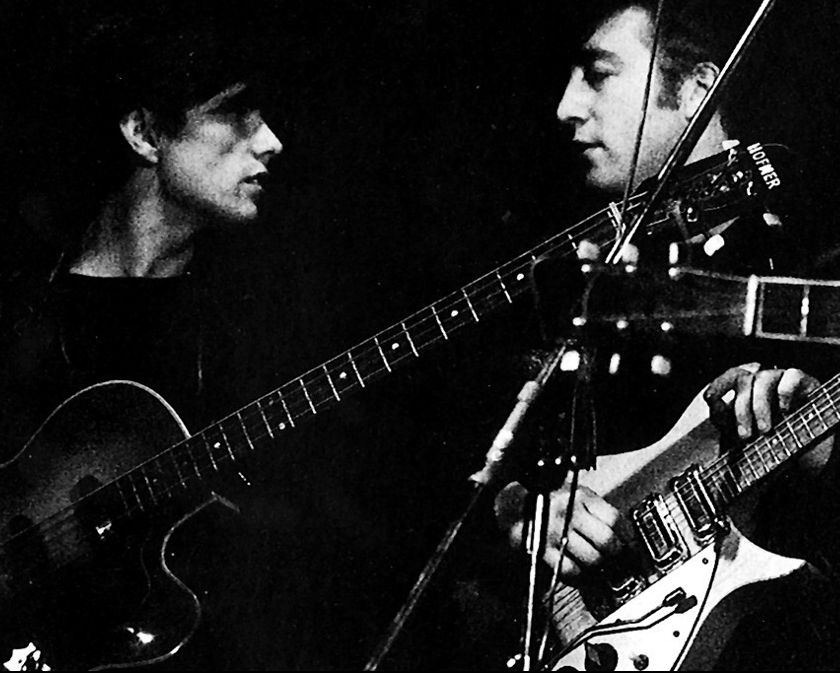 "Jurgen Vollmer was the first photographer," wrote John Lennon in 1975, "to capture the beauty and spirit of the Beatles (tho I say it myself)! We tried very hard to find someone with his touch after we returned from Hamburg, Germany . . . Nobody could. He loved rockers . . . And rock and roll . . . The photographs speak for themselves."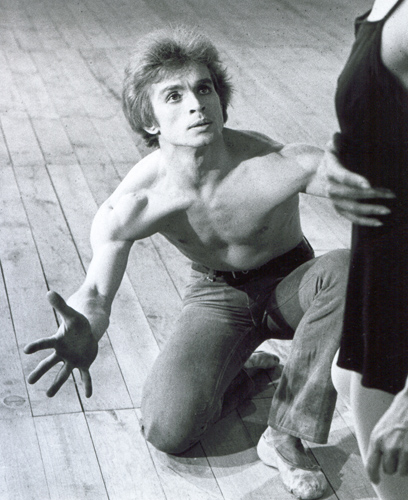 And McCartney in 1988 credited Vollmer with inventing their distinctive Beatle-cut which he said "was in fact a 'Jurgen' haircut."
That is borne out by the 1961 photograph of what might be described as a Beatle-fringed Vollmer in Paris which graces the frontispiece of From Hamburg to Hollywood, a collection of Vollmer's photographs through the years after those nights in the dank clubs of Hamburg.
At that time Vollmer also captured images of archetypal early Sixties rockers (swish back hair, side-boards and winkle-pickers) both in Hamburg and when he moved to Paris in 1961. He also snapped a mildly homoerotic portrait, Rudolph Nureyev in rehearsals in 1966 and a radiantly big-haired Catherine Deneuve while he was working as a stills photographer on movies.
In 1969 Vollmer travelled to New York with a French film crew -- and didn't leave America for 20 years. He spent time in New York (he candidly admits none of the people or bands he photographed there ever became famous) before moving to Hollywood where he seems to have the misfortune of photographing every lousy movie of the Eighties.
Along the way -- while snapping Sly Stone and Dolly Parton, Arnold Schwarzenegger in Raw Deal, and Olivia Newton-John with John Travolta -- he also took penetrating portraits of the late William Burroughs and Dirk Bogarde. He travelled to Senegal and Egypt in the late 70s and in 1991 took a striking image of the aged Jeanne Moreau which stands as a counterpoint to the vivacious face he captured directing L'Adolecence in 1979.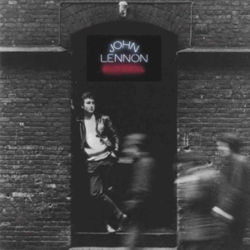 His most famous picture however is that used by Lennon on his 1975 Rock'n'Roll album which has the leather-jacketed teddy boy Beatle of 1961 slouched in a Hamburg doorway.
That photograph, along with a dozen others from the same session, are also included in From Hamburg to Hollywood, another in the series of limited edition books from Genesis Publications in the UK.
Previous editions in the handsomely bound, individually numbered limited editions have included Gered Mankowitz's From Mason Yard to Primrose Hill which was an exceptional collection of photographs of the Rolling Stones as they aged from and wearied in two short years from 1965 to their Between the Buttons album, the famous cover of which Mankowitz shot.
Genesis Publications also printed the Sometime in New York City collection of Lennon/Ono photographs by Bob Gruen, the $1000 edition of Blinds and Shutters by photographer Michael Cooper. There is also the 2000 print run of the autobiography of Ravi Shankar, Raga Mala, which comes in a special presentation box complete with incense sticks, a sitar plectrum, two CDs and is bound in Indian silk.
The Vollmer set parallels that of the Cooper which came packaged like an enormous box of Kodak developing paper in handbound Moroccan leather. From Hamburg to Hollywood comes in a presentation case like a box of photographic paper and has a foreword by McCartney. Each of the 1750 editions is signed by Vollmer and comes with one of four period Beatles shots, also signed.
Vollmer also sketches out his life between the pictures in a series of sometimes disconnected but interesting anecdotes.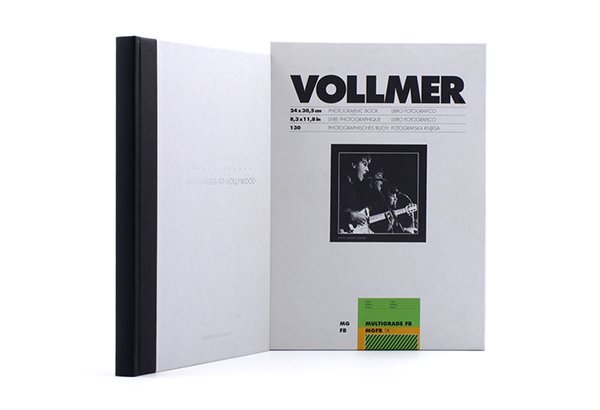 His story about Jean Genet is amusing: the Black Panthers had smuggled the old reprobate writer into America through Canada for a week of speaking engagements in 1970 in the belief that a homosexual French writer who had a criminal record was bound to bring them prestige among white liberal intellectuals.
Genet was hidden at Vollmer's New York apartment and although little of great import came out of the experience, Vollmer must be one of the few people on the planet who can say he cut John Lennon's hair, took photographs of Nureyev, Barbra Streisand and Madonna . . . and slept with Jean Genet.
There is an excellent interview with Jurgen Vollmer about his Beatle days here.
For more on Genesis Publications' limited edition, high-end books see here.