Graham Reid | | 3 min read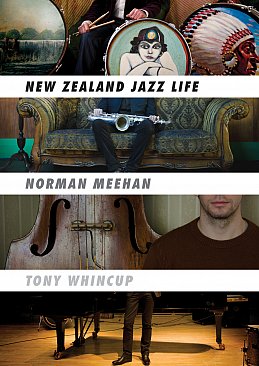 Presented like a piece of jazz – themes laid out and explored, then space for soloists to let their distinct voices be heard – this tight 240-page paperback is an important and very welcome addition to the small body of literature on recent New Zealand jazz.
Chris Bourke's excellent Blue Smoke; The Lost Dawn of New Zealand Popular Music 1918 - 1964 and the University of Auckland's Aleisha Ward's thesis Any Rags, Any Jazz, Any Boppers Today? Jazz in New Zealand 1920 – 1955 effectively discuss the formative years when jazz was a dance music.
But the world after the Sixties when jazz morphed into an art form for consideration and analysis remains largely unexplored.
And it's not like there's been nothing going on. In his Outro while paying tribute to the archive of recordings documented by Dennis Huggard (270 albums until 2000), Meehan – a composer, performer, recording artist and teacher himself – says he is aware of at least another 120 new albums since then.
For an art form which has long been on the margins of popularity and, for most musicians, even further from any commercial success, jazz remains a stubborn beast, just working away and the music often being its own and only reward for its players.
Meehan from Wellington – who wrote the fine Mike Nock biography Serious Fun – quite rightly puts himself into the picture in his intro when he discusses how he came to jazz, then steps back to let the first player take up his microphone.
It is Auckland saxophonist Jim Langabeer who then does the same for the topic Finding Jazz. When he talks of sending postal notes to England to buy records and the hassle of picking them up from the inquisitive and suspicious people at Customs it seems like another age.
And it was.
(Declaration, in the Eighties Jim and I briefly and courageously imported albums on the Artists House label out of America and Russian/Eastern European albums through Leo in London. We never made any money by we certainly have some wonderful and strange albums on our shelves. And what a hassle at Customs!)
And so the book plays out: Meehan – with quotes from other musicians not interviewed at length – lays out his themes such as Learning to Play, Getting Something Happening, Should I Stay or Should I Go? and so on to The Way Forward – then after each steps aside for musicians Frank Gibson Jnr, Anthony Donaldson, Kim Paterson, Nathan Haines, Lucien Johnson, Jeff Henderson and Roger Manins to have their say.
There's an admirable breadth here in those names, those who came through in the late Fifties and early Sixties to the millennials, and as much as anything it is their tenacity you admire. There's no topic Making Money: that might have elicited some amusement, but been a rather short chapter.
Some topics deserve greater exploration – Meehan concedes to problems of gender inequality and the paucity of Maori and Pacific artists, not to mention more recent migrants who may or may not be playing.
Yet of the latter he does note the efforts, albeit cautious, of people like Chris Mason-Battley to incorporate elements of waiata and taonga puoru in their compositions.
It has always struck me as peculiar that jazz composers have run about two decades behind pop, rock and hip-hop artists in attempting to assimilate aspects of the indigenous music of this country into their work . . . but on the bright side it means the field remains wide open for those who want to try.
The accumulated wisdom and experience of the musicians in these pages is formidable: many have played overseas (some for years) but Wellington's Jeff Henderson – who is a prolific recording artist and entrepreneurial when it comes to creating performance places such as Space and Happy – has an interesting take in his comments in the chapter The State of Jazz in New Zealand.
"I have been overseas and I've been to some great places, but I suppose it was a challenge just trying to be a musician here, and I was up for the challenge.
"The challenge is not insurmountable and there's incredible stuff going on all over the place in New Zealand . . . I do think what I'm doing has to be what's happening now and not thinking about wanting to play somewhere else.
"I've certainly felt that – wanting to go and be somewhere else – but these days I think it's got to be now and what's happening here."
Meehan's book captures much of that present tense and also lets the players speak about their own lives, so it is a look back through the lenses of individuals' experiences.
The themes he presents thoughtfully are those which have long provoked musicians and their fellow travellers like fans and critics, and to have them presented in such a digressive, readable discussion makes this book not just a valuable addition to a small body of work but a thoroughly enjoyable one.
Jazz is a music of the bandstand of course, so most speak of the working life (the struggle in fact) but at the end Meehan includes a list of albums to explore which remain reasonably readily available.
(There is a considerable list of New Zealand jazz albums which are unfortunately not out there any more.)
Co-credited on the cover is photographer Tony Whincup who shot the insightful portraits which accompany the text. Unfortunately many are horizontals and are cut across by the book's gutter.
More unfortunately however is that Whincup, a bassist himself, died in 2005 before he could complete the project.
New Zealand Jazz Life stands as a testament to Whincup's skills and also to those who are included as much as to Norman Meehan's work in conceiving and writing such a book which is both reference text for the shelf and engaging reading.
New Zealand Jazz Life by Norman Meehan. Victoria University Press $40