Graham Reid | | 1 min read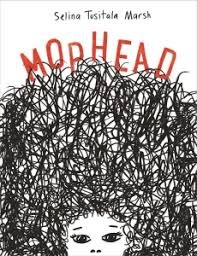 Auckland academic, former New Zealand Poet Laureate, award-magnet Selina Tusitala March – the first person of Pacific Island descent to get a PhD in English at the University of Auckland – has appeared a couple of times previously at Elsewhere with her poems Fast Talking PI and Guys Like Gaugin.
But this self-illustrated book takes her in another direction, back through a personal story about how her big and sometimes unruly hair made her self-conscious when she was 10, was sometimes the subject of ridicule (hence the title) and set her apart . . . until another mophead entered her orbit.
It was poet Sam Hunt – also tall and thin --who came to her school with his wild hair and wild words.
In not so many words she, as a teenager, saw a kindred spirit . . . and he didn't care what people thought.
"We were the same kind of different."
And so her short story goes across spacious pages of idiosyncratic drawings of her multi-culti family background (Samoan, Tuvaluan, Scottish, English, French), the mop in the garage which was also tall and thin and had a wild head of "hair" and the tokotoko made for her when she became Poet Laureate.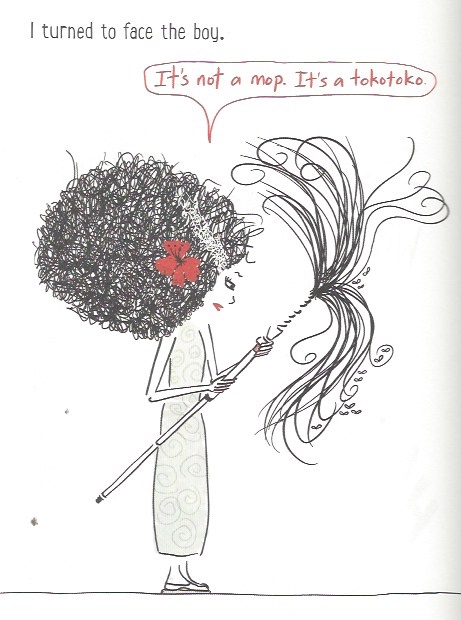 And it too had a wild head.
This is a delightful story which is not just affirming but opens up discussions for young people about their own heritage, their own differences to accept and embrace, about pursuing a passion and so much more.
It is witty and self-effacing, places her considerable successes within the context of a woman with big hair and a job to do (poetry, of course).
And it has a neat circularity when she encounters a young boy on the ferry home to Waiheke who makes fun of her tokotoko.
"Do you want to hear a story?"
"Um . . . ok"
"When I was 10 . . ."
MOPHEAD by SELINA TUSITALA MARSH (Auckland University Press $24.99)