Graham Reid | | 4 min read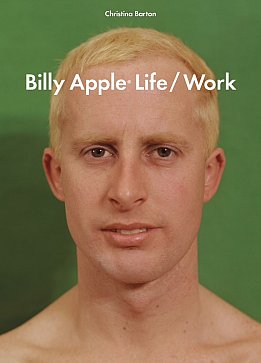 Although a jury of art critics and curators might reach a favourable consensus about Billy AppleⓇ's 1974 exhibition From Barrie Bates to Billy AppleⓇ1960-1974 – which occupied the Serpentine Gallery in London -- we can guess how the hoi polloi would have dismissed with disbelief and possibly anger.
If they'd bothered to see it.
This was an entirely self-centred exhibition where Barrie Bates from Auckland advanced his new persona and brand, the trademarked name he had adopted in '62: Billy AppleⓇ.
The exhibition space was devoted to what critic Nigel Gosling in the Observer Review described as "introspection carried to the point of obsession" which was "rather pathetically self-absorbed".
Ordinary folk would have been more scathing of the objects which included a display of his ear wax, semen, snot and such on paper napkins along with the artist's image and name everywhere.
Four days after it opened and acting on a complaint to the police, the exhibition was temporarily closed and certain items removed.
Apple documented the removal and that too, for hm at least, was part of the project.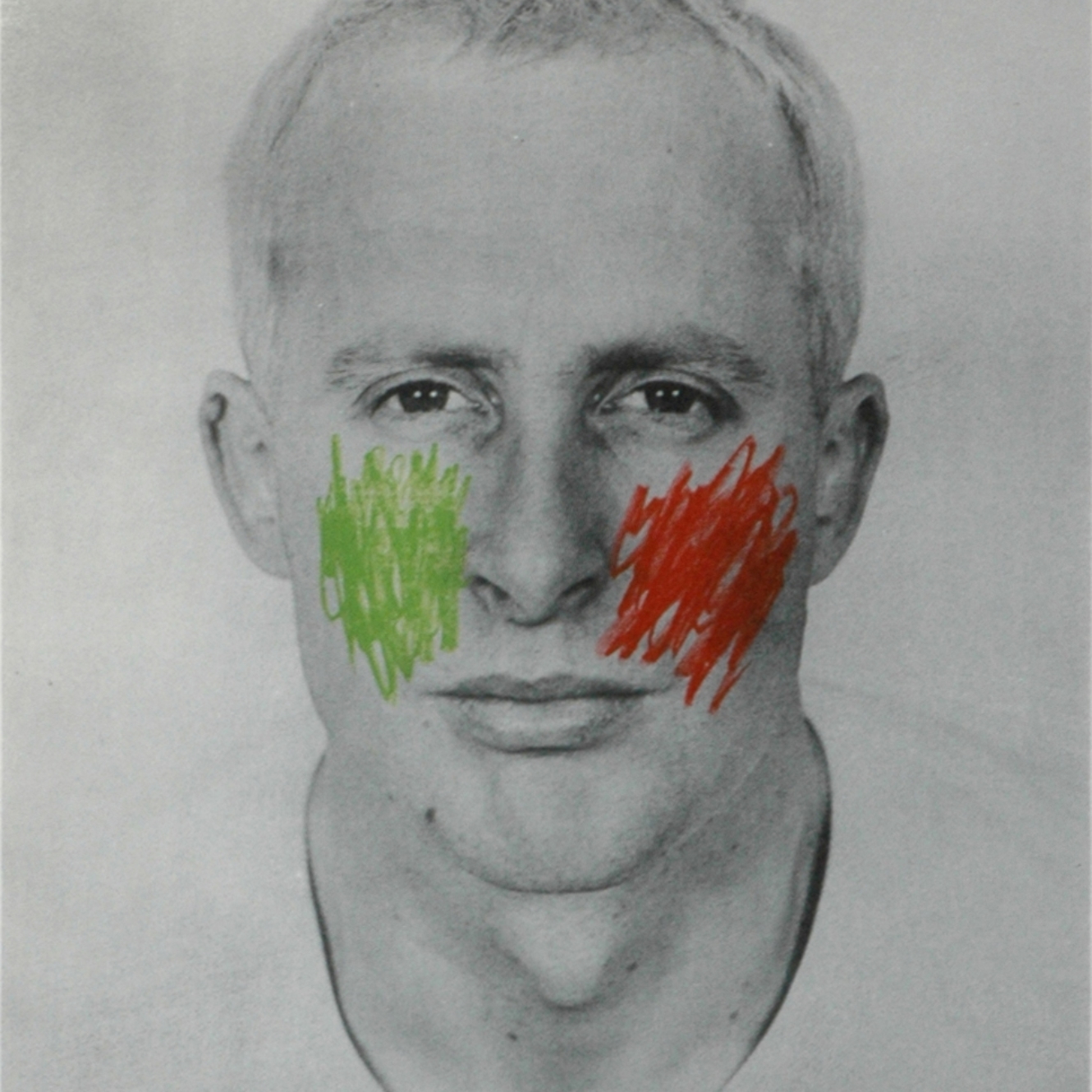 The exhibition may have been self-indulgent and visually mundane, not to say less provocative than it appeared, but at least it had a few desired effects: it announced the arrival of Billy AppleⓇ, got him noticed and played right into the zeitgeist of conceptual art as it had been played out in the Sixties and early Seventies.
Apple's visit back to New Zealand the following year meant another series of exhibitions in his homeland, almost diametrically the opposite of the detritus of his life in the Serpentine.
In various venues – notably the Barry Lett Gallery and the Auckland City Art Gallery in Auckland, and Wellington's Settlement Gallery – Apple emptied out the exhibition space for his Subtraction series (which also included a precise inventory of everything removed).
TJ McNamara's front page review of the Lett space for the New Zealand Herald (with a large photo of the empty space) was a blank space.
Championed by the art writer Wystan Curnow who had done PhD studies in Philadelphia and was aware of the New York art scene, Apple was hailed in some circles as being part of the international avant-garde as opposed to the inward-looking regionalism of previous decades when artists – and writers, musicians and others – sought to define a kind of New Zealandness.
Apple was well beyond that and on a purely intellectual level there was something very engaging about his Subtraction work.
As he himself noted, "The result of subtraction is absence. But absence cannot be defined as the result of subtraction, the reason being that absence does not necessary imply there was anything there to begin with".
These days many artists seem loathe to engage with the public discourse about their art, preferring to default to that hoary and somewhat lame excuse of "asking questions" or "provoking discussion". These artist become mute provocateurs and suspiciously let the curatorial class do the rationalising on their behalf.
But Apple engaged with the notion of what contemporary art could do and Curnow – a sometime collaborator – was also effective in batting around the ideas in a persuasive manner.
This assiduously researched biography of Apple and insightful assessment of his work by Christina Barton (director at the Adam Art Gallery at Victoria Uni in Wellington) doesn't shy from noting critical comment and it certainly would seem like the last word on Apple's career.
In that she had considerable help from the artist himself who has a warehouse in Auckland filled with his work, notes, drawings, photos, motorcycles . . .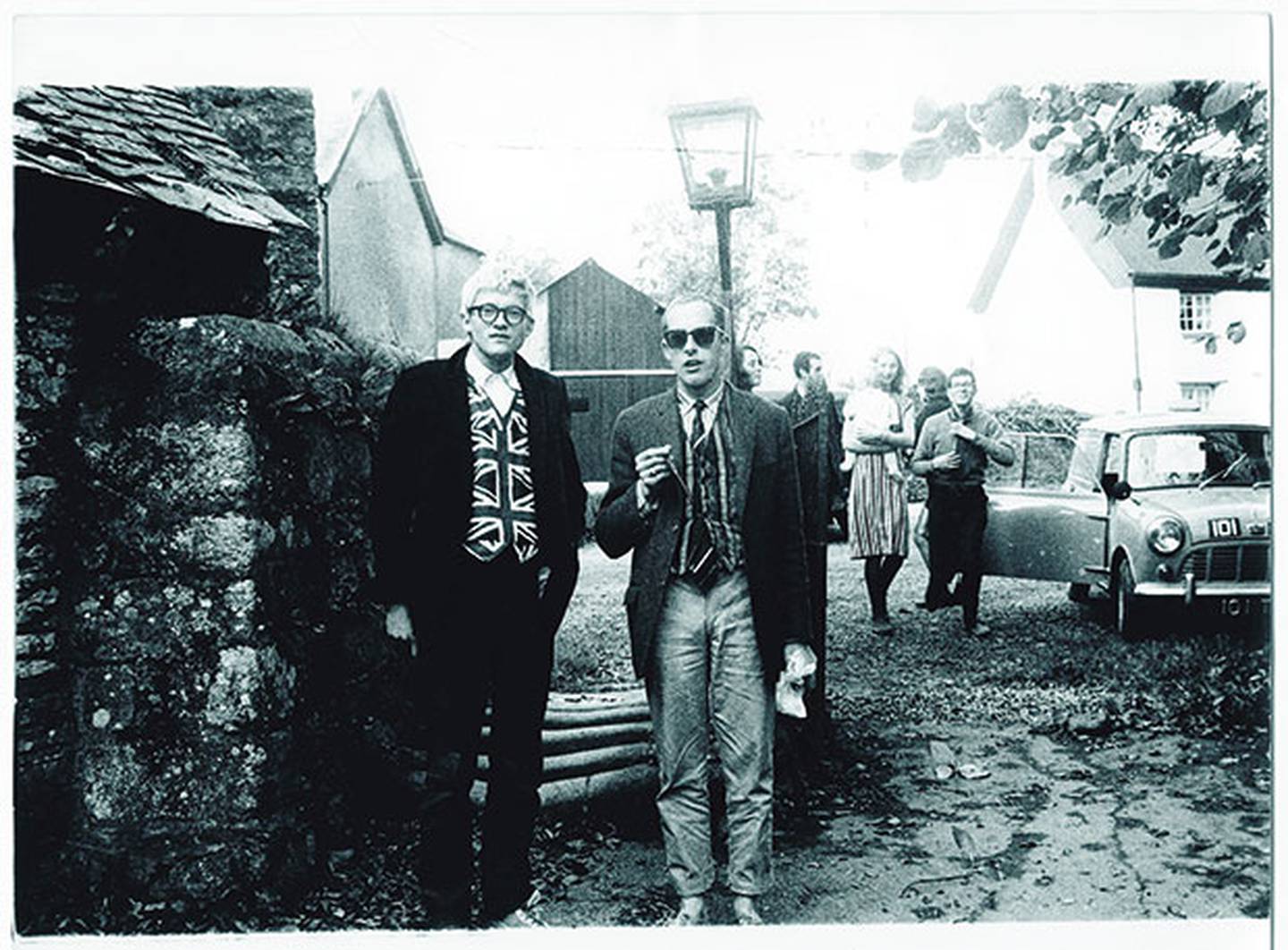 Barton traces the trajectory of Barrie George Bates (b December 1935) as an art student and commercial artist (more successful as the latter for many years) who arrived in London at the dawn of the effervescent Sixties, found work in the commercial field while studying and creating art, and counted among his friends and acquaintances David Hockney, photographer Robert Freeman (perhaps best known for his later album cover photos for With the Beatles and Rubber Soul), Derek Boshier and many others.
He moved between conceptual ideas, drawing and photography, went to New York, contacted the likes of Robert Indiana and dealer galleries, met Andy Warhol . . .
He was swimming in the right waters but as this biography makes clear he had yet to find his true calling. That arrived when he became Billy AppleⓇ, the name, the artist, the brand and the concept.
He dyed his hair, used the apple motif for some work, became the focal point of the art itself, used his skills in the commercial realm to create striking typographic representations of his name, went back to New York and . . .
His famous Golden Apple on 1983 – an apple cast in gold – was not just provocative in terms of how it questioned the marketplace of art but – as with Damien Hirst's breathtaking For the Love of God skull – a very beautiful object in itself.
"With The Golden Apple," he said, "the substance of art and monetary value are one and the same. My name and the name of the objet d'art are also one and the same."
Apple was not just asking questions or provoking discussion but participating in the dialogue.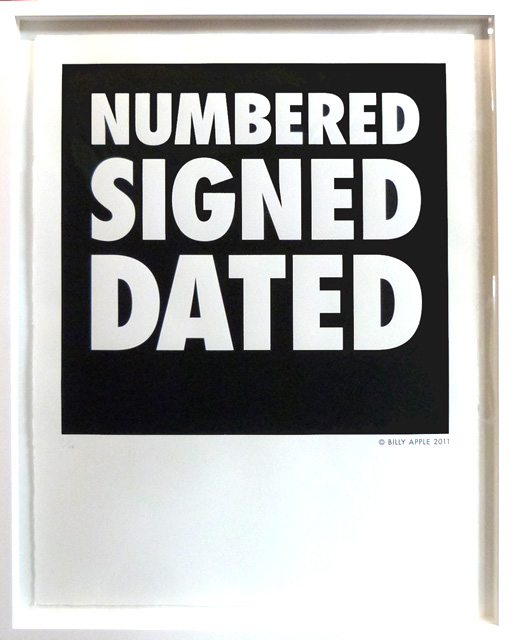 Juries of cognoscenti and citizens may still suspend judgement on Apple's output but this handsome, deep and wide biography (which sidesteps some of his personal life and at times rather over-eggs praise for everything he has done) is a valuable insight into the how and why of the creator/artist/subject.
It does seem a stretch for the publicity to claim that Apple is "New Zealand's most internationally significant artist" but we'd have to agree after this tome he certainly was "a pioneer of Pop and conceptual art" . . . albeit at a time when those were the two most fashionable streams in contemporary art when Barrie Bates became Billy AppleⓇ.
.
.
BILLY APPLEⓇLIFE/WORK by CHRISTINA BARTON, Auckland University Press $75