Graham Reid | | 1 min read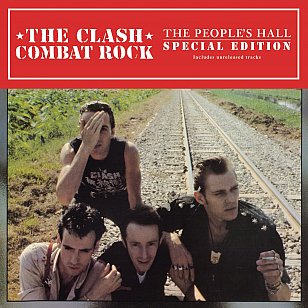 Although there was a subsequent album – the awful Cut the Crap – Combat Rock in 1982 was the last Clash album anyone could take seriously.
Which isn't to say it's any good.
It arrived in a nondescript cover almost free of meaning, aside from the band members looking in different directions, and while the title resonated with their militant stance it could also have referred to the group pulling itself apart.
Guitarist/writer and co-founder Mick Jones had wanted a double album but – after their London Calling (a double) and Sandinista! (a triple) – the record company, and worse his bandmates, refused him.
Jones and singer/writer and guitarist Joe Strummer had been at loggerheads for some time about the band's direction. Heroin-addicted drummer Topper Headon was shoved out even before Combat Rock was released.
Combat Rock – with bassist Paul Simonon – was the final album of the classic line-up and, despite the tensions, stood as an uneven but economic Clash album which sprung two hits, Rock the Casbah and Jones' Should I Stay Or Should I Go which might have been about his off-on girlfriend Ellen Foley (who sang back-up on tuneless Car Jamming) or Jones' question about whether he was still wanted in the band.
He got his answer soon enough, 14 months later after a volatile American tour he was fired by Strummer, Simonon and Clash manager Bernie Rhodes.
On its 40thanniversary Combat Rock gets reissued with People's Hall, an extra disc of outtakes and rarities from the same period.
The best Combat tracks – Rock the Casbah, Should I Stay, Straight to Hell – show a band still capable of greatness but elsewhere there are lesser returns. Mostly because Strummer decided he was a better spoken-word barker-cum-orator than a singer.
He was wrong.
The opener Know Your Rights is a declamatory rant ("you have the right not to be killed"), the lo-range funk Red Angel Dragnet with spoken word passages by Paul Simonon lifted from Taxi Driver is little better and former Beat poet Allen Ginsberg reads some dire rhyming couplets on Ghetto Defendant which might have been better remaining as a reggae instrumental which underpins it.
The People's Hall tracks place context around Combat Rock but with the exception of their hip-hop influenced This is Radio Clash and the jazzy Fulham Connection little here is essential Clash: Futura 2000 features rap from the graffiti artist of that name who appeared on Combat's serviceable Overpowered by Funk (it can charitably described as "old school"), there are jams and retread reggae, and no one needs the four minute-plus audio-verite opener of people waiting outside a Clash concert.
Combat Rock found a dysfunctional band wading through punk, rock, hip-hop and reggae influences and the 24 track expanded reissue -- which could be whittled into a decent single album – invites no major reconsideration.
But it was better than the Crap that followed.