Graham Reid | | 3 min read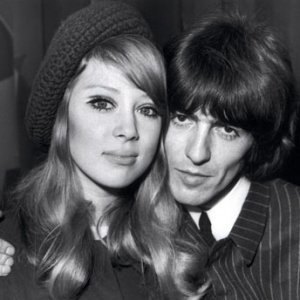 And it's a belated happy birthday to the former British model Pattie Boyd who turned 74 on March 17.

Boyd is something more than a footnote in pop culture – she was only a model for a few years – because she inspired a remarkable number of songs from her two husbands, George Harrison and Eric Clapton.

She first met George Harrison on the set of the Beatles' film A Hard Day's Night in 1964 and at the peak of their happiness, Harrison wrote Something ("in the way she moves") about her, a song which Frank Sinatra mistakenly described as his "favourite Lennon-McCartney love song".

She was also the impetus behind his I Need You in Help! and then, when they were breaking up, Isn't It A Pity on Harrison's solo album All Things Must Pass, which included Clapton on the sessions.

And it was Clapton – Harrison's best friend – who she later took up with, then married. He too wrote about her in Wonderful Tonight in 77.

But Clapton's most important song about her was the agonised Layla, written when he had fallen for her while she was still with Harrison.

Into Layla in '70 ("you've got me on my knees, I'm beggin' darling, please") Clapton poured his fraught emotions -- the unavailable wife of his best friend – while grappling with the early throes of heroin addiction and the emotional turmoil of a lightning-fast career.

His album Layla and Other Assorted Love Songs – recorded in Miami and which appeared under the name Derek and the Dominos in '71 – included a number of songs about his fraught and long-distance love for Pattie: Bellbottom Blues ("it's all wrong, but it's alright" and "I don't want to fade away"); I Looked Away; the versions of Have You Ever Loved a Woman? and I Am Yours, and the urgent Why Does Love Got To Be So Sad?

But Harrison's version of the old Everly Brothers' classic Bye Bye Love is one which rarely gets mentioned in the George-Pattie-Eric love triangle, perhaps because it is humorously resentful – but more likely because it appeared on Harrison's very patchy Dark Horse album (which also included So Sad about their crumbling marriage).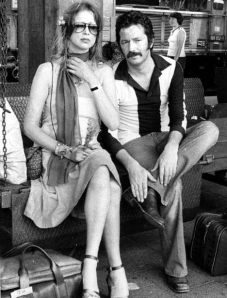 It's kinda funny though: "There goes our lady with "a you-know who", I hope she's happy and "old Clapper too". We had good rhythm and a little slide, then she stepped in, did me a favour, I threw them both out".

Bitter?

It was an odd situation all round – especially because it was a four-side triangle: for a few years since he had fallen for Pattie, Clapton had been with her younger sister Paula so he could be close to Mrs Harrison – who broke up with him when she heard Layla.

Around the time of this song -- on which he joking includes Pattie and Eric in the band credits -- Pattie left Harrison and took up with Clapton, they married in '79 but divorced a decade later.

Interestingly, she had a fling with Ronnie Wood after Eric but he didn't write anything about her *, she barely rates a mention in Harrison's autobiography I Me Mine (then again nor do John Lennon or Eric), and Clapton doesn't play Wonderful Tonight much these days.

But Pattie Boyd, coming to New Zealand soon to tell her story at an expensive chat session (our advice is pick up a secondhand copy of her interesting autobiography Wonderful Tonight instead), lives on in some classic songs.
And this one, not such a classic.
* In his autobiography Ronnie, Wood reminds us that his wife Krissie -- whom he'd pinched from Eric -- had a fling with George and he notes "if you look at it sort of like a jigsaw puzzle you can see how our lives have fit together over the years". Someone at the chat session might like to bring this up.
Harrison also had an affair with Ringo's wife Maureen and Clapton was with Boyd's yonger sister before they got together and . . .
For more one-offs, oddities or songs with an interesting backstory check the daily update From the Vaults. There's a swag of material about George Harrison at Elsewhere starting here, and on Eric Clapton starting here.