Graham Reid | | 2 min read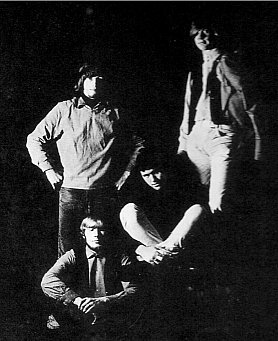 Chants R&B, who styled themselves "soul agents for r'n'b," were a raucous four-piece from Christchurch, New Zealand who would seem to have been in cultural isolation from r'n'b rock of the mid Sixties by them being at the bottom of the bottom island at the bottom of the world.
But Christchurch had an American airforce base and so -- as with Max Merritt and Ray Columbus before them -- the Chants R&B were hearing the sounds of Otis Redding and Motown soul, blues and garagebands alongside the new sound of raucous blues-based rock out of Britain by bands like the Downliners Sect, the Pretty Things and John Mayall's Blues Breakers.
Out of this cauldron of styles, and dressed in an approximation of Carnaby Street mod-cool, they took the city by storm with their wild stage antics, feedback and sets which included I'm Your Witchdoctor, Don't Bring me Down, I Feel Good, Land of a Thousand Dances and other crowd-pleasers.
Some of their fans apparently thought the R&B in their name stood for "rumble and bang" and that seemed a fair conclusion.
The band -- originally the Chants, with Mike Rudd (singer/guitarist), Trevor Courtney (drums), Jim Tomlin (lead guitar, replaced by Max Kelly) and Pete Hansen (bass, replaced by Neil Young) -- made their own amps and modified their guitars, had a residency at the Stage Door (where they recorded live in '66) and eventually made their way to Australia.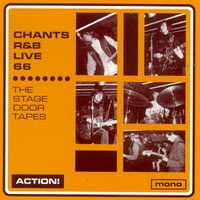 Theirs was a short career - they broke up in '67 -- but their legacy was imprinted on the generation which saw them live. And in more recent times some of their tapes have been released, notably the vinyl album Live 66: The Stage Door Tapes released in 2000.
This captures relentlessly lo-fi, throat-abusing, rockin' blues. Actually, no-fi might be more fair, since it was captured on a cheap tape-recorder in the club.
A better sounding collection however is Stage Door Witchdoctors (also on vinyl, from 2009) which includes originals alongside their covers on the first side, and them live at the Stage Door on the second then closing with a very funny interview in '66 (stoned?) where they suggest they are leaning more towards jazz and speak about their antics.
"You try playing upside down".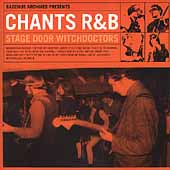 Like the La De Da's and Larry's Rebels in Auckland, Chants R&B played with a passionate intensity that fairly flies off these monaural grooves.
So here are ill-recorded but fabulously unvarnished versions of Smokestack Lightning, Dimples, Land of 1000 Dances, a breakneck I Feel Good and a thoroughly messy Slow Down, on Live '66 where they sound like nothing so much as the Sex Pistols.

Bad sound but great sounds, if you know what I mean.
These two limited edition slabs of vinyl (Live '66 also on CD) captured that moment when youthful energy, increasing musical competence, devil-may-care attitude and volume met in a happy and noisy conjunction.
And now, perhaps long overdue, they get their doco with Rumble and Bang by Jeff Smith and Simon Ogston. It comes with the tag, "the best New Zealand band you never heard".
True perhaps, but not for much longer.