Graham Reid | | 3 min read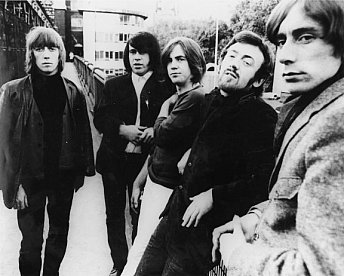 Most people lie about their school days: no one wants to admit they were ordinary. Better to say you hung around behind the bike shed, that teachers and kids hated you for your music, clothes or whatever.
Oh, and you smoked.

Just makes you seem more cool and interesting -- and most people weren't.

One of the lies people who formed their musical taste in the mid Sixties tell is that you were either a Beatles or a Stones fan. Those liars will always say they were Stones' fans.

Makes them sound cooler, the rebel kind.

That wasn't my experience. In those days radio wasn't balkanised into white music, black music, MOR or whatever and you could hear Joe Tex and Sam Cooke alongside Napoleon XIV, the Supremes, and Roger Miller's King of the Road. People listened to everything.

Elvis, who by then was making shitty films, was another matter. But we all bought A Hard Day's Night and Get Off Of My Cloud as well as singles by the Small Faces, the Kinks, Four Tops and Dave Clark Five.

However there did seem a line drawn at the Pretty Things who crashed into our world in '64 with an ear-blistering slice of garageband pre-punk noise, Don't Bring Me Down.

A mere 2.35, it opens with a thin guitar twang and then gets down to serious business over a thumping, primitive Bo Diddley-style riff before singer Phil May tears his vocal chords on "I'm on my own, just wanna roam, I tell you girl, don't wanna home . . ."

Then wailing harmonia sears through.

May didn't want to hold your hand or be your man: "I met this chick the other day, and then to me, she said she'll stay. I got this pad, just like a cave, and then we'll have our living made." [Which I always thought was "and then we have, a little rave"].

And more: "Then I lead her/laid her [?] on the ground, my head is spinning round, don't bring me down . . ."

Jesus! Sex right then and there, and don't fuck with me?

The Pretty Things were raw and primal in a way even the Stones weren't. They were in fact the band the Stones might have been.

Guitarist Dick Taylor had gone to the same art school as Jagger and Richards and they'd formed an r'n'b band. When the superior player Brian Jones turned up Taylor shifted to bass and they became the Rollin' Stones, after the Muddy Waters song.

A short time later Taylor quit, hooked up with May and after some line-up changes the Pretty Things settled with Taylor, May, rhythm guitarist Brian Pendleton, bassist John Stax and drummer Viv Prince whose behaviour made Keith Moon look like a choir boy.

The Pretty Things were also the hairiest band around and made no attempt to embrace pop success. They unapologetically played direct'n'dirty blues-based rock'n'roll.

Schoolfriends who'd loved the Stones recoiled at the sheer noisy intensity of Don't Bring Me Down. Even today the middle section is more white noise than an instrumental passage: the guitars and the harmonica collide brutally.

It is thrilling -- and proved perfect parent-baiting music, which may have been much of its appeal to 13-year olds like me. Garageband rock -- although we didn't know that's what it was -- became part of our musical landscape right then.

From there it was on to the Downliners Sect and late Sixties metal noise-merchants like Blue Cheer. When the Stooges rolled around they seemed easy and logical, but when Bowie covered Don't Bring Me Down on Pin Ups he sounded like a pussy.

The Pretty Things came to New Zealand in '65 and created chaos for two weeks: fights, drunkenness, editorials and articles railing against them, groupies, Prince ejected from the flight to the States (no condition to travel) and lots of noise.

That astonishing story is told in dirty detail in Don't Bring Me Down . . . Under by Mike Stax, Andy Neill and John Baker (Ugly Things Publishing).

Few bands have matched the lecherous firepower and debauchery, the gristle and sinew, of Don't Bring Me Down, a behind-the-bike sheds favourite.

I loved it. I guess that made me too cool for school, huh?

This is lifted from my original 45 so has lovely surface noise. As Iggy Pop said of CDs, "Life has surface noise, get over it." For more oddities, one-offs or songs with a backstory see From the Vaults.