Graham Reid | | 9 min read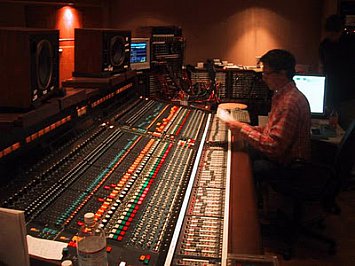 In a sense, the group's name was the problem: The Beach Boys. It was ideal when they were singing short-hair clean-cut Californian surf and hotrod songs in the innocent early Sixties.
But as the decade turned, the Beatles arrived, passing marijuana replaced waxing down the board, and the Beach Boys music became more complex . . . but the band's name sounded juvenile and not a little embarrassing. It became an anachronism in the days of Grateful Dead, Jefferson Airplane and . . .
By the time of Pet Sounds and the sublime single Good Vibrations just after the middle of the decade they were a very different group from that which had sung Surfin' USA. The hints of their greatness had always been there in Brian Wilson's writing (a song as deep as In My Room and the pivotal In the Back of My Mind for example) but from this distance – and especially for the generations which have grown up since – that name just sound silly.
What hip kid would want an album by a group with a name as naff as 'the Beach Boys'? And it didn't help they went on the considerable lesser things in the Seventies . . . and beyond while a stiff-looking Love tours fun-in-the-sun nostalgia in his 60s.
But those who know their remarkable story – especially that time when it all fell apart in late '66 and early '67 – hear a very different group. At that time Wilson's creativity was astonishing as he scored string and vocal parts, wove in a psychedelic feel, crafted complex songs that somehow remained full of light and space, and delivered masterpieces in miniature.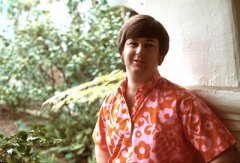 What he didn't deliver after the sublime Pet Sounds album was his intended follow-up SMiLE during which he seemed to have a failure of nerve as he battled forces from outside (the record company) and within (band member Mike Love who wondered where the hell all this experimental stuff was going). And it didn't help he was smoking too much marijuana.
Also, as we shall see in the following interview, SMiLE was a massive effort of recording and then construction an album from all the distinct elements.
Only now, 45 years on, has it finally been released (see the review here).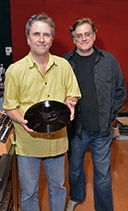 So, as of the 21st century there is an authorised version of the SMiLE album reconstructed using the original sessions by Wilson, lyricist and arranger Van Dyke Parks, longtime Wilson engineer Mark Linett and filmmaker Alan Boyd (the latter pictured, right).
Grammy-winning Linett previously engineered (with Wilson) the re-recording of the album which appeared as Brian Wilson Presents SMiLE as well as the Good Vibrations career overview box set and Pet Sounds box. Boyd has assisted Linett on Beach Boys archival material but also made numerous music documentaries (Monkees, Marianne Faithful).
Time then to ask them about the reconstruction of SMiLE which comes as a double disc with studio rehearsals and outtakes – as well as a massive five CD set (plus extra material) on which we can hear Wilson at work in the studio and all the elements he was juggling with as he grappled to create this exceptional album. Yet he still rates Pet Sounds as the better of the two . . .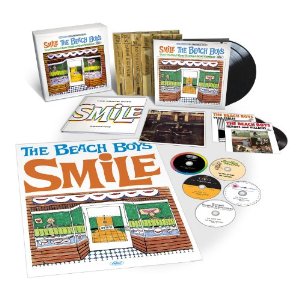 I can't think of any other album, let alone one that never actually came out, which has been accorded this much attention. You first heard the SMiLE sessions in '87 I believe?
Linett: Right, I had just worked on one of Brian's solo albums and had mastered Pet Sounds for its first release on CD and Capitol Records requested we look at the idea of doing a SMiLE project. But in the end they nixed the idea, and actually the same thing happened after we did the Pet Sounds box set in '96.
I've been in Abbey Road and met people like Steve Rooke and others who seem to have spent most of their lives listening to Beatles music, you seem to much the same. The soundtrack to your life is the Beach Boys?
Linett: Yeah, I've spent a lot of my life the past, nearly 45 years.
When I listen to the modular sounds of SMiLE I imagine it must actually get very confusing. You are hearing variations on variations and wondering, 'Where would that fit in the grand scheme?' I guess you must have had considerable conversation time with Brian about where and how all this would fit together?
Linett: Yeah. The reason we were able to finally do this project was because Brian finally, after all those years, in 2003 and 04 and completed the Brian Wilson Presents SMiLE project. Without that blueprint or whatever changes he wanted to make with it, all this would have been a lot of bits and pieces. That's why everybody was comfortable with this finally being allowed to be released.
Essentially, and I know you engineered that version also, that was the template for you to go through all of those tapes and think 'That goes there'. There is a modular aspect to all this. My understanding is there were all these pieces recorded and what Brian was going to do later was an assemblage, and only he knew how they could be pieced together.
Linett: Sort of. There are various things. There were some songs recorded in a modular fashion where it was very clear, 'Okay, now we are doing this verse and this chorus'. One of the reasons for that was it allowed Brian to concentrate on each section and modify the sound of each section and tailor it more to what he wanted, rather than try to record a straight ahead song all at once. At others time, and Wind Chimes would be a good example of that, others had a couple of different sections and was pieced together from those.
But while Heroes and Villains had a structure, it kept changing and he kept finding new variations on the theme that he wanted to record. My understanding from people who were there at the time was that he was shuffling the pieces around in his own way extensively. There are several examples of the results of that.
But it must confusing for you. I know I'm listening to something called Underwater Chant and wondering, 'What the hell is that all about?' Was that ever going to be going anywhere or was that a studio experiment.
Linett: But Brian would do whatever struck his fancy so there would be these chants and comedy bits in addition to all the musical ideas. At this time he was playing the studio like an instrument with a lot of parts and he was overflowing with ideas and would go to any lengths to accomplish his ideas on tape.
Maybe Alan could come in on this. What strikes me is these sessions were complex and serious, but there is a also a great sense of humour in there, and wit and whimsy. That surprised me.
Boyd: One thing I'd like to add about the chants is that some of the concepts that Brian was working on doing those chants ended up becoming musical elements within the SMiLE recording. The underwater chants were modified and became part of Cool Cool Water. There were other times when he had people laughing and they ended up being worked into the vocal parts in the backing of Vege-Tables. The whole talking-in-the-horns thing that Brian does ends up being worked into the horn thing on the first movement of Surf's Up. So all those things he was experimenting with, with friends in the studio, he was almost experimenting with before having the Beach Boys come in and try to do the same stuff. They ended up part of the fabric.
What it reminds me is that he was very much a man of his generation in many ways. He'd grown up with all that beautiful doo-wop pop of the late Fifties and while we listen to the Beach Boys in a particular way and think of it as the late Sixties, and almost into that psychedelic period, there is almost a grounding of that older style of music which is apparent in this expanded set.
Boyd: I heard things that go back to Aaron Copeland's Appalachian Spring in some of the string sections he uses in Heroes and Villains, and he's definitely dipping into the Great American Songbook in style for things like I Wanna Be Around and You Are My Sunshine which was a huge hit around 1940. So he's going way back into American music and not just that doo-wop.
Linett: I think one thing we haven't talked about is that as much as this was a musical project there was a resemblance to a cinematic project in terms of both its width and its structure. One of the reasons Alan and I feel it was so difficult to complete is the technology really wasn't suited to assembling all this, although it was great for recording it. The experiment was with the assemblage, in the way we can now and the way Brian probably needed to have the choice to fully realise what he had in mind.
One of things I touched on before was Abbey Road, and I was in that studio listening to the Beatles remasters before they came out and I said to those guys that it was ironic we now get to hear this music as it was intended, but people today listen on car radio and terrible little iPhones. You see that irony? Are you putting this thing into the world for people who are immersed in this music anyway?
Linett: [Laughs] Yeah, I read something where someone said, 'When this comes out I'm going to get these CDs and load up my iPod and listen to them'. I'm thinking well okay, it wasn't really what we had in mind. But what are you going to do? We're still trying to work out how to put it out in a hi-res format, but at the moment there isn't any delivery method for that. The last 20 or 30 years or so certainly points out the convenience-over-quality issue in audio.
If I started this 20 or 30 years before the technology was available to do it, even if we'd tried to do this 10 years ago, it would have taken years. The amount of computer work to assemble these is enormous.
Boyd: Not only that, there's quite a bit of computer work involved in just keeping track of the pieces. The data base was our best friend.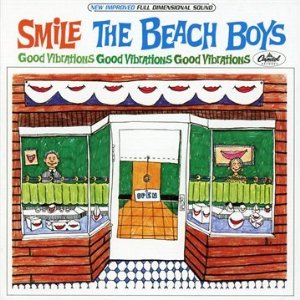 I'm old enough to remember the first time I heard Heroes and Villains and Good Vibrations when they first came out and when I heard them on this I was taken right back, they sounded utterly fresh and wonderful, But this music speaks to me of an age of perfectionism and a time before AutoTune. Is this stuff actually important to people these days?
Boyd: I think it could be. I assembled some of this and played it for people who were not Beach Boys fans, one girl whose background was Seventies punk and others who were into indie rock and punk, and they were just really getting into it – because it was so unlike anything they had ever heard. And of course so unexpected from anything to be labelled 'the Beach Boys'. Yet there was something reassuring about those group vocals,and I think when people get the opportunity to hear it, I really think it could open some doors.
People don't hear this kind of music these days.
Linett: And no one makes music like this these days. It seems to be of its time but I've had the strangest people ask to hear it and comment on it – and these are people you'd think wouldn't have any regard for any Beach Boys record. But this has cut across an awful lot of genres.
This is a fullstop on SMiLE and maybe that's a relief and you can go to the desert and clear your head of it for a while. But where do you move on to now – and I know you probably finished this some months if not a year ago. Where to now for you if you haven't already moved on?
Linett: [Laughs] No, we were still working on this until the very last minute. It's been unreal and I think we finished it the second week of September. But for me I'm mixing an album for a guy called the Explorers Club and I do a lot of remote work so my remote truck was the recording facility and mixing for a big event honouring President Clinton at the Hollywood Bowl, and I go to Nashville for the CMA with my truck.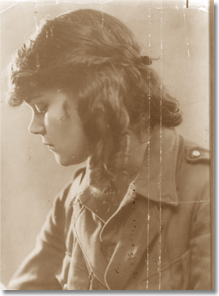 Boyd: I've dashed back into the world of film. I'm working on a documentary about a remarkable young woman who drove around the world in a Model T Ford in the 1920s and filmed her own adventures.
So I am back in the film game again. Her name was Aloha Wanderwell and she was quite a public figure then, Her real name was Garcia Hall. It really is quite remarkable.
Linett: There are probably tracks from SMiLE would go well with that.
You'd probably have to talk to the boss about that.
Linett: Briiiiiiaaaannnnn.....................
Brian Wilson is interviewed here on the occasion of Brian Wilson Presents SMiLE here. There is more on Wilson here and here. Dennis Wilson, the most "beach" of the Beach Boys is considered here.