Graham Reid | | 3 min read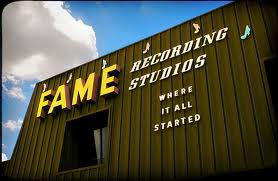 In their 2003 book Temples of Sound -- a look into the history of great American recording studios such as Chess in Chicago, Sun in Memphis and Motown in Detroit -- the authors Jim Cogan and William Clark acknowledge there were others they could have included.
And conspicious by its absence is FAME Studios.
Admittedly FAME moved around -- from above a drug store to two stand-alone sites -- but the studios at 603 East Avalon Avenue in Muscle Shoals, Alabama have been there for over 50 years are still busy and there is musical history soaked into its walls.
The FAME story (the name coming from Florence Alabama Music Enterprises, started in nearby Florence by music publisher Tom Stafford and songwriters Rick Hall and Bily Sherrill) is that of the great Muscle Shoals sound and the early rhythm section under that name has become legendary.
The Muscle Shoals rhythm sections are name-checked in Lynyrd Skynyrd's Sweet Home Alabama ("Lord they get me off so much, they pick me up when I feel blue, how about you?") and out of the studio came dozens of classic songs which crossed the colour lines so deeply etched in the South in the Sixties.
Black and white artists traipsed into the FAME Studios in smalltown Muscle Shoals (fewer than 10,000 people when FAME started by recording the great Arthur Alexander, whose songs were covered by the young Beatles and Stones among others).
Through their doors went Tommy Roe, Joe Tex, Bobby Marchan, James and Bobby Purify, Wilson Pickett, Otis Redding, Aretha Franklin for just one hit-spinning but volatile session, Lowell Fulson, Etta James, Duane Allman who camped out in yard in the hope of meeting the musicians and held Allman Brothers Band auditions there, Bobbie Gentry (right), Candi Staton, Little Richard . . .
The Muscle Shoals sound could be laidback but in the pocket, aching with soul and steamy with the heat of passion.
Most of the songs from the studio were at the interface of country and soul, and - to the suprise of many black arists who turned up there -- the original rhythm section (before they were poached away) were all white players.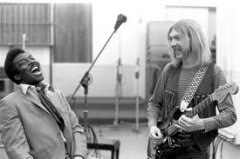 And the FAME studio -- not to be confused with nearby Muscle Shoals Studios which drew the rock crowd -- sprung great radio hits: You Better Move On, Let Them Talk (by famous songwriter Dan Penn, another studio staple with his songwriting partner Spooner Oldham until wooed away), Fortune Teller, I'm Your Puppet, the furious Land of 1000 Dances, A Shot Rhythm and Blues, Sweet Soul Music, I Never Loved a Man The Way I Love You, Do Right Woman Do Right Man, One Bad Apple (yes, the Osmonds), Walk a Mile in My Shoes . . .
After Stafford took a backseat and Sherrill moved to Nashville, Rick Hall took over the running of the studio with a very simple ethic.
"We evolved because we couldn't stand the thought of failing, and we would have failed unless we cut better records than anybody else in the world. Not just Muscle Shoals, not just Nashville or New York, but the whole world. When you set the bar that high you are going to have some success."
FAME only belatedly started its own label - mostly it just recorded for others or licensed songs -- but the fact that musicians of many persuasions down the decades made the pilgrimage there is telling. The FAME label folded in '73 but a triple CD set pulls together 75 of the studio's greatest songs until then.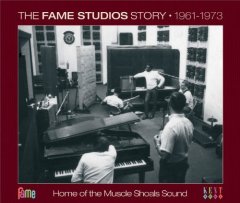 The FAME Studio Story 1961-73 is subtlted "The story of the studio that put the Muscle Shoals sound on the map" and no one could deny the truth of that assertion.
All of those artists and songs mentioned previously are here -- but there are also some rare treats, like the original and unreleased Arthur Alexander song I Hope They Get Their Eyes Full (from '62, writen by Penn and Donnie Fritts), the unreleased A Man is a Mean Mean Thing by 22-year old Barbara Perry (from '65), an unreleased version of Penn-Oldham's Feed the Flame by Billy Young, the atmospheric Two in the Morning by Spooner's Crowd in which the microphone seems to travel in the pocket from street into an in-with-the-in-crowd club, an unedited version of Otis Redding doing You Left the Water Running . . .
Over three discs there is an astonishing number of great songs, most of them clocking in at fewer than three minutes, but they are cram packed with, as the song says "a shot of rhythm and blues with a little bit of soul on the side for good measure".
With excellent historical essays and details about each song and the artist (some of them just cutting a few songs for the label), and artwork which reproduces singles, posters and studio sessions, The Fame Studios Story serves its artists well.
These are prime cuts, and these kids from FAME, they're gonna live forever.
Like the sound of this? Then check out this.