Graham Reid | | 4 min read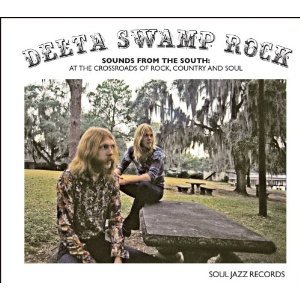 Anyone who has traveled extensively in the United States would tell you that the South is different. Certainly Boston, Omaha and Portland are different.
But the South is different different.
And even though there are -isms and schisms in the broad church that is "the South" and it is impossible to define what that distinction is, you know it, sense it, feel it -- and often eat it.
Talk to any musician from Louisiana for even the briefest of times and they will doubtless start describing their sound in terms of food, notably that all-in staple, gumbo. But they may also add you need to get the roux (sauce base) just right before adding the seafood, sausage and/or chicken or whatever into the mix.
Just as there is an easy to answer to racist neo-Nazis who ask what Africa ever gave the world ("Man?"), so too you can stop any revisionist who might dismiss the South with a similar question.
In a word, "music".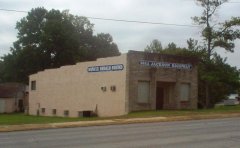 Out of the South at various times came many of the mainstreams of American musics: blues, boogie woogie, honky tonk, jazz, New Orleans funk, Cajun and Zydeco, rockabilly (if you stretch left and right into Texas and Tennessee), rural country, Nashville country, Stax soul out of Memphis, Memphis soul (which can be different), something we just know as Southern rock (the Allman Brothers, Lynyrd Skynyrd), swamp rock, the sound out of the modest Muscle Shoals studio (above) in Alabama . . .
And more.
Oh yeah, and rock'n'roll out of Sun Studio in Memphis.
Without New Orleans, Memphis and Nashville there might not be a lot to write about in certain threads of American -- and by extention global -- music.
Sometimes these various musics exist independently from one another, at other times they end up in the same gumbo pot.
Take a listen to the Area Code 615 track Stone Fox Chase on this double CD which pulls together white artists "at the crossroads of rock, country and soul" in late Sixties/early Seventies.
Although they came together as session musicians out of Nashville (a number were on Dylan's Blonde on Blonde, and Wayne Moss had played guitar on Roy Orbison's Pretty Woman) it is impossible to pin a label on the sound of Stone Fox Chase.
The percussion might have stepped off the streets of black New Orleans, the harmonica of Charlie McCoy is white country-blues, there's pedal steel, it works itself into a lather like a Cajun dance party . . . and a decade after it was recorded in '69 hip-hop turntablists picked up on it for break beats.
Elsewhere on this exceptional collection -- which comes as a four disc vinyl edition and has an extensive booklet of background notes -- are songs by familiar artists which might surprise.
Few who only know Cher as an underdressed star will be bewildered by her digging deep into Dr John's gumbo-funk of I Walk on Gilded Splinters recorded at Muscle Shoals in Alabama with producers Jerry Wexler, Tom Dowd and Arif Madrin (quite a triumvirate!).
Cher later married Gregg Allman and again, if you thought of the Allmans as a jamming Southern boogie-blues rock band then God Rest His Soul here from '68 -- credited to Duane and Gregg -- will come as a revelation.
A restrained, bluesy ballad about the death of Martin Luther King (written by the producer Steve Alaimo), it confirms Gregg Allman as one of the great white Southern soul singers. If he'd never sung another note this would have got him into the history books, and he understand every nuance of the lyrics.
Then by his own Ain't Wastin' Time No More of two years later when the Allman Brothers Band sound had been defined we have Dickey Betts -- Duane now passed on -- playing slide and lead guitar on an economic 3.38 blues-framed soulful rocker.
Lynyrd Skynyrd are here also represented by two different ends of their spectrum: the familiar style of Comin' Home and the more reflective The Seasons on which Ronnie Van Zant sounds weary and world beaten beyond his years. He was barely 23.
And Leon Russell is included with his spooky, multi-tracked vocal Out in The Woods with the Muscle Shoals "Swampers", various bird calls and nods to Dr John's early Gris Gris/New Orleans voodoo. Killer cut.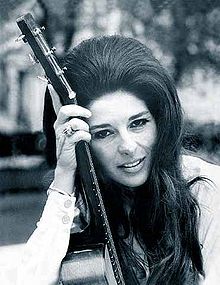 As is Bobbie Gentry's husky Mississippi Delta. (Persist with this video clip, the song arrives a few minutes in and it's worth the wait.)
Gentry (right) is one of the great ignored talents, largely because she enjoyed a massive chart hit (Ode to Bill Joe, not on this set), and despite some albums of intermittent excellence she disappeared quickly into a luckless marriage and fell off the sightlines for most.
She also gets the backwoods Papa Won't You Let Me Go to Town With You and Seasons Come Seasons Go.
There are some important names here too: Memphis power pop band Big Star with their lovely classic Thirteen; Tony Joe White's swamp-funk Polk Salad Annie (which Elvis adopted); Linda Ronstadt, singer-songwriter Dan Penn (the horn embellished If Love Was Money); Johnny Cash (If I Was a Carpenter); Billy Vera with the blue-eyed soul prison-letter of I'm Leavin' Here Tomorrow Mama; Joe South with his classic rocker Hush . . .
And Link Wray, Barefoot Jerry, Cowboy, Boz Scaggs and Travis Wammack.
Trying to find a line between these various artists is best left to that subtitle of this excellent Soul Jazz collection: "Sounds from the South; At the Crossroads of Rock, Country and Soul".
Omissions? Dozens of course (it does seem a shame the much ignored Eddie Hinton is pictured in the booklet but only appears as a guitarist). But as an insight into the diversity of music by white artists from "the South" during this period, this is a wonderful, often musically surprising compilation.
The starting point of a long journey into those crazy but tasty recipes -- musical and perhaps culinary? -- out of the South.
Like the sound of this? Then there is a recipe for a seafood gumbo right here. Get the roux right!
These Essential Elsewhere pages deliberately point to albums which you might not have thought of, or have even heard . . .
But they might just open a door into a new kind of music, or an artist you didn't know of.
Or someone you may have thought was just plain boring.
But here is the way into a new/interesting/different music . . .
Jump in.
The deep end won't be out of your depth . . .