Graham Reid | | 4 min read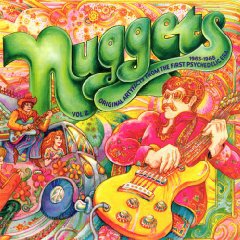 There's an interesting local observation to be made about this four-CD box set of what is essentially low-rent, lo-fi American garageband rock.
But first, a little history.
Back in 1972 Lenny Kaye -- later guitarist in Patti Smith's band -- released the original double-vinyl compilation Nuggets.
In a garish psychedelic cover (faithfully reproduced here across the four discs, extensive booklet and the box cover which bears little relationship to the angry pop r'n'b within), Kaye collected 27 little-known songs by American bands out of the Stones/Animals axis -- the first disc here -- and anthologised a history so recent that most band members still hadn't reached their late 20s.
At the time of Led Zeppelin, Three Dog Night and a sprawling unfocused Rolling Stones, these slices of suburban, angry, three-minute garage rock were called "punk rock" (which explains why Americans later thought the Knack were punk but just didn't get Sham 69).
Call it the first wave of punk rock if you will -- there are certainly some "psychedelic" tracks scattered about, but that seems an oddly inappropriate label -- or you could just acknowledge it as the American response to British r'n'b of the period.
Whatever.
But by consensus in the United States and Britain at the time, Kaye had unearthed a rich mine of music which had been ignored. The sound (and some of the songs) became a blueprint for bands in the pre-punk period of the mid-70s.
But that's a Northern Hemisphere history.
What is remarkable for anyone who grew up here listening to Radio Hauraki when it was a pirate station is just how familiar many of the 118 tracks (yes, three minutes means more singles for your CD!) on this expanded collection are.
While American and British radio might have ignored the likes of the Electric Prunes, the Human Beinz (Nobody Like Me), the Turtles and Count Five, in this far-flung corner you could not only hear them -- plus Paul Revere and the Raiders, Sam the Sham and the Pharaohs, Strawberry Alarm Clock and dozens of others -- but actually buy the singles.
This reminds you of how influential radio can be. It also explains why we had bands here like Larry's Rebels, the La De Das, Blue Stars and the Pleazers (and those collected on John Baker's similarly conceived Kiwi garageband Wild Things compilations, and the Day in My Mind's Mind series).
Oddly then, some of these lo-fi, echo-heavy Nuggets' songs should appear on one of New Zealand's "classic hits" stations.
The Human Beinz' infectiously feedback-flavoured take on the Isley Brothers' Nobody But Me on classic hits here? Fat chance.
This kind of mid-Sixties rock -- which can sound like Monkees' chords delivered by kids from Austin and Chicago, Dallas and New Jersey who'd rather be in the Animals -- bristles with generational frustration and the excitement of adolescent sexual anger. ("Hey girl, I'm going to make you ... mine" is a common threat.)
There's also the genuine belief that, like the Beatles, Stones and all those English bands, they could be the Next Big Thing.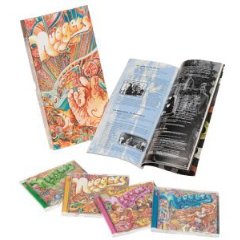 Some almost were -- Paul Revere, the Turtles, the Five Americans and others enjoyed a few hits and 18 months of fame -- but most of these groups had a career as a long as their hit singles.
That said, famous names crop up throughout the extensive liner notes which document the fate of bands like Fenwyck, Davie Allen and the Arrows, Unrelated Segments and New Colony Six.
Dylan '66 organist Al Kooper was part of the Blues Project (No Time Like the Right Time), Brian Wilson's offside/collaborator Van Dyke Parks arranged the Mojo Men's soft-pop Sit Down I Think I Love You (which was written by Stephen Stills), the Golliwogs became Creedence Clearwater Revival, Warren Zevon was the "Lyme" in Lyme and Cybelle, Mike Appel who became Springsteen's manager sings for the Balloon Farm, and so on.
The Band may have been the musicians who played on the Barbarians' Moulty (sounds like 'em), a track with a message about the drummer who had hook for hand.
Mostly this is unpretentious pop-rock which is rough round the edges, heavy on fuzzbox and knows the value of a middle eight and a good chorus.
Outside of the familiar (I Had Too Much to Dream Last Night, Pushin' Too Hard, Psychotic Reaction, Hey Joe) there are gems and curiosities among the nuggets: Mouse's Public Execution is barely a rewrite of Dylan's Like A Rolling Stone/Positively 4th Street; the non-hit single Spazz is a piece of dementia that sounds like a cross between early Zappa and a one-amp Walk this Way; early Captain Beefheart is here, Farmer John was covered by Neil Young on one his many lesser albums of the mid Nineties; and local audiences know Lollipop Shoppe singer Fred Cole better as the frontman for Dead Moon, a garage band from Oregon which toured New Zealand frequently and still makes a rock'n'roll noise in this unvarnished style.
If you don't simply want to rack this stuff up loud but prefer to get scholarly, you could observe Shadows of Knight had clearly heard the first Downliners Sect album, Black Sabbath took the bass riff from the Blues Magoos' We Ain't Got Nothin' Yet for Black Night, and the Searchers were a bigger influence than hip rock critics of today would like to admit.
And the Monks, US servicemen in Germany, whose simplistic sloganeering ("people kill for you") and dangerously minimal rock make them a kind of Beastie Boys of Unfulfilled R'n'B Promise.
Yes, this is hulking, but because it's r'n'b of the most unpolished kind - some excellent, some not so inventive - it's always going to be interesting for what it says about the period. At its worst it's only dumb fun and at its best it's dumb fun with unrealistic career aspirations and great guitar solos.
Noel Gallagher is right to observe that after the first 50 they do start to sound alike (although he should talk), but that's not how this stuff was ever supposed to be listened to.
This was three-minute rock in single-play form for people who were discovering sex'n'drugs and rock'n'roll. What it's all about, really.
These are songs of desperation and hope from hormonal, dope-sniffin' white boys (yep, all boys) who saw their way out of suburbia and into a girl's underwear was not through college but in four chords, a joint and cheap muscatel.
It's only rock'n'roll ...
The original 27-song Nuggets collection got a remastered 40th anniversary reissue on November 28, 2012. Still sounds great.