Graham Reid | | 2 min read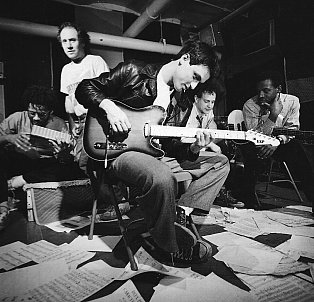 If there is a distinguishing feature of American guitarist Marc Ribot's style it is that you'd be unwise to attempt to attribute a distinguishing feature or style to it.
In the words of Walt Whitman, he contains multitudes.
And he can go anywhere with them.
Which is doubtless why Tom Waits -- making his career turn in the mid Eighties -- called on Ribot to bring his angularity and unpredictability to his album Rain Dogs. And then any number of subsequent albums.
Ribot -- born in New Jersey in '54 and who played in straight ahead soul bands backing the likes of touring artists such as Wilson Pickett -- very quickly became a favoured player for Elvis Costello (appearing first on Spike in the late Eighties) but was equally at home with John and Evan Lurie's downtown No Wave-cum-jazz outfit Lounge Lizards, Solomon Burke and Tanita Tikaram. All in the late Eighties.
More recently he has turned up alongside the Peruvian singer Susana Baca, the Black Keys (on Attack and Release), Marianne Faithfull, T Bone Burnett, Joe Henry, McCoy Tyner and . . .
Oh, just lots and lots of people.
He's not a jazz musician (by his own admission) but plays with jazz musicians, he's certainly not a pop-rock artist but can appear in the context of pop-rock material.
If you are looking for an oblique clue as to where he came from, then his debut solo album from 1990, Rootless Cosmopolitans, is as good a place as any.
In his idiosyncratic manner he and the band -- Don Byron on bass clarinet and "turkey calls", pianist Anthony Coleman, bassist Brad Jones and drummer Richie Scwarz the core unit -- interpret material by Sammy Cahn (I Should Care), George Harrison (a solo turn on While My Guitar Gently Weeps), Jimi Hendrix (The Wind Cries Mary) and Duke Ellington's Mood Indigo.
None of the interpretations will appeal to jazz or rock listeners at a guess. They are sometimes disturbingly aggressive decon/reconsructions of the source material, their version of Mood Indigo the most respectful . . . for a while.
But on the Hendrix for example he attacks his guitar to bring out a stuttering and stabbing funk as he delivers the lyrics in a monotone somewhere in the background behind the sampled percussion and thumping bass. If the lyrics weren't there it would be unrecognisable as The Wind Cries Mary. You can hear it here.
The Harrison piece owes more to Waits' clank'n'grind than the Beatles with Clapton. It's one you should play to Harrison fans in a blindfold test to see if they can identify it. I doubt many could.
Perhaps that's why you're better to undertake this post-modern stuff without reference to the titles (although his own Nature Abhors a Vacuum Cleaner is rather funny) and just listen to the wit, ingenuity and challenge the album offers.
Nature Abhors is an slow funk/walking bass piece with organ by Anthony Coleman and Ribot's guitar takes off an an improvised hopscotch over the top in a series of stammering runs before the rhythm section really applies itself to ground it.
The standout pieces are Ribot's own Friendly Ghosts and The Cocktail Party; the former belongs as much to the squirreling clarinet of Byron as it does the solid bass of Jones and Ribot's staccato guitar; the latter is perhaps the most conservative in a way and will be no challenge to those familiar with James Blood Ulmer. You can hear Ribot's soul-funk and rock roots, almost.
The liner notes by fellow traveller Arto Lindsay observe that Ribot "writes and plays free range music" where "nary an impulse is discouraged, yet no single instinct is allowed to do all the driving. You might say his humour has very high moral standards".
Whatever that means.
It will come as no surprise that Rootless Cosmopolitans is not available on Spotify. But it is on iTunes. Sample of couple tracks, see what you think.
It will make you think.
Marc Ribot appears a lot at Elsewhere starting here.