Graham Reid | | 3 min read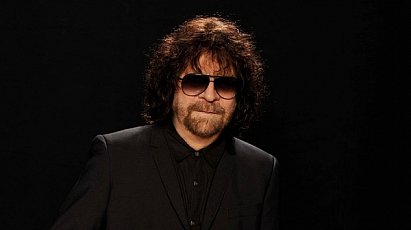 For a man who loved the Beatles and whose band Electric Light Orchestra located itself on the axis of Sgt Peppers and Magical Mystery Tour, Jeff Lynne was handed a gift and a curse by his favourite group in the early 90s.
When longtime Beatles' producer George Martin declined to work on three proposed singles using home demos by the late John Lennon – he begged off saying his hearing wasn't good enough, but most thought he'd heard just how unusable those demos were – Lynne got the invitation at the insistence of his friend George Harrison (who he played with in the Traveling Wilburys).
Given the demos which became Free As a Bird and Real Love (the proposed third never eventuated when Harrison dismissed it out of hand) were just on cassette tapes and out of tempo, neither was going to add to the Beatles' legacy. But as a fan and being up for a challenge, how could Lynne resist?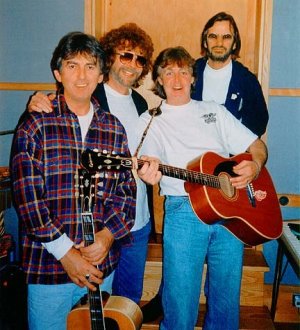 It's ironic then that working with the late Lennon and the remaining Threetles (McCartney, Harrison and Starr) should now just be a footnote in Lynne's career — which has had another push upwards with his highly acclaimed recent ELO album Alone in the Universe.
From new ELO – essentially his solo project — back through Beatles and Wilburys, Lynne's had a fascinating career as a musician and producer: There's knob twiddling for Brian Wilson, fellow Wilburys Tom Petty, Roy Orbison and Harrison, for Ringo, McCartney and many others on his CV.
Lynne's career began before ELO in the 70s with a band largely written out of rock history books. But they enjoyed seven top 10 singles in Britain between 67 and 72, recorded four albums, were in the vanguard of promo films (what became known as video clips), had riotous stage acts (they blew up a car 15 years before the Plasmatics) and played bills with Cream, the Who and other greats of the era.
They were the Move out of Birmingham.
Admittedly singer/multi-instrumentalist Lynne didn't join them until 70 – two years before they split — but, with the band's Roy Wood and Bev Bevan, Lynne realised a masterplan for a Beatles psyche-pop-cum-classical merger. Baroque'n'roll if you like.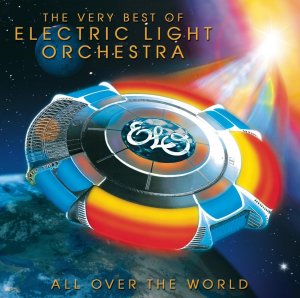 That band was ELO and when Wood left to form Wizzard during the recording of the second album that left Lynne as the capable helmsman, and he steered the ensemble with its ever-changing line-up to chart success with singles like Evil Woman, Strange Magic, Telephone Line, Livin' Thing, Turn to Stone, Mr Blue Sky, Don't Bring me Down . . .
Right now the 2005 All Over the World: The Very Best of Electric Light Orchestra album has reappeared on double vinyl (you'll be surprised how many hits they had) as well their multi-platinum 79 album Discovery on single vinyl.
As a band which successfully straddled prog-rock with pop-smarts, and rock guitars with arrangements for cello, ELO can be a major discovery. These albums are well worth checking out.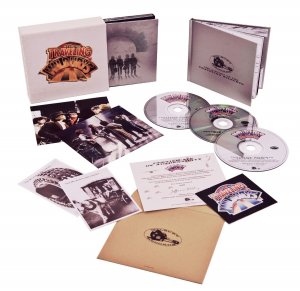 And by happy chance The Traveling Wilburys Collection (on LP, or CD with a double DVD) has also appeared, and although they were very much Dad-rock, they are a guilty pleasure to be shared.
But wait, there's more Jeff Lynne . . . because an expanded double-CD version of the Move's excellent Looking On from 70 (remastered, extra tracks, live BBC sessions) has just been released.
And their final album Message from the Country – which Lynne co-produced with Wood and co-wrote half the songs for — has also appeared on vinyl. This was recorded when they were morphing into ELO.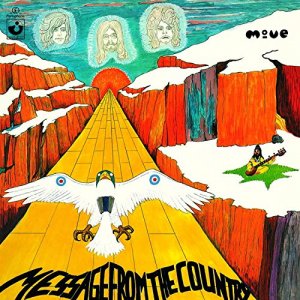 For this album the Move – a singles band in an album era — still had most of their power-pop, post-Beatles, radio-single sound intact and many critics regard it as the Great Lost Move Album . . . because ELO was just around the corner.
It certainly hasn't been easy to find (no reissue, not on streaming services) so if you have a record player — and you really should have — this might also be a discovery for you.
And the common thread in all this is a plain-spoken, modest Brummie who was so admired by his peers Bob Dylan, Harrison, Petty and Orbison they invited him to join the band.
Must be pretty cool to be Jeff Lynne, huh?
For something else on Jeff Lynne check out this.