Graham Reid | | 6 min read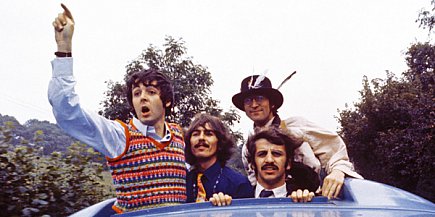 In the Beatles' Anthology documentary, when The Greatest Story Ever Sold reaches 1968 and their disparate double album The Beatles (aka The White Album) some -- like producer George Martin and Ringo -- say that much Beatles music was too much . . . and that The White Album should have been cut back to a single album.
Or two separate albums: "The White and The Whiter", says Ringo.
Paul McCartney then delivers his verdict, with a laugh but also frustration even after all those decades: "I think it's a fine album . . . it's great, it sold, it's the bloody Beatles' White Album. Shut up!"
Point taken and he's right of course. In recent decades as Sgt Peppers fell down the critics' charts of the greatest albums ever recorded (it was top for many years, see here), Rubber Soul, Revolver and the White Album all rose.
The 40th anniversary of the White Album saw a major review of the music's considerable, if scattershot, merits.
Interestingly, McCartney was often the one who went into bat for the band's more maligned or criticised projects.
Right from the moment it was screened on British television on Boxing Day, December 26 1967, McCartney was the one to defend their road film Magical Mystery Tour.
And fair call as, after the death of their manager Brian Epstein in August '67, he was the one who jollied the band along and conceived (if we may use that word) the idea of shoving them on a bus with no fixed plan and just filming what happened.
"I ended up kind of directing it, just because I was there most of the time," says McCartney in the Anthology.
It was Paul's idea, says Harrison.
I think it was Paul's idea, says Neil Aspinall.
In my brain it was Paul's idea. He came with a piece of paper, says Ringo.
"I'm not sure," says a rather defensive McCartney. "It could have been mine," he adds with a self-conscious smile like a schoolkid who's been caught pinching biscuits.
"I'm not sure I want to take the blame for it," he laughs.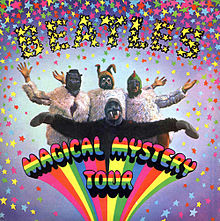 In the film, the Beatles were to be the musical Merry Pranksters -- although somehow "wizards" (the Beatles also) would be in control. Even on paper --- and the planning got little beyond a few loose scribbles -- it didn't sound promising.

But it happened . . . and onto the bus they loaded an oddball crew including the inimitable Scottish drollist-comedian Ivor Cutler, various actors (including Victor Spinetti from A Hard Day's Night and Help), friends and fellow travelers like Magic Alex, a couple of fan club secretaries, Mal Evans, and people picked up along the way.
When the results were "edited" and shown the British television audience sat down to watch . . . and, for the most part, couldn't have hated it more.
It looked awful, the "story" was non-existent and . . . frankly, it was hopeless.
Okay, it screened in black and white which rather undermined its most colourful and psychedelic sequences. But the meandering story was weak, McCartney's songs Fool on the Hill and Your Mother Should Know were popular enough but hardly count among his best work. The press tore it apart and, for the first time, it was open season on the Beatles.
"I cannot ever remember seeing such rubbish," wrote one reviewer. "This witless home movie scotches the myth of their genius for good and all," wrote another.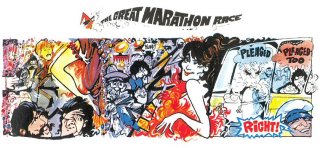 But there was McCartney defending it as best he could. We goofed he acknowledged, but the Queen's [Christmas Day] speech was hardly as gas, he observed tartly.
In the Anthology he goes one better saying that he'd read Spielberg say when he was in film school Magical Mystery Tour was one they all took notice of. Uh-huuu . . .

But McCartney notes, quite rightly, it is the only place you get to see the Beatles perform I Am The Walrus.
He might also have added George Harrison's trippy Blue Jay Way.

If the film didn't succeed, the soundtrack EP -- a double 7" in a gatefold sleeve with a booklet of illustrations and photos outlining the story, such as it was -- certainly did and was even nominated for a Grammy in the soundtrack category.
The Magical Mystery Tour film has now been given the digital clean-up and re-presentation, so how does it play 45 years on?
Well, if it didn't have a story at the time one certainly hasn't emerged in the interim, and only the most generous Beatle fan would put it in any top 10 of Beatleworks.
But . . .
Nope, there is no great revisionist review going to happen here. It is still like a late Sixties am-dram/student film project with a bit of money thrown at it and is headshakingly incoherent.
But . . .
The music has been remastered, some of the songs have slightly longer edits, there are additional scenes in the extra features (Cutler's song which was edited out of the final film), a commentary by McCartney (whose voice today sounds like it has been recorded at 45rpm and being played on 33), interviews with Ringo and McCartney today about it, Spinetti and Lennon interviewed at the time . . .
There is also the handsome collectors edition for the true fan: a box containing two DVDs (DVD and Blu-ray), a 60 page booklet of the original and previously unseen artwork, two vinyl discs . . .
Even more so than Yellow Submarine, the Beatles almost seem incidental because -- aside from the songs and their brief appearances in the sideshow (Lennon looking like a spiv Michael Caine as the waiter shoveling food onto the fat lady's plate, shades of Mr Creosote in the Pythons) -- they aren't really at the centre of the action a lot of the time.
What is central is that familiar cast of English stereotypes like the busty blonde, midgets, vicars, duck shooters, shouty military types (Spinetti spouting incomprehensible nonsense in a bark) and so on who also provided the core of many Monty Python skits.
These parodies of types also peak in the appearance of the Bonzo Dog Doo-Dah Band (which included chief Rutle Neil Innes) performing Death Cab For Cutie as an oily showband at a strip club.
If there is any real merit here it's that time -- post-Pythons -- renders some of this silly in the same enjoyable (but yes, silly) Pythonesque way.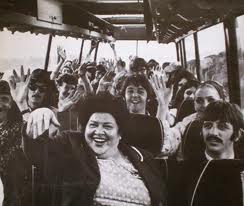 However the Beatles' songs are simply thrown into the "plot" with all the clumsiness of an Elvis film (unlike their clever incorporation into A Hard Day's Night) and the "trippy" footage for the instrumental Flying must have looked more psychedelic at the time than it does today.
Lennon and Harrison seem more bemused and detached than the self-conscious McCartney; often they are clearly stoned; there is a quaint period-piece and Englishness about it (the singalongs and pub tricks like the old man who can swallow his lit cigarette); that rare collusion of young and old in a film by pop heroes unlike anything you would see today . . . and of course there are some interesting songs.
"Enjoy yourself within the bounds of British decency," says Cutler at one point.
Hard call. It remains pretty hopeless. And the opening notes of Magical Mystery Tour do not offer the frisson of expectation as that of the opening guitar chord of A Hard Day's Night, Lennon's "help" or even George Martin's orchestral suite which starts Yellow Submarine.
So you can't say, "it's the bloody Beatles' Magical Mystery Tour. Shut up!"
But it does have the only Beatles performance/mime of I Am the Walrus.
And Blue Jay Way.
And, maybe best of all, the Bonzo's Death Cab for Cutie.
There was a film about the making of Magical Mystery Tour (reviewed here) which might be about as interesting as this, maybe even more so.