Graham Reid | | 4 min read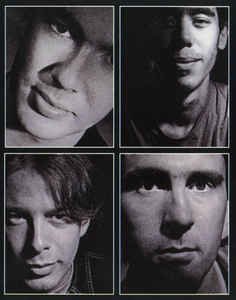 Most dictionaries will tell you that a "hex" can be a benign spell at one end of the description but a curse at the other. It can also be a verb and a noun, so you can hex someone with a hex.
And that makes "Hex" an appropriate title for the sole album by the British band Bark Psychosis.
(An aside here, no dictionary will have an entry for "bark psychosis".)
Hex – released in '94 after four singles by Bark Psychosis – certainly cast an alluring spell on those who heard it, but the attention to detail and effort it took for the London-based four-piece finished them off. They went their separate ways and although there was a re-formation and another album ///Codename: Dustsucker in 2004, it is Hex which commands attention.
Although it didn't much capture people at the time. Despite some glowing reviews it only sold in quantities anyone would consider "paltry". (We leave you to open the dictionary again.)
It has been largely hard to find in subsequent decades but has gained considerable attention as being one of the great (if the not the greatest) post-rock album ever, whatever the slippery definition of that genre might be.
(We leave to you to open the dictionary yet again.)
Certain types of critics – much like DJs who seek out utterly obscure old singles – are known to elevate albums which others can't hear because they only had a limited run or have disappeared down the rabbit-hole of the arcane.
That is why Elsewhere largely avoids acclaiming the unavailable, but here is delighted to report the re-issue of this utterly beguiling album through Fire out of Britain (which has done such a fine job bringing out reissues of Pere Ubu, Bevis Frond, the complete JPS Experience recordings and many other acts alongside new releases).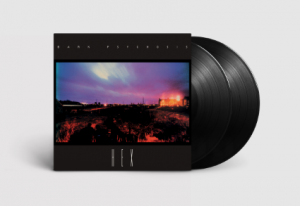 The reissue of Hex has been remastered from the original analogue tapes by founder member Graham Sutton and is presented on double-vinyl 45rpm as well as CD and download.
So the spell of Hex can be cast again . . . and it really is understated charmer, especially when you consider the original members Sutton and John Ling modelled themselves on noisecore bands like Sonic Youth and Napalm Death when they first got together about five years previous.
But – perhaps influenced by the likes of soft, experimental and ambient Brian Eno, the more minimal end of A Certain Ratio (as on their Double 12 Inch) and dreamscape styles (Talk Talk's influential Spirit of Eden had been released a few years previous) -- they convened to record what became Hex in various places, including a low-rent studio in St John's Church in Stratford, London.
It sounds as if someone turned down the lights on the first day and breathed space into the music which frequently morphs gently with a tinkle of distant guitars, poised piano and delicate drumming. Among the instrumentation you can here vibes, an African drum, trumpet, flute, samples, a string quartet and ambient noise. And every now and again some abrupt increase in dynamics and distortion just to ground it.
It's always worth noting that when pop and rock culture has headed often blindly in one direction, there will always be others who take the road les travelled: think of Velvet Underground at the height of hippiedom; Cowboy Junkies in the midst of grunge and here Bark Psychosis while all around them were rejoicing in the Oasis v Blur feud and Britpop.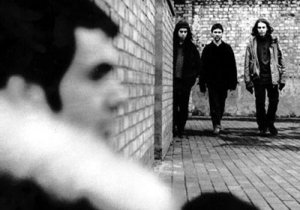 The word "lush' is frequently applied to Hex's overarching textures, and artists like Blue Nile and perhaps even the German groups like Cluster (and, at a pinch, some of Can) have been cited as their godparents.
These are seven lengthy and mostly leisurely pieces – the shortest The Loom which opens things just over five minutes, the longest Pendulum Man at the end is 10 – and perhaps that is why the album succeeds. It is no hurry to get anyway other than where it is at that moment.
Listen to how the centrepiece Big Shot just eases its way into your attention over a simmering and repeated bass, percussion and phased vocals somewhere behind the mid-ground of sonic washes then settles in with a warm vibraphone part around two minutes in.
That said, there is a sense of unease through out this album, a feeling that the gentle changes of direction and melodies are necessary to cope with changing times or even attention spans.
The eight minute-plus Fingerspit however – which opens with a whispered vocal and a spacious, repeated guitar figure – seduces the listener in before a sear of guitars enters, the singer desperately saying "I can't find any way out so throw away your promises . . ." and you get where the "psychosis" in their name comes from.
It is a disturbing piece which cleverly never overplays it's uneasy, hallucinatory effect and devolves into quiet passages of piano. At times you can imagine Thurston Moore gatecrashing an ECM session.
By the time it ends you are ready for the more assured but still unsettling Eyes and Smiles and especially that long closer Pendulum Man which opens with a metronomic pulse (Penguin Cafe Orchestra?) then beams in a wide glow of Eno-like ambience.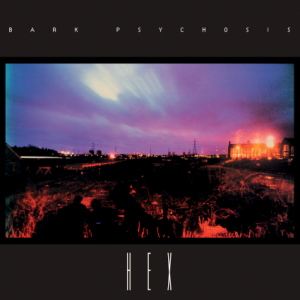 In its use of standard rock instruments – guitars, bass, drums, keyboards – for a decidedly non-rock result, Hex is exactly the kind of album which deserves that "post-rock" description.
Someone once said that if you dropped the needle onto different places at random on the second Blood, Sweat and Tears album you'd think it was a compilation: Here some blasts of soul-power horns, there a ballad, this time their interpretation of Erik Satie's Trois Gymnopedies, now some pure pop, this time it's a rock guitar, now Billie Holiday's God Bless the Child . . .
At a pinch, but keeping the reference points rather more narrow, you might says the same of this album: Bark Psychosis wove together numerous influences and aspects of the wider sonic landscape beyond mainstream pop and rock available in the early Nineties and created something unique and timeless.
Hex casts a glorious spell even now, but for the musicians it also carried the curse of exhaustion, and perhaps a feeling that they had now achieved what they set out do, so . . .
Recommended . . . and now available, from this Friday September 15, 2017.
Mark that on your calendar.
For more on Fire Records' releases at Elsewhere see here. Their website is here.
Southbound's website for their excellent vinyl/CD etc store in Auckland (which does online sales) is here.