Graham Reid | | 5 min read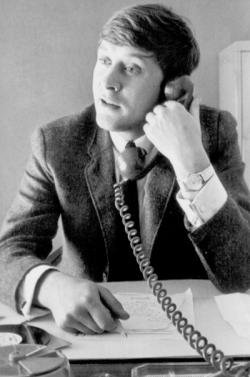 You may not care much – or indeed, at all – for the populist music Mickie Most produced, but you can't deny his gift when it came to picking and creating chart hits.
It's quite some musical, generational and genre distance between Donovan's tripped out Mellow Yellow and Sunshine Superman then Kim Wilde's Kids in America, Jeff Beck's singular Ho-Ho Silver Lining . . . .
Hi-Ho Silver Lining
and Suzi Quatro's 48 Crash.
But Mickie Most – born Michael Hayes in Hampshire, England – negotiated those hits into existence alongside dozens of others as diverse as the Animals' House of the Rising Sun (although there's controversy around that), Racey's unforgivably inane chart-topper Some Girls and Hot Chocolate's slo-funk Brother Louie.
And Most can perhaps claim to have recorded one of the first UK punk singles: We Vibrate by the Vibrators in November '76, which put it two months ahead of the Strangler's Get a Grip on Yourself and well ahead of the Clash's White Riot.
And most of the time he'd probably rather have been playing cricket.
Mickie Most enjoyed a colorful life from London in the late Fifties when rock'n'roll and skiffle were being born, through time as a pop star in then-remote South Africa in the early Sixties, back to London to drop any pretense of a singing career to produce records, being a business partner with Peter Grant (manager of Led Zeppelin) and then churning out hits – often written by the Chinn-Chapman team – for his own label RAK.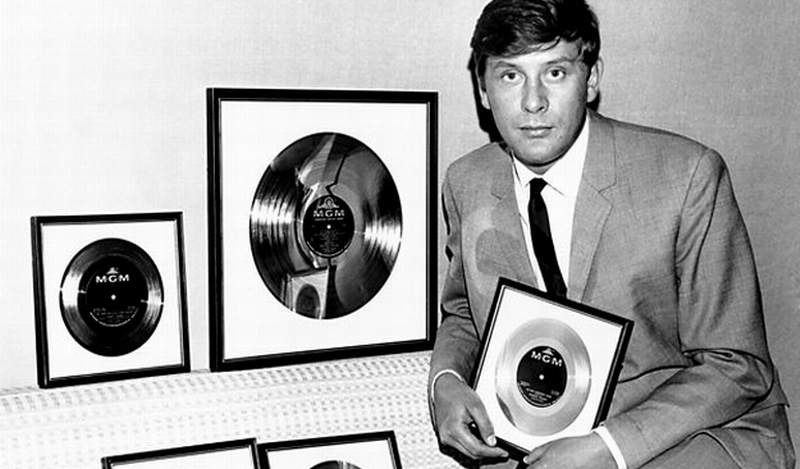 No, you may not care anything for some of the songs he put up the charts.
But if you look at the sales figures – individually they are impressive, collectively they are astonishing – then concede this: You are in the minority, pal.
The single-buying public who had never heard his name liked what he did . . . but artists from Lulu (To Sir With Love one his many chart-busting productions for her) to the dreadful, reductive glam-pop Mud (Yep, he was responsible for Tiger Feet too) were happy to see him on the other side of the studio glass.
Certainly his career wound down in the Eighties . . . because in '83 he sold RAK to EMI for a whopping seven million pounds (when a million really meant something).
He admitted he didn't understand the way music was going at that point: Duran Duran and synths and dance and E.
"I was getting past my sell-by date," he would say. "I'd already spent 30 years of my life in recording studios and so, just before I turned 50, I retired seriously from making records".
He sat back, built a massive modern-design house (because "people of that era [the Fifties], if we ever had hit records and got money, we'd have a penthouse with all the modern furniture") and sat comfortable on Sunday Times' Rich List.
When he died in 2003 – less than a month before his 65thbirthday – his funeral was attended by Jimmy Page and Jeff Beck (whom he'd known from Yardbirds days), Peter (Herman of the Hermits) Noone, the ever-loyal Lulu, old friend Donovan and other musicians who remembered a man who loved music and had that rare ability to pick a hit.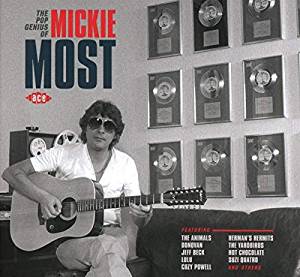 If you doubt that, then the compilation The Pop Genius of Mickie Most (Ace/Border) is not just convincing aural evidence but the fat biographical booklet brings home just what a taste-maker, sound-shaper and studio genius he was.
Genius?
A word used too lightly in pop culture, but in his case . . .
In the liner quotes Mike Chapman of the Chinn-Chapman team said Most was "sort of superhuman" in his ability to pick a hit; Noone/Herman says "the test of a hit single now for me is to be able to sell it to Mickie Most . . . if you can't sell it to Mickie Most it isn't a hit".
But more than single-picker guy, this man grew up old-school in the industry.
And maybe that was the key.
As a keen-teen wanna-be he worked and played his way through London clubs as a musician in the late Fifties, backed Gene Vincent in South Africa when rock'n'roll was all but unknown there, came back to Britain and shared bills with the young Rolling Stones and Bo Diddley, got into production and gave the Nashville Teens an unexpected hit with Tobacco Road (as surprising as House of the Rising of the Sun for Newcastle's Animals) and who had the pop star looks and style himself . . .
More than that though, he supported the artists he worked with.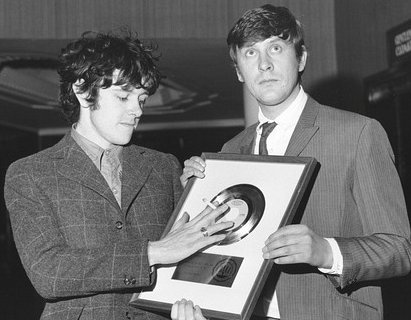 He transitioned Donovan from the albatross of being "Britain's Bob Dylan" into a unique artist in his own right with Sunshine Superman (Jimmy Page on guitar, John Paul Jones on bass; half of Led Zepp right there) and again with – a genius move – Barabajagal which paired Donovan with the Jeff Beck Group.
Mickie Most was one of the great insiders in the UK pop business in the Sixties and Seventies, and Suzi Quatro says in her liner quote on the Pop Genius collection: "I had an offer [from Elektra] to be the new Janis Joplin and [Mickie] said to me, 'How d'you fancy being the first Suzi Quatro?' "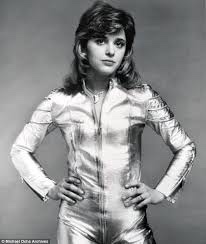 So Mickie Most was more than just a pop-picker.
He produced great albums such as Jeff Beck's Truth (with the then-unknown Rod Stewart on vocal) and Beck-Ola.
Although he couldn't resurrect Donovan's career with the shapeless Cosmic Wheels. But that was hardly his fault . . .
But Jeez, the guy almost produced the great Terry Reid album River. Ahh, but . . . well, that is a litigation story and Most doesn't come out well, although Reid was forgiving.
In many ways, Mickie Most's production method was elemental: Identify the key components, separate them so we can get them all (singer sometimes, organ or drums when required, lead guitar of course) and then shape them in mono in such a way everything leaps out of your radio.
In these days when radio is maybe not as relevant as it once was, then perhaps Mickie Most is that invisible sonic architect from a bygone era?
Well, maybe.
In the liner notes to the useful career sampling The Pop Genius of Mickie Most, he gets the last word.
From 1998.
"Music is very important to young people because it is their language and a very good way of communicating. They don't read newspapers or watch TV unless it's anti-establishment.
"Eventually just about everything, including music, will be through the internet."
Jeez, and you thought this hit-making/hit-shaping guy was living in the pop-past?
He could read the present tense more acutely than "most" when it came to identifying hits . . . and there he was, at 60, predicting the future?
Genius, you say?
Yep, just listen to Sunshine Superman . . .