Graham Reid | | 2 min read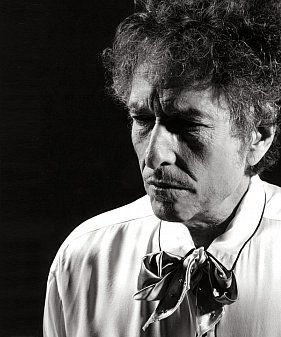 As a new decade dawns even Bob Dylan's most loyal fans must sense that they might not be hearing any new music from their man.
His last album of original songs was more than nine years ago and since then he has delivered three albums of covers -- Shadows in the Night, Fallen Angels and the triple CD/vinyl set Triplicate. Many of these were songs associated with Frank Sinatra (not Strangers in the Night or My Way, but more obscure Sinatra songs) and written in the Forties and Fifties.
He has arranged them -- beautifully -- for his band which includes pedal steel guitar. So there is not a cocktail piano in earshot.
Why would he do those songs?
Because hasn't Bob Dylan -- despite the title of DA Pennebaker's film -- always looked back?
As a young man he looked to old country, blues and folk, after the motorcycle accident he refreshed himself again on old songs, he threw country and pop covers onto the Self Portrait hodge-podge collection, went once more to the wells for the albums Good As I Been to You and World Gone Wrong . . .
Dylan replenished himself often by looking back. We can only hope that is what he has been doing with these last three albums.
But when he sings the classic ballads on those albums they often come with a world weary, hard-won wisdom of age . . . as in the case Some Enchanted Evening by Rodgers and Hammerstein from the Fifties musical South Pacific.
It's a song which is most often given a chest-swelling treatment by big voiced balladeers. As in these instances.
Some Enchanted Evening, by Harry Connick Jnr
Some Enchanted Evening, by Alfie Boe
But Dylan, a man who placed pre-eminence on lyrics (like Sinatra) really found the key to that song which boasts a beautiful melody so tempting for the balladeers.
The key comes at the end.
It is in the lines where he sings about finding that rare love and never letting her go, because if you do you might spend the rest of your life alone. That is where the sadness and emotional weight of the lyric lies and Dylan -- almost in his mid 70s when he sang it -- brought a lifetime of regret, lost loves, experience and gravitas to those words.
Given he knew that song from his youth -- it was so enormously popular it was inescapable, even in the Sixties -- it's no surprise you can easily locate a song of his own with a not dissimilar sentiment.
The recent box set Travelin' Thru 1967-1969, The Bootleg Series Vol 15 which collected his songs from the John Wesley Harding, Nashville Skyline and Johnny Cash rehearsals and television show allowed us to hear again a song from that period when he was turning down the volume and driving deeper into lyrics with emotional resonance.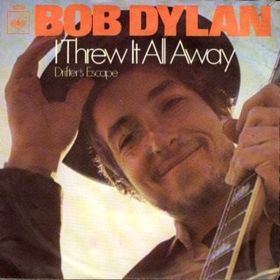 It is not too far a stretch from the idea of lost opportunity in Some Enchanted Evening to that on his own I Threw It All Away which appeared on Nashville Skyline.
It hardly matters these days -- half a century later -- who the Dylan lyric was about. It stands as a song of regret and lost opportunity.
You'd love to hear him sing it again now, bringing that cracked and broken voice of experience to a lyric like this which so deserves the regret he could bring.
Here's his first take as heard on the Travelin' Through box set.
And here's the released version from Nashville Skyline
I Threw It All Away