Graham Reid | | 5 min read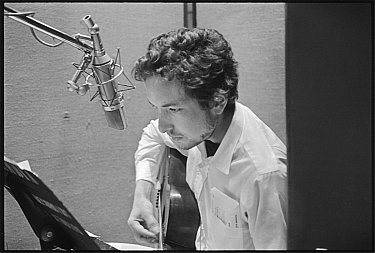 For the remaining few who care about Bob Dylan in reissues – refracted portraits of the artist as a younger man? – the newly released triple-CD of previously unreleased rehearsals and sessions in 1970 will be . .
Well, you'd like to say the set – under the simple title, 1970 – contains material which is seminal, reveals unexpected depths, that those sessions with George Harrison are extraordinary . . .
They aren't and this set isn't.
And it only gets released because . . ?
Money. This collection, which appeared in a very limited run late last year, extends copyright on his songs.
Not the most noble of reasons for a releasing Dylan's music. But a collection not alone in that imperative.
Although all these New York studio recordings – demos, covers, some with a mostly unobtrusive Harrison – are previously unreleased, most of the then-new originals (the best of which appeared in New Morning in '70) will be familiar to Dylan listeners.
But for that diminishing few aficionados there is enough to be mildly curious about although the "classic" moments are so infrequent as to be non-existent.
And Dylan's people have already filled these gaps of that odd year.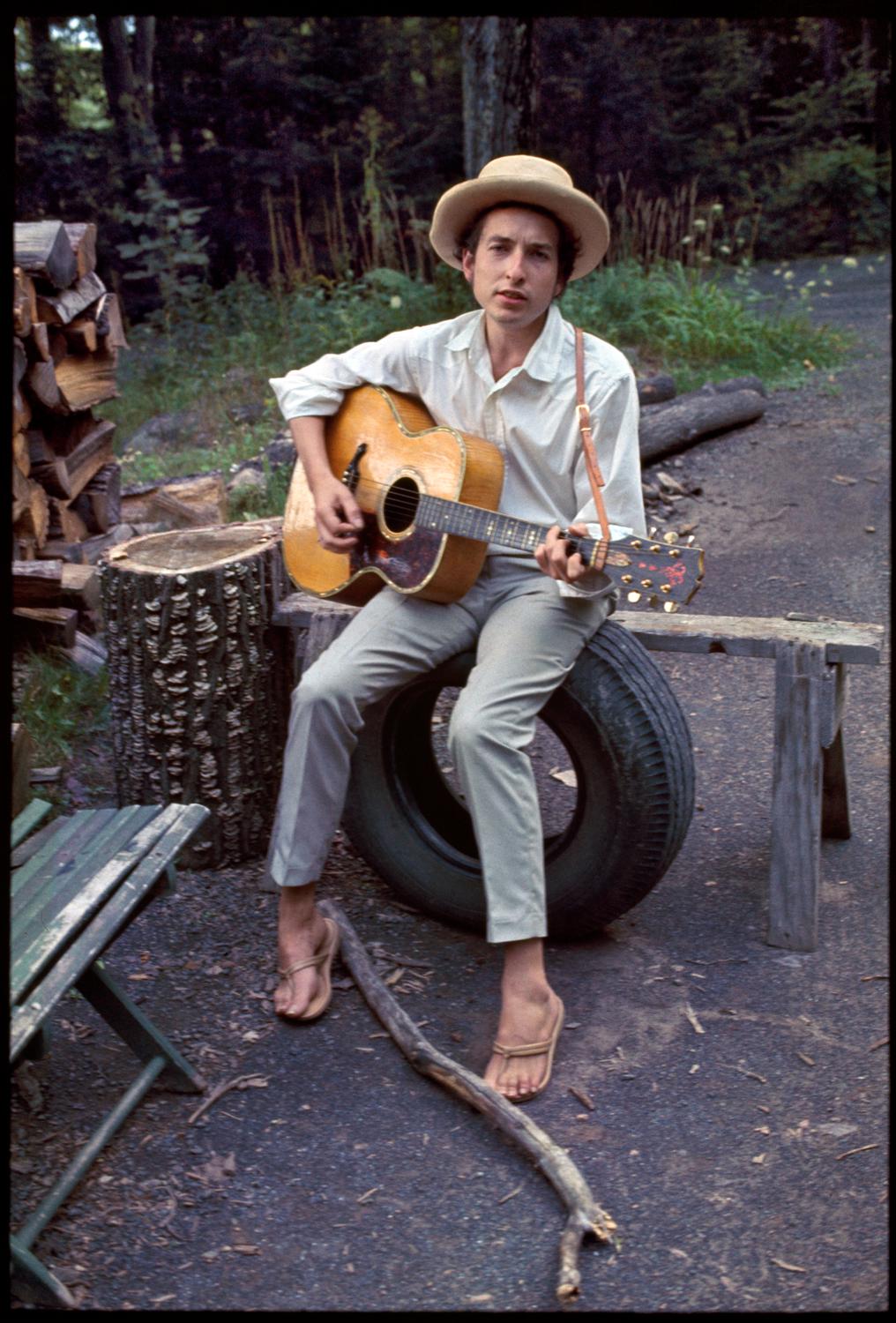 To recap: In 1970 Dylan was happily four years gone from the motorcycle accident which allowed him to retire from the field of play injured. After the furious work-rate of releasing four groundbreaking albums (one a double) in less than two years -- in addition to touring, interviews, expectation and god knows what artificial fuel he was on -- this was his chance to take time with the new family in the bucolic surroundings of upstate New York.
As the world went into the era of guitar heroes (Clapton, Hendrix), psychedelic music (Sgt Pepper in 67, a year after Dylan's Blonde on Blonde double) and much else bedsides, Dylan remained on the sideline.
When he did release albums they went contrary to spirit of the times: John Wesley Harding was downbeat, stripped back and replete with Biblical imagery; Nashville Skyline was unfashionably low-key country music . . .
Dylan wanted to shed the skin of his previous incarnations as the voice of a generation or some amphetamine-fueled Beat poet-cum-rock star (he was kinda both). So to rid himself of expectation as much as to enjoy his new life he also threw out the easily dismissed Self Portrait in '70.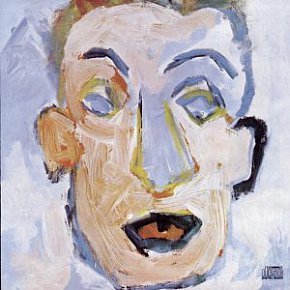 Of that shapeless double album Dylan would later admit he deliberately wanted to further distance himself from those still demanding he be the spokesman of his generation.
"I wish these people would just forget about me," he said. "I wanna do something they can't possibly like, they can't relate to. They'll see it, and they'll listen, and they'll say, 'Well, let's get on to the next person. He ain't sayin' it no more. He ain't given' us what we want,' you know? They'll go on to somebody else."
Then he followed it with the more configured but slightly unusual New Morning four months later, yet further distancing evident.
In 2013 in an instalment of his on-going Bootleg Series, Dylan released Another Self Portrait which, over two of the four CDs in the set, ditched the detritus of the original Self Portrait and pulled in alternate versions and demos from this period to much better results.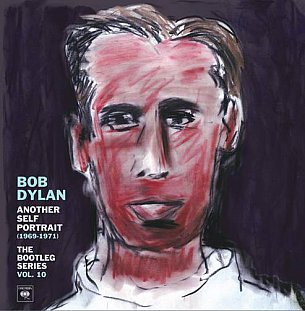 Job done in terms of exploring this period, surely?
And that's without mentioning the Travelin' Thru collection in the Bootleg Series which covered the early period of his downtime/retreat from 1967-1969 (with Johnny Cash).
All around him others waited for his message from what ever mountain top they put him on . . and he was hanging out jamming with the Band, enjoying rural days and catching up with friends like Harrison.
1970 was a good year too be Dylan when he could just kick back and play old songs, new stuff, sit around with pals and . . .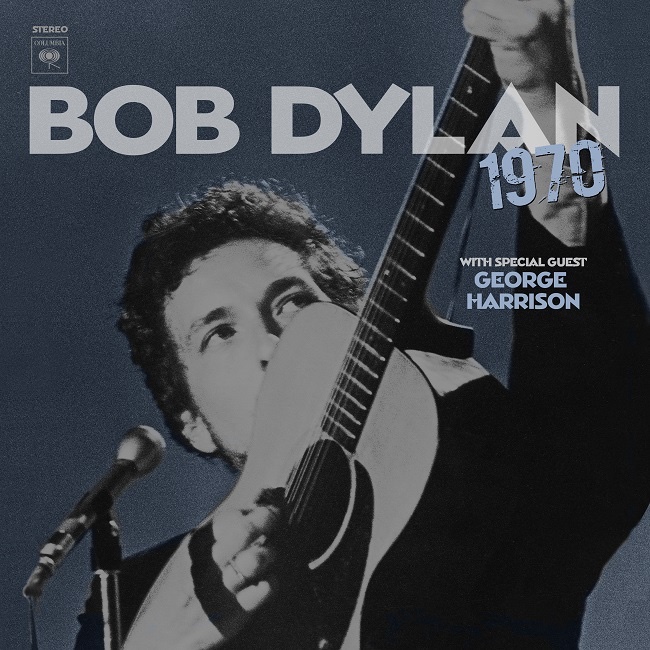 The three-CD collection 1970 is no more and no less than that: casual rehearsals and jams from a man at his ease, looking way back to his first songs in New York (Song to Woody from '61 gets a comfortable and reflective work-out along the way, Albert comes to mind for him also) but also rehearsing a few songs which would become important to him.
Across the few days recorded between March and August – during which time Self Portrait was released – Dylan kept returning to some: five takes of I Went to See the Gypsy where he want to get the mood right; the beautiful Sign on the Window and gentle If Not For You also getting as many takes to catch the tone and tempo . . .
But theres's a very odd run-through of McCartney's Yesterday with Harrison (take one, there were others?), a lousy Can't Help Falling in Love With You, Long Black Veil (where he sounds like he's got a bad cold) . . .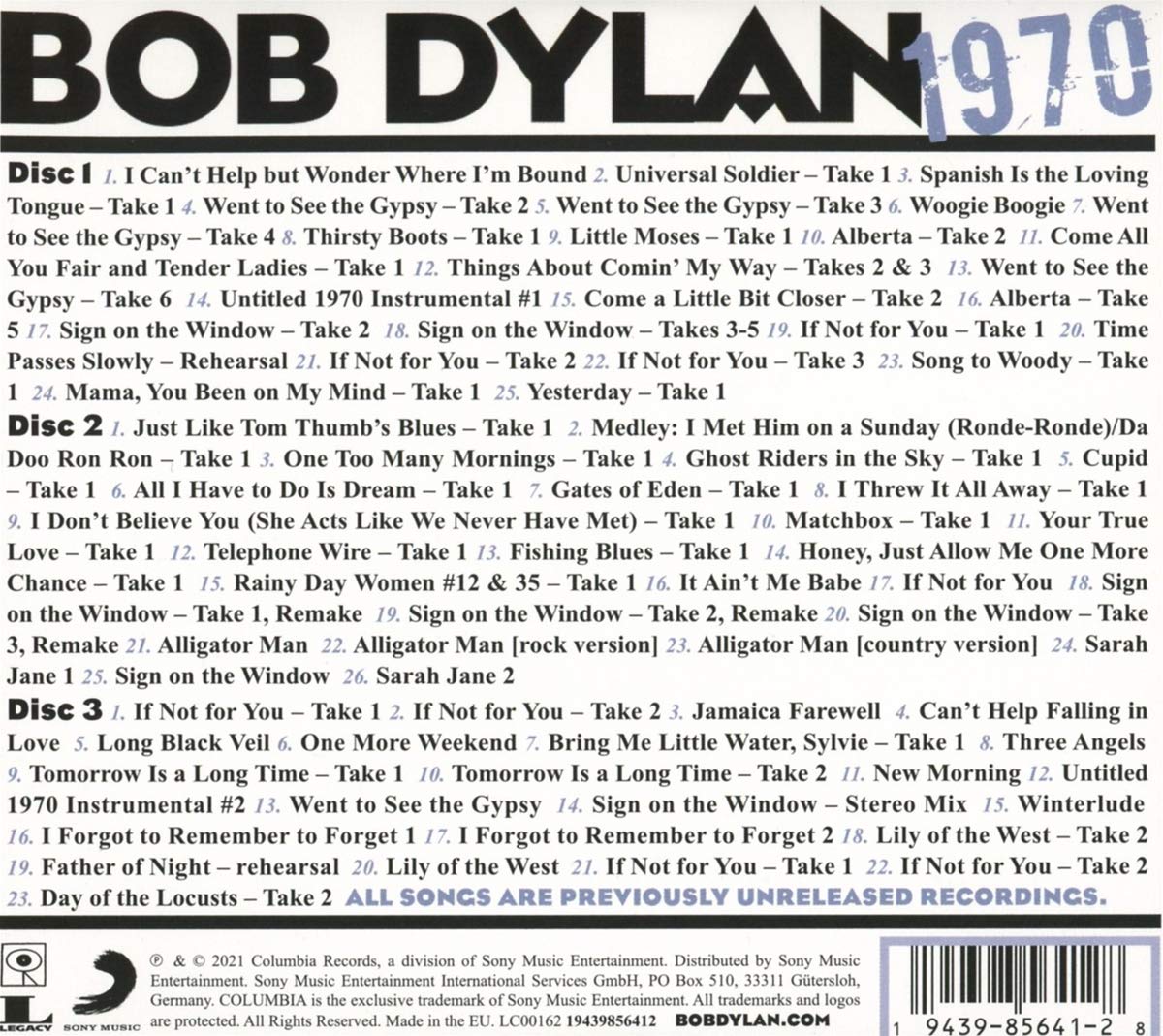 Also weirdness: Why would we want to hear him go back to Tom Thumb's Blues and the Ronette's Da Doo Ron Ron? Do we need to hear an off-mike Ghost Riders in the Sky and a laboriously boring version of Sam Cooke's wonderful Cupid, a trudge through his Gates of Eden and a country-style Rainy Day Woman, a lazy rockabilly Matchbox . . .
These and many other songs across these discs are inconsequential and unworthy of Dylan's legacy.
So we're back to the money rather than his record company offering a collection in the superior and better curated Bootleg Series.
And back in Self Portrait territory as Dylan wanders aimlessly through folk, country, blues and rockabilly in these rehearsals.
Among these 74 tracks are there any worth serious attention?
Yes: hearing him explore new voicings in a more country and deeper tone (as appeared on Lay Lady Lay) is interesting; If Not For You even in the lesser rehearsals transcends the various takes, there are a couple of takes of Sign on the Window which are good to have (but not essential) . . .
So there are singular delights and the relaxed mood can be endearing, but none of these takes and rehearsals were intended for release.
And that alone perhaps tells you as much as you need to know about a lot of Dylan here but not a lot of essential Dylan.
This release only serves to diminish the legacy of a man who last year stopped us in our tracks with the exceptional Rough and Rowdy Ways.
Shame.
Little on 1970 will interest casual Dylan listeners and even serious scholars – who will doubtless enjoy hearing their man trying different voices and intonations – would consider it mostly surplus to requirements.
No one needed his version of Yesterday.
.