Graham Reid | | 4 min read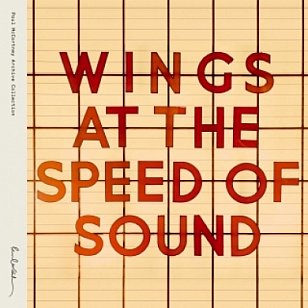 Paul McCartney must have been livid with his record company in 1976.
Consider: He'd been in the biggest and most culture-changing, money-making band of the century and along the way had written dozens of classic songs; a field-length list which included Yesterday, Penny Lane, Eleanor Rigby, She's Leaving Home and . . .
Then when that band broke up he reinvented himself over a couple albums to deliver the massive-selling Band on the Run, his band Wings became a hugely successful stadium act and in recent years he'd been pumping out hit singles once more.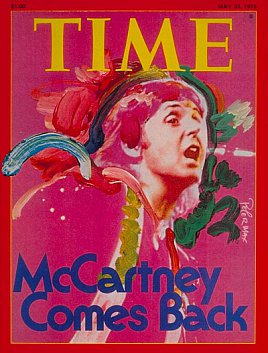 So in late '75/early '76 when he was recording his new album – a few months before appeared on cover of Time with the headline "McCartney Comes Back" – he went to Capitol and said he wanted this next one to reflect a more democratic view of Wings which had been seen as simply his own vehicle.
With a band which included successful and/or aspiring songwriters Denny Laine (formerly of the Moody Blues), Jimmy McCulloch (Thunderclap Newman, Stone the Crows) and drummer Joe English, it seemed timely to broach the idea of a double album.
Again.
But once more apparently – as they had done with Wings' Red Rose Speedway three years previous, when admittedly his critical and commercial renaissance was still in the future – the record company turned him down.
It would be a brave exec who would do that after Band on the Run and at a time when double albums were not uncommon. (Later that year Wings would unleash a triple live album which topped the Billboard charts! A triple album?)
But there it was. Some said there was a vinyl shortage – but that doesn't explain the thumping triple Wings Over America.
So the Wings album At The Speed of Sound appeared as single album with some contributions from the band – notably McCulloch's darkly jaunty Wino Junko (he ODed in late '79 after he'd left Wings) and Laine's lovely delivery of McCartney's Note You Never Wrote. It is a lyrically odd ballad which initially sounds very adrift in the bed of keyboards then in an almost Floydian leap is engaged by McCulloch's brief Gilmour-like guitar solo.
It wouldn't have sounded out of place on Mike McGear's album McGear (essentially a Wings album fronted by McCartney's brother Mike).
There was also Linda McCartney's moronic rock'n'roll on Cook of the House, a lesser moment among quite a forgettable few. As critic Peter Watts noted, "Unlike much of the album it dares to be different. It's also appalling."
The album was largely propped up by McCartney's hit single Silly Love Songs, the excellent and more muscular Beware My Love (a co-write with Linda) and the catchy Let 'Em In where he name-checked some McCartney family members and which was later adopted and adapted by soul man Billy Paul as a plea for racial inclusion and then reggae star /toaster Shinehead in the Nineties.
At the Speed of Sound set the template for subsequent uneven Wings albums.
But now that McCartney is richer than Croesus, he can reissue his albums in expanded editions as tasty vinyl and ridiculously expensive collectors' item box sets (a suitcase for the recent over-rated Egypt Station which he so cannily talked up) under his Paul McCartney Archive Collection.
And so a remastered edition of At the Speed of Sound appeared in CD reissue in 2014 in the Paul McCartney Archive Collection as . . . a double album.
But certainly not the double album as originally intended.
The extra material is frankly lame: there's a demo of Silly Love Songs which sounds truly awful and seems endless, an equally tiresome and over-long demo of the very lesser album track She's My Baby (which recalls that scene in The Rutles where the Macca character is at the piano boring his wife – played by Bianca Jagger – witless) and a 24 second Vocoder thing called Message to Joe.
More promising just by its title is Beware My Love (John Bonham Version).
But it's a hoarse McCartney going through the song and if Led Zepp's Bonham plays on it, he does a very good impersonation of a drummer who isn't John Bonham. It gets by on the guitar solos from presumably Laine and McCulloch (the double vinyl edition is scrupulously free of information, and on the second record there is blank side).
There's McCartney's very pretty and relaxed version of Must Do Something About It which Joe English sang rather well on the original album, but the other demos don't add much: Let 'Em In and the nice Warm and Beautiful, much admired by Elvis Costello, appears in an instrumental version. It – like She's My Baby – was repurposed for the London Symphony Orchestra on McCartney's Working Classical album in '99.
Listened to critically, and even at this distance when many are giving Wings and McCartney solo albums of the Eighties a fresh and more favourable hearing, At the Speed of Sound still sounds like a very patchy album which might have made a great five-song EP.
But a double?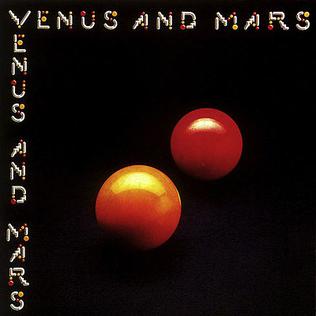 Footnote:At the time of this remastered reissue there was also the expanded version of its predecessor Venus and Mars which at the time many felt a lesser run at the pop-rock magic of Band on the Run. It stacks up rather better than that and the bonus material was more interesting: the single Junior's Farm, country-folk Sally G, a seven minute version of the album track Rock Show, the bruising hard rock of Soily and various oddities like the Fats Domino-inspired throwaway Going to New Orleans . . .
Might have made a good double album!
Elsewhere occasionally revisits albums -- classics sometimes, but more often oddities or overlooked albums by major artists -- and you can find a number of them starting here