Graham Reid | | 7 min read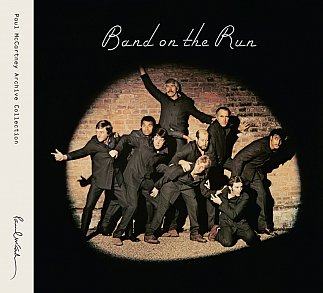 It's sad in a way, but great albums often are a result of bad situations: death, divorce, betrayal, litigation and debilitating substance abuse seem to make for better and more interesting music than cheery times with the family on holiday.

Think about it: Neil Young's Tonight's the Night (death, drugs); John Martyn's Grace and Danger (divorce, drink); Marvin Gaye's Here My Dear and In Our Lifetime (divorces, drugs); John Lennon's Plastic Ono Band (all of the above and more) . . .

Paul McCartney – whose life has been alarmingly blessed, aside from the Heather debacle – doesn't seem like a man who has suffered for his art, but his breakthrough album Band on the Run of '73 was a battle against the odds. Maybe that was the kick along he needed, rather than domestic bliss with Linda.

Its predecessors were his McCartney solo debut of 1970 in which he announced his departure from the Beatles forever and was largely a lowkey clearing house for mostly half-finished ideas lying around. Then came the infinitely more interesting and credible Ram (an Essential Elsewhere album which even now still stands up), the less interesting Wild Life (with his new band Wings) and the patchy Red Rose Speedway which felt like a stop-gap at the time but on reflection pointed a direction.

So by mid 73, despite some hit singles (notably My Love and Live and Let Die), McCartney was looking like a man conspicuously failing to keep up the high standard he set himself in his former band, to which he was always going to be compared, unfavourably.

Deciding to record his next album in an EMI studio outside of England he chose Lagos, but before they were due to leave drummer Denny Seiwell and guitarist Henry McCullough both quit . . . so McCartney, wife Linda, loyal guitarist Denny Laine and Beatles engineer Geoff Emerick went to Lagos (where there had been a cholera outbreak) and discovered the studio was so primitive it didn't have a vocal booth.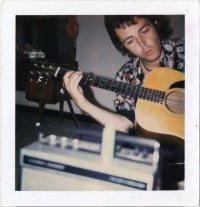 "I mean it's funny out there," said McCartney recently, "Africa you know, the politics. It's obviously not as up to date as London or New York or anywhere in our world really. They make great music but they're not as technologically advanced and they weren't then as technologically savvy as we were.

"We expected it to be a proper EMI studio. But in fact we said, 'Okay, where are the vocal booths? We want to go do the vocals.' And the guy sort of looked at me blank. He said, 'Vocal what?' We said, 'Yeah. You know, those little wooden boxes with the glass in 'em and that? Where you go, you put a mic in.'

"Oh no. They didn't have vocal booths. So we had to say, 'Okay, well here's what it is. You take bits of wood and you make a big box and we gave him the dimensions. Then you put windows in. You know, you need to seal it up. Stick a little roof on it, a little door and that's a vocal booth.'

"So they did spend a little bit of time building them. You know, we'd come in the morning. Tink, tink, tink, putting the Plexiglas in. But we got it done. I think in a way the kind of vibe of it all being a little bit homemade found its way into our attitude."

Local legend Fela Kuti also accused McCartney of coming to Nigeria to rip off African musicians, then one night they were mugged an all McCartney's demo tapes were stolen.

"And, of course, they wouldn't realize that there was any value in them or they were of any use to anyone. I'm sure they just either recorded over them or just chucked 'em or sold 'em as blank cassettes.

"So that meant that I then had to remember the album. And that was okay. 'Cause that was kind of a rule John and I had always had, 'cause we didn't have cassettes or any recording devices then. And we always had to remember stuff.

"We used to say, if you can't remember it, how will the people remember it."

Yet out of all this – and of course subsequent sessions back in London – McCartney pulled out the first great solo album of his career, created a platform for Wings ("only the band the Beatles could have been" according to Alan Partridge), and he became a genuine solo artist with a stadium-filling catalogue that didn't require he dip into his past.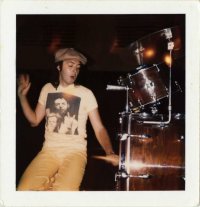 "My big aim after The Beatles, once we decided to put a band together, was to do something different, but successful. And that was difficult. 'Cause all those years I'd been training Beatle style. And I didn't want to just continue the same thing.

"So I had to kind of avoid anything that sounded too Beatley and make a new style, which was to become the Wings' style. So by the time we did Band on the Run I felt we'd got it.
"We'd really established something that wasn't like the Beatles at all. It had echoes maybe inevitably, you know, because it was me. But it had established its own style.

"Years and years later I was doing an interview with some guy, I think he was from Rolling Stone. We were talking about Sgt. Peppers Lonely Hearts Club Band, and he says, 'My Sgt. Pepper's was Band on the Run.'
"And for his generation it was as important, so that really made me feel good, because that's what I've been trying to do, establish something that was as important as The Beatles were, for someone like him."

Band on the Run – initially attributed to Wings, then on reissue Paul McCartney and Wings – has now been remastered by many of the same team who did the impressive Beatles remasters released last year, and is the first in a reissue of all McCartney solo albums remastered as the Paul McCartney Archive Collection.

Band on the Run now arrives in a variety of formats originating with the single disc digitally remastered, essential 9-track standard edition.
The three-disc (2CD, 1 DVD) special edition features nine bonus audio tracks (including the hit single Helen Wheels), rare footage of the McCartneys in Lagos and behind-the-scenes at the famous album cover shoot, and the original Band on the Run promotional video clips as well as some terrific studio footage and some previously unreleased songs.
It also includes music from the One Hand Clapping television special (highlighted by studio performances filmed at Abbey Road in 1974).
This is all with enhanced packaging and featuring new liner notes by Paul Gambaccini.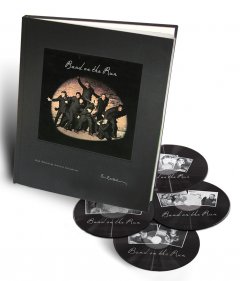 Collectors can go for the four-disc (3CD, 1 DVD) deluxe edition which adds a 120-page hard bound book containing many unseen and unpublished photos by Linda McCartney and Clive Arrowsmith, album and single artwork, downloadable hi-res audio versions of the remastered album and bonus audio tracks, a full history of the album complete with a new McCartney and expanded track by track information for all four discs.

The deluxe edition also includes a special Band on the Run audio documentary (originally produced for the 25th Anniversary edition) and both standard and deluxe versions will be available digitally.

The original remastered album and bonus audio content will also be issued in a 2 disc 180gm audiophile vinyl edition that comes with an MP3 download of all 18 tracks.

Whew!

But . . . repackaging/remastering aside, does the music stand up almost four decades on?

Certainly: the increasingly urgent, autobiographical title-track opener sets the tone picked up in Jet – one of his best rockers – as an impressive double-whammy. Jet is lightly echoed towards the end in the slightly woozy and beautifully orchestrated Picasso's Last Words, and the album closes with a Band reprise which gives it a loosely conceptual feel.

Picasso's Last Words shows McCartney's casual craftsmanship. It was written after Dustin Hoffman asked him to pen something using Picasso's last words (allegedly, "drink to me, drink to my health").

Let Me Roll It, a standout, is closer to Lennon's edgy Cold Turkey and the pop-smart Mrs Vanderbilt (also echoed in Picasso) was, improbably, voted the most popular McCartney song by Ukrainians in 2008. Mamunia is a typical McCartney make-weight however, but the breezy Bluebird adds breathing space.

It isn't a concept album although feels like one – and the "concept" was so good McCartney tried to replicate it – with diminished musical returns – on Venus and Mars two years later, which sold anyway because he was on a high with Wings and touring heavily.

Band on the Run sold seven million on release and Jon Landau in Rolling Stone said it was "the finest record yet released by any of the four musicians who were once called The Beatles."

Maybe if McCartney had endured a rougher ride in the following decades we might have had more albums like Band on the Run, a triumph against the odds.
For an overview of Paul McCartney's albums in the Seventies go here.
For an overview of McCartney and Wings go here.
There are numerous other articles on McCartney here.
And here is a film of McCartney talking about the Band on the Run remaster/reissue.