Graham Reid | | 4 min read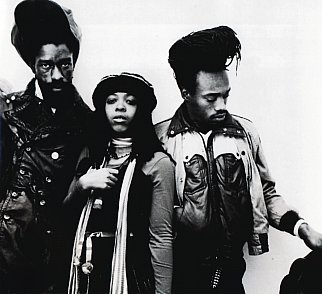 After the death of Bob Marley in May 1981, it seemed the biggest Jamaican reggae band in contention as his successor could be Black Uhuru.
There was certainly a lot of their fine and sometimes fiery music about.
The previous years had seen release of a self-titled collection of early singles which included new songs alongside some of their 45rpm classics: the broody Guess Who's Coming to Dinner ("natty dreadlocks"), Shine Eye Gal, Leaving to Zion and General Penitentiary among them.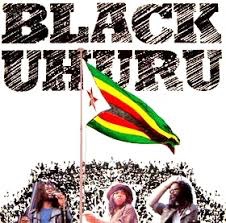 In 1980 they released Sinsemilla which by critical consensus of UK writers was far and away the best reggae album of the year.
And a month after Marley's death came Red which confirmed their status.
In New Zealand those first two albums (the former repackaged) got belated and simultaneous release and Red would arrive not long after.
So much so, that in the issue of Rip It Up where a reggae supplement paid tribute to the late Marley that Simon Grigg would write about those first two Black Uhuru albums in the same article and mention the forthcoming Red.
What set Black Uhuru – uhuru means freedom in Swahili – was not just the mix of male and female voices (Michael Rose, Puma Jones and Ducky Simpson, the established line-up on Sinsemilla, Red and beyond) but the production by Sly Dunbar and Robbie Shakespeare.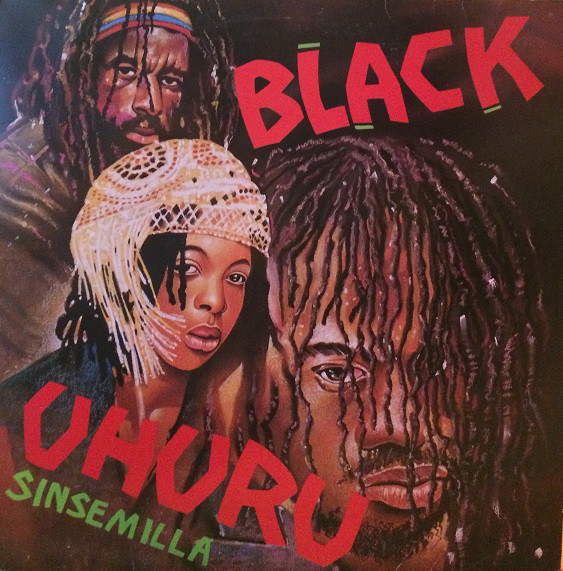 They were also the rhythm team alongside some of Jamaica's finest players, among them pianist Ansell Collins, percussion player Sticky Thompson, guitarists Mikey Chung and Ranchie McLean and others.
Sly'n'Robbie had embraced the new synth technology as well as remaining close to dub and roots. So they brought a sharp, contemporary sound to Black Uhuru which was as deep and wide as it was sometimes unusual.
Sinsemilla (named for a strain of high voltage marijuana) is a terrific album . . . but Red found them totally in command and on a platform high enough to declaim from but still grounded in songs which were economic and memorable.
Despite what seemed like their sudden appearance in '81 with three albums, the origins of Black Uhuru went right back to the youthful Michael Rose finding his way into a group which had a shifting line-up around its founder Ducky Simpson who had already had a couple of local hits in Jamaica.
American-born and raised singer Puma Jones joined around the time they hooked up with the Sly'n'Robbie rhythm section who were successfully enjoying a parallel career as producers (notably with Grace Jones' debut Warm Leatherette).
When Red arrived it was met with universal acclaim for its militant righteousness, deep roots and Rastafarian political stance.
"Don't say I'm American, I'm African", Jones would insist in an NME interview.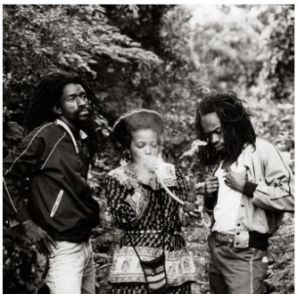 It arrived in the UK a month after the riots in Brixton and although the opening track Youth of Eglington ("won't put down their Remington, the youth of Brixton they leave their 45 Smith and Weston pistol") had been written six months previous it took on new and current resonances.
In June, Melody Maker ran a full-page message of support for the youth of Brixton from Michael Rose and at the end of the year NME reproduced some of the Eglington lyrics in a photo essay.
Ironically, the song wasn't an encouragement to riot, more a warning of what could happen if injustices continued, and said to its audience "save your strength for strength is life".
It's a powerful and catchy piece which goes out with a terrific synth/percussion groove and a looped edit which makes Rose sound like he's saying "bananas"!
The closer Carbine – which was originally going to be the album's title – urges people to cool off in the "gunshot season" and in a yearning vocal which pitches between Marley the pacifier (Simmer Down) and the ancient testifying of Burning Spear, Rose sings "be attentive to my call, oh Jah. I remember the days of long ago . . ."
He bridges the contemporary world ("cost of living reach the sky"), this "revolution time" and the "loving kindness of Jah" in this dangerous era.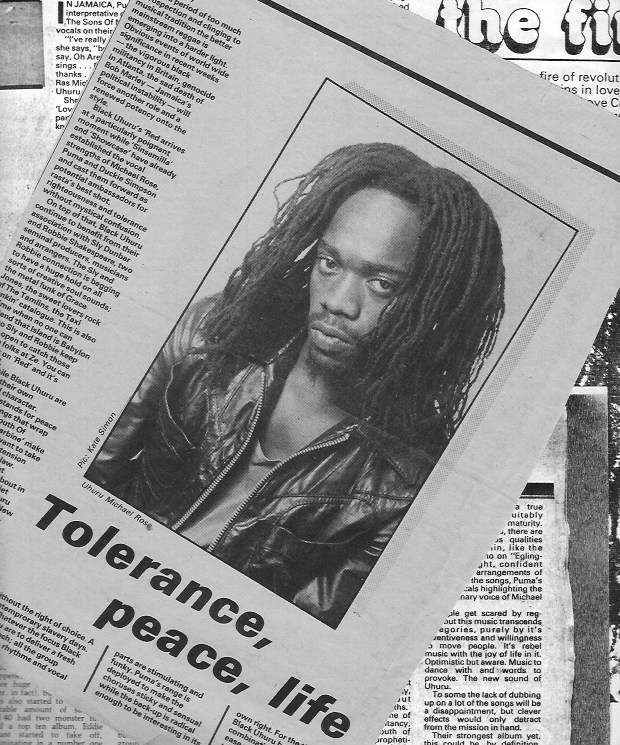 Alongside the measured militancy there is the joyously spring-heeled Spongy Reggae, Rockstone which links hard labour on a building site to slavery days and Ducky Simpson's Journey which walks through this world of Babylon, dangerous science and politics which divide people.
And there is the pivotal Utterance ("what a joy to hear the utterance of a Rasta") which addresses the fear the dreadlocked Rastas engendered (compare it to Bunny Wailers' Blackheart Man) and their righteous prophecies.
There's perhaps a sliver of misogyny in Sistren, often a concern and which came through in some interviews.
But Red takes on all of this in innovative musical settings from Sly'n'Robbie (that piano on Youth of Eglington) which pointed a way into a new reggae electro-sound which held tight to roots but crackles with energy and rhythm.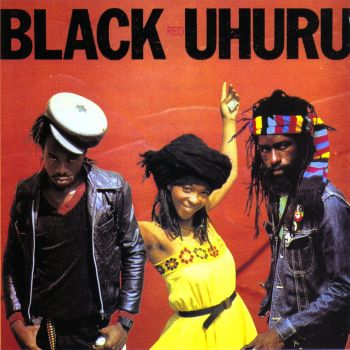 Michael Rose wasn't some old school Rasta but a young man who grew up in the ghetto and who assimilated the old country music (check out Puff She Puff on Red) and abandoned "lovers fuckry" for more important messages. Puma Jones studied social sciences in New York and was involved with Black Power before moving to Jamaica where she became a Rasta and worked with Ras Michael and the Sons of Negus. Ducky Simpson was the quieter presence but perhaps the most grounded in Rasta culture.
Together they were a formidable trio of thought and music, and on the cover of Red each presents a very different face for the camera.
About 18 months later Black Uhuru would release Chill Out and its dub iteration The Dub Factor which many consider their finest work.
But in this random pull from the shelves of albums to consider it was Red which came to hand.
And that was a very happy coincidence.
.
You can hear Red at Spotify here.
.
Elsewhere occasionally revisits albums -- classics sometimes, but more often oddities or overlooked albums by major artists -- and you can find a number of them starting here