Graham Reid | | 1 min read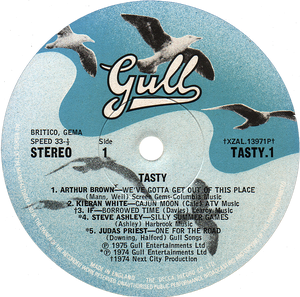 In those distant decades when vinyl was the only serious audio option, record companies large and small would often put out a budget-price compilation/sampler with a track each from their recent albums as a hook to get listeners into their artists.
If the label had a kind of over-riding ethos – heavy prog for Vertigo, punky pop for Stiff – then the compilations had some kind of coherence.
But one like Tasty, pulled from the shelves at random for consideration, made little sense at all.
The now-defunct British label Gull was eclectic in its roster, and that is perhaps being charitable.
This eight-song sampler featured Judas Priest with One For the Road from their Rocka Rolla debut on Gull alongside two pieces by the synth-proggers Seventh Wave and it opened with Arthur Brown's prog-rock epic Helen With the Sun (yes, he of Fire and The Crazy World of Arthur Brown). *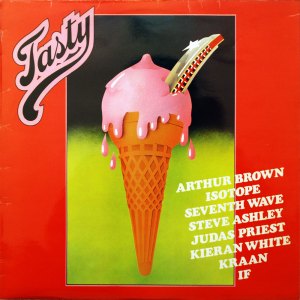 There was also the German group Kraan, the British jazz-fusion outfit Isotope who recorded a few albums for Gull but seemed plagued by line-up changes between releases, and Fire and Wine by innovative British folk-rock singer-songwriter Steve Ashley (previously of the reputable Albion Country Band) from his impressive debut Stroll On.
Kraan's seven minute-plus instrumental Holiday Am Matterhorn from their acclaimed Andy Nogger third album (engineered by Conny Plank) is an interesting sliver of experimental rock (with alto sax) and Isotope get a kind of keyboard funk going and co-exist in the same space as the likes of Return to Forever (with John McLaughlin on guitar, actually Gary Boyle). Their bassist was Hugh Hopper who had come over from Soft Machine.
Seventh Wave wind up the Moog and so on, heading towards symphonic prog (Only the Beginning is eight minutes and has some of the angst of Eighties synth-pop).
Listened to at this distance everything is very much of its period, but Ashley's drone folk-rock is very impressive and had me pull of the recent Lankum album again (unfortunately the album this comes from isn't on Spotify) and the final piece by Kieran White (formerly of Steamhammer) is decent cover of JJ Cale's Cajun Moon.
Regrettably not one of these tracks persuaded me to check out the albums they came from and which were pictured on the back cover.
.
* The eagle-eyed may note the image at the top of the page has tracks not on the sampler I have written about. They seemed to have shuffled tracks for different territories although kept the same cover..
.
This album is not on Spotify but some of the albums the tracks came from are.
.
Elsewhere occasionally revisits albums -- classics sometimes, but more often oddities or overlooked albums, a few by major artists -- and you can find a number of them starting here.