Graham Reid | | 3 min read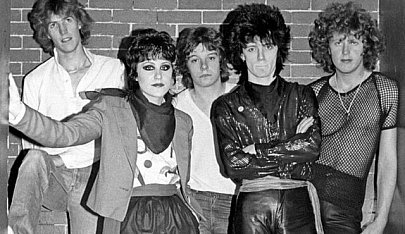 The first gobs of British punk in 1976-77 were mostly short, sharp, angry and anti-establishment (and sometimes anti-social) songs which made a virtue of energy over accomplishment.
But that was necessary to kick down the doors and walls of the music establishment, although the scorched earth policy some advocated didn't quite match up with the ethos.
These days an over-riding impression of the Sex Pistols' album Never Mind the Bollocks – uncoupled from the era – is just how snappy and poppy the songs are.
But all that phlegm and fury ushered in the more interesting bands of the post-punk era in '78 and allowed for artists as diverse as Ian Dury and the Blockheads, Wreckless Eric and Elvis Costello (all on Stiff Records); the more soulful Graham Parker and the Rumour; the minimalism of the early Cure, Wire and This Heat; the emerging electronics of Orchestral Manoeuvres in the Dark and . . .
In short order Joy Division, Siouxsie and the Banshees, Rachel Sweet and Magazine were in record collections alongside the Buzzcocks, the Clash, Crass and many others who would seem to have little in common on a musical level.
And slap-bang in the middle was Penetration out of the far north in County Durham.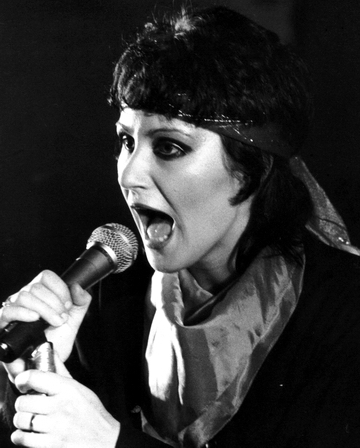 They were fronted by Pauline Murray, took their name from an Iggy/Stooges song and on their second gig under that name supported the Stranglers before doing a Peel Session, touring with the Buzzcocks and recording their debut album Moving Targets.
It is that album which has come off the shelves at random for a consideration in these on-going pages, 43 years on from its release.
Moving Targets was immediately acclaimed because while it had the requisite energy of the era, Murray was a strong but usefully annoying vocalist, there were some serious pop-rock values at work
It was aggressive, driven by hard guitars and drums (Gary Chaplin, Fred Purser and Neale Floyd, Gary Smallman respectively) and brought in keyboards (Purser) and the pumping bass of Robert Blamire.
And across the 11 skin-tight songs it was clear here was a band which smart, if quite traditional, songwriters within it.
In some ways it sounds rather American in its rockist tropes, but as if filtered through the angry punk sensibilities.
Critics were all over it and it went top 10 in the UK.
Paul Morley in the NME wrote "there are straightforward tactics of hard rock here impact and thrust, but other factors, most noticeably a chilling spatial and temporal sense, lift the music somewhere special. There is great mystery at work here. Definitely the edge of greatness".
Wow, and he concluded "don't deprive yourself for another instant".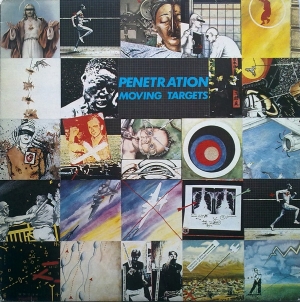 In Melody Maker Chris Brazier was nowhere near as effusive but cautiously favourable.
He noted some writers had made extravagant claims for this (and other debut albums) because they'd watched the groups growth and have been keen on them from the start. As a result they over-praise.
He notes he loved their single Don't Dictate (not on the album) but was alarmed by a live show where he said he saw "apparent transformation into a heavy metal band via the addition to their line-up of a new lead guitarist Fred Purser".
However he ended by noting the final track, Free Money: "long a staple of the stage-set and an exhilarating success here, overcoming my doubts about the wisdom of including let along giving such prominence to Patti Smith's great song.
"I should perhaps be wary of understatement as of exaggerated praise, but Moving Targets is, at the very least, a worthy and very promising debut".
Listened to from this distance, Brazier is more on the money than Morley (who in a grandiloquent statement compared it favourably with Patti Smith's Horses).
It's a strong album but it is most definitely in mainstream rock than in the more experimental zones which post-punk allowed for. Life's a Gamble sounds more MOR Eighties US-rock than from, post-punk Britain.
Perhaps that is why, for some anyway, it still stands up after so many albums in the post-punk era sound very time-locked.
But while an interesting listen – for an example of its success and shortcomings try their take on Pete Shelley's Nostalgia which is very good but also where that rock guitar intrudes – you can't help think that it doesn't stand up as well as many by their peers at the time.
And yep, Purser's heart was very much in guitar rock, as witnessed in his solo on Lover of Outrage, among other crimes.
Pualine Murray and the Invisible Girls' 1980 album was next to this on the shelf, might give that a go in time. It has Vini Reilly on it so that's a plus.
Still, I'm glad Moving Targets came to hand over something like Sham 69's snotty Tell Us the Truth.
.
Penetration's Moving Targets (with bonus tracks) can be heard on Spotify here
.
Elsewhere occasionally revisits albums -- classics sometimes, but more often oddities or overlooked albums by major artists -- and you can find a number of them starting here