Graham Reid | | 2 min read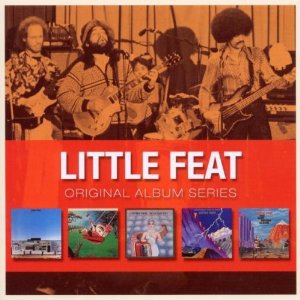 In a recent conversation with American guitarist David Becker -- who plays here next month -- he mentioned how the internet had made the whole of popular music history available to younger people. And what a gift that has been for the curious.
"There are really only half a dozen names you need to know," he said in reference to rock music, "but after that they lead you everywhere else."
He mentioned Le Zeppelin and Jimi Hendrix, and we might as well throw in Chuck Berry, the Beatles, Bob Dylan and . . .
Okay, you choose.
If Dylan lead someone to The Band they might also end up discovering the delights of Little Feat who might seem a bit Dad-rock these days (maybe even granddad-rock) but their sound was certainly unique and worth hearing at any time.
Out there somewhere in stores you can find their live collection 40 Feat; The Hot Tomato Anthology 1971-2011 which showcased how this band carved its own wayward and distinctive path between Southern funk, slide guitar blues, ragged rhythm and blues and swaggering country-rock.
At times the earliest tracks on that collection (when slide guitarist, singer and songwriter Lowell George was still in the band) sounded closer to less strident and long haul truck drivin' Captain Beefheart or the Stones around their Exile in Main Street period.
Those references should be enough to entice the casual listener to this collection of five of their original albums -- which includes as its centre Dixie Chicken which is an Essential Elsewhere album.
So here are their self titled debut from '71 (with Ry Cooder as a guest in the line-up and which includes their minor classics Truck Stop Girl and Bride of Jesus as well as the first version of their bona fide gem Willin'), Sailin' Shoes, Dixie Chicken, Feats Don't Fail Me Now and The Last Record Album.
That debut is more bluesy than their later recordings, so it is the latter four (all in distinctive covers by Neon Parks) where the real interest lies: Sailin' Shoes contains the definitive studio version of Willin' and great songs like Trouble, Tripe Face Boogie and Cold Cold Cold; then there's the essential but also small selling Dixie Chicken; the band al but ceased to exist until the "reunion album" Feats Don't Fail Me Now (Oh Atlanta, Down the Road, the medley Cold Cold Cold/Tripe Face Boogie, Emmylou Harris and Bonnie Raitt on backing vocals) and then the lesser The Last Record Album (which wasn't).

Of the five, you could argue the central three should be in any sensible record collection, and at just $15 for the lot at JB Hi-Fi stores (here) that seems within the grasp of most people's wages.
Which is why this collection (in replica sleeves) is this week's Elsewhere recommended Bargain Buy.