Graham Reid | | 1 min read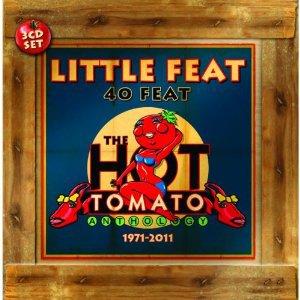 As with Amazing Rhythm Aces, Little Feat seem a band loyally followed by many . . . but largely overlooked by contemporary critics or those who never fell for their particularly imaginative gumbo of sleazy rock, New Orleans funk'n'voodoo, psychedelic country, dirty blues and whatever else made you feel good right at that moment.
The drug death of Feat's expressive singer, slide guitarist genius, songwriter and former member of Zappa's Mothers of Invention, Lowell George in '79 at 34 cast a shadow over the band's subsequent career (even though he had quit for a solo career just months previous).
The Feat carried on without George with an evolving line-up around original members Bill Payne (keyboards), Paul Barrere (bassist) and drummer Richie Hayward, and decades-long players like guitarist Fred Tackett.
In fact, George's time in Little Feat was remarkably brief in their 40 year career.
In 2002 the Feat formed their own Hot Tomato label for fans and specialised in live recordings, which made sense because they were best experienced live.
This chronological arranged three-CD anthology (40 songs over 40 years) is drawn from their live HT releases and if two thirds of it comes from the post-George years it serves to remind of the creditable and consistently funky role the others have played.
The first disc with George contains some remarkable material however: He comes off as part funky-filthy post-Zappa on the time-changing The Fan from '71 about crabs ("I heard you got an infection, from a guitar player of great renown"); part Dr John (Cat Fever where Payne rocks the joint); part dissolute Jagger'n'Richards circa Exile (the magnificently lo-fi but rudely authentic Apolitical Blues) . . .
Some of these are raw or cheap recordings (within a few years they had gone from playing to a dozen in a Houston bar to sell-out concert halls) but that hardly detracts from their power, charm or rollicking good time feel. They also remind you (as on Lafayette Railroad) how integral Payne's keyboards were right from the start. Together George's guitar and Payne's piano/organ dove-talied like Duane and Greg Allman.
The two post-George disc are of superior sonic quality (by the late Eighties they were a stadium band with an expanded line-up) and if some of George's funk and funny edges had been sacrificed they still delivered soulful r'n'b rock (some of it a little workmanlike) and there's no denying Barrere, Payne and Tackett.
Purists will forgivably bitch that the versions of Willin' and Roll Um Easy etc here are post-George and so on, but this is the long-running Little Feat live, sometimes lo-fi and sometimes loud.
No Little Feat anthology can substitute for the four-CD Rhino collection Hotcakes and Outtakes set of 2000, but these three live discs sit neatly alongside that without over-lapping tracks.

That cannot be a bad thing.

Ever.
Little Feat's Essential Elsewhere album is Dixie Chicken and you can read about that here. And longtime survivor Bill Payne is interviewed here.