Graham Reid | | 1 min read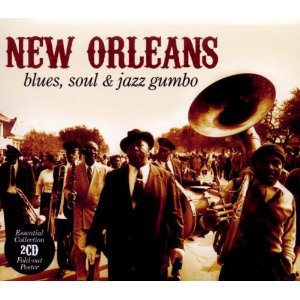 When New Orleans -- aka The Big Easy, The City That Care Forgot -- became the very big uneasy and the city the administration forgot in the wake of Katrina and the flooding, many people around the world recalled their good times there and just how important and unique that crucible of cultures, food, music and voodoo magic was.
These days it is relatively easy to find collections of music from the city, but few that have passed my view come close to this, a 50 track double disc which, in loosely chronological order, takes you on a journey from Louis Armstrong, Jelly Roll Morton, Sidney Bechet and King Oliver through Lloyd Price, Smiley Lewis, Dave Bartholomew, Bobby Charles and Clifton Chenier to Fats Domino, Allen Toussaint and Art Neville then on to Professor Longhair, James Booker, Clarence 'Frogman' Henry (this is funny about the Frogman), Lee Dorsey, Mac Rebennack (aka Dr John), Eddie Bo, Aaron Neville and Irma Thomas.
That's a whole mess of Nawlins musical threads and legends, and they are just the more familiar names. No, it doesn't come right up to date and there's no Nawlins hip-hop, but this is the ground on which the current music stands.
If some -- or worse, all -- of these names are not known to you, you haven't been paying attention. Or been watching Treme where many of these artists' songs appear. Start your learning curve at Elsewhere here and we'll see you in a couple of years.

You can check the full tracklist of this set here, but with it priced at just $15 in JB Hi-Fi stores here, you know where to pick up this Bargain Buy.
Great summertime music as much as serious listening, and chock full of classic artists with songs which are often just to the left of "classic" or overly-familar.