Graham Reid | | 1 min read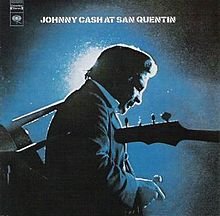 The reputation of the late Johnny Cash is supported by such strong poles that even his worst moments cannot shake his legacy.
Those hefty props include his early Sun sessions, his themed albums of train, Indian and cowboy songs, his inclusive television shows, the performances and recordings at Folsom and San Quentin prisons, the American Recordings with Rick Rubin and a few more.
Of the prison shows, this San Quentin album recorded in February '69 is perhaps the better known because it sprung the hit A Boy Named Sue and his song San Quentin which were met with rapturous receptions, and was also the subject of doco film.
This expanded Legacy edition first appeared in 2006 as a double disc and DVD and presents – over just two audio discs – the entire concert which opens with a slightly nervous Carl Perkins on his self-penned Blue Suede Shoes in a ripping version then on come the Statler Brothers with their contemporary hit Flowers on the Wall followed by the Carter Family (June talks a lot in a homespun little ol' style but makes some funny comments about what the hip young women are wearing) for a couple of songs before Johnny hits the stage to thunderous applause and his train-clack guitar sound.
He mixes in upbeat country and ballads, I Walk the Line, Folsom Prison Blues, Starkville City Jail, Jackson and Darlin' Companion with June . . .
It's a fiery and sometimes furious set, and that's just the first disc.
On the second Perkins, the Statlers and and the Carters return and Cash also drops in some old spirituals (There'll Be Peace in the Valley, He Turned the Water into Wine) and of course Wanted Man co-written with Bob Dylan, A Boy Named Sue, Busted . . .
His song San Quentin is so popular with the inmates he has to play it again.

Now reissued at a budget price and at JB Hi-Fi stores here, this is one of those powerful poles on which Johnny Cash built and confirmed his legendary status.
Although it includes passages where the momentum slows, this is essential in any sensible and inclusive collection.
It is here on Spotify.