Graham Reid | | <1 min read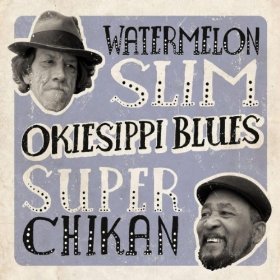 In Clarksdale, Mississippi I saw a singer/guitarist who called himself Howl N Mudd, which was certainly a man covering his bases. (That story is here.) The juke joint he played in was very popular (be sure to read that piece of graffiti I quote) and recently Elsewhere reviewed a DVD of Watermelon Slim whiuch was filmed there.
Slim has a great backstory -- more interesting than his DVD performance -- but here he gets typically earthy and real with fellow traveller Super Chikan (also on vocals, guitar, diddly-bo).
Slim sings "I don't take no five minute solos, but I still say what I gotta say" on Don't Wear No Sunglasses where he also says he "don't play with no effects, don't need no whammy bar".
Nope, this is just fat-freed, good natured and most often improvised blues from diddly-bo and electric guitarists: raw, drummer-less and unadorned as this road-hardened duo like it.
Mostly originals -- if you've read Slim's story you can understand why he would write/speak a song entitled Northwest Regional Medical Center Blues -- but they also cover Mississippi Fred McDowell's With You Without You with Slim on kalimba (thumb piano). They also engage in a seven minute diddly-bo duel (which leans heavily on the theme from Peter Gunn).
Interesting but hardly essential.
Like the sound of this? Then check out Blues in Elsewhere.