Graham Reid | | <1 min read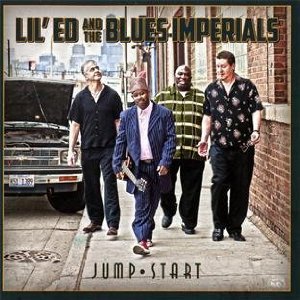 When Bruce Iglauer founded Alligator Records in Chicago 40 years ago it was to release albums by the likes of Hound Dog Taylor and Albert Collins who were burning up local clubs with their incendiary and tough minded playing.
In 1986 singer-guitarist Lil' Ed and his band were invited to record a song but, treating the studio like stage, they stormed through a whole set which became their debut album Roughhousin'.
That's Lil' Ed, just plug him in and stand back. And this 14 song collection is in the classic Chicago style of barbed wire guitar, tough lyrics about hard times (smoking crack) and luckless love.
Lil' Ed (who is indeed very small) is close to 60 but there's no suggestion he's slowing down – his solo on House of Cards alone could peel paint – but when he pulls the pace back for slow-fuse ballads he delivers with a rare passion and injects his playing with melancholy (the weeping tone on Life is a Journey or the funereally-paced If You Change You Mind).
But mostly what is here kicks in with drilling drums and swooping bass behind his piercing slide which comes on like Elmore James in a drag race.
Light the fuse, stand well clear.
Like the sound of Alligator blues? Then check this out.