Graham Reid | | 2 min read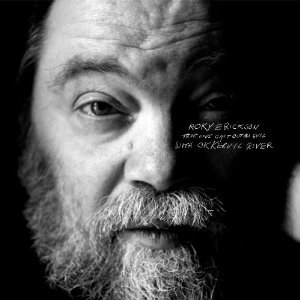 In 2010, the most recent album by the emotionally damaged Daniel Johnston, Is and Always Was, found his often fragile and shaky acoustic pop placed in the context of a band -- and while it was fine to hear his songs that way (as he wanted) there was also a sense that their nakedness had been sacrificed.
That wasn't the case on True Love Cast Out All Evil where Roky Erickson -- the battered former singer in the Thirteenth Floor Elevators -- continued to be rehabilitated, this time with support from local Austin band Okkervil River.
Erickson's lyrics speak of hope (and loss of hope) and have a natural, country/country rock sound which Okkervil River was entirely comfortable with. And where the mood shifted on Be And Bring Me Home the music shifted from rock ballad into a gentle gospel mode with a steadily uplifting chorus.
This was sympathetic music, and rather more on the money than that which Johnston's songs were given.
It helped too that Erickson was still in fine, if very different, voice. Where once he could scour a pot with his vocals now he sounded like a road-worn troubadour (sort of a smoother Kristofferson in places).
The opener is a lo-fi recording with plenty of tape hiss and background clatter, but its tone and sentiment -- it is entitled Devotional Number One -- sets the mood for an album which has elements of faith and religion scattered throughout. The album ends with God is Everywhere, also a ragged home recording (with a string part added, which makes it sound like a melancholy Civil War ballad).
But there is also simple electric guitar stum'n'stomp country-rock on Bring Back the Past; Please Judge is an emotional plea for mercy over simple piano with an emerging string section and some weirdly disturbing sonic effects; John Lawman is a searing psychedelic rocker, Forever is confident ballad which finds Erickson in effortlessly strong voice . . .
Because these songs comes from all parts of Erickson's life -- Okkervil's Will Sheff who produced was given 60 unreleased songs which Roky had recorded on cassette at home in or Rusk State Hospital for the Criminally Insane -- there is also a powerfully autobiographical undercurrent. But you get the sense Erickson isn't asking for sympathy.
There are astonishingly moving songs here such as the lyrically simple title track with its pedal steel, Please Judge and Birds'd Crash.
The grace which infects such songs suggest that Erickson may be much more sane than most of us. Wonderful.
.
Roky Erickson died in May 2019 at age 71. Elsewhere has a number of pieces about Erickson including an interview, as well as articles about 13th Floor Elevators (start here). This album was in our Best of Elsewhere 2010 selection.
.
These Essential Elsewhere pages deliberately point to albums which you might not have thought of, or have even heard . . .
But they might just open a door into a new kind of music, or an artist you didn't know of. Or someone you may have thought was just plain boring.
But here is the way into a new/interesting/different music . . .