Graham Reid | | 6 min read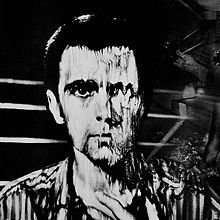 When Peter Gabriel released his third solo album -- the third to simply be entitled "Peter Gabriel" although widely known as Melt after its Hipgnosis-designed cover image -- it was met with almost unanimous and unequivocal approval.
Even the notoriously hard to please punk and raw rock advocate Nick Kent, writing in NME, hailed "the sheer ferocious power of conceit, vision and performance that blazes out of virtually every bar of music" and noted that even though he'd only been listening to it for three days "this reviewer is currently in a state of virtual awe at the achievement".
Kent concluded his lengthy review -- two thirds of a page -- by saying the album was "destined, I am already convinced, to become one of the Eighties' seminal works. On the one hand it is the sound of a man breaking stride and grasping for his moment, on the other it is the sound on an artist fully coming to terms with himself and his sense of values.
"The result is a courageous tour-de-force that anyone who even cares slightly about the current state of rock should take heed of."
His comment about Gabriel "breaking stride and grasping for his moment" doubtless referred to the two albums which had preceeded it, and even further back to Gabriel's split with Genesis in '74 after that band had delivered its creative peak with The Lamb Lies Down on Broadway.
In a similar vein Ian Birch in Melody Maker observed that when Gabriel left Genesis because he felt "dangerously stifled" he needed to undergo "all sorts of personality changes in order to regenerate himself".
"The single Solsbury Hill [which was about his leap to freedom] kept him solvent while the first two solo albums not only gave him room to breathe and experiment again, but also build up that kind of cult following that does wonders for the morale.
"The tactic worked perfectly."
Certainly Gabriel's debut solo album -- known as Car or Rain -- set an interesting benchmark but the more grim follow-up (Scratch) shed more than a few listeners.
So much rested on Melt.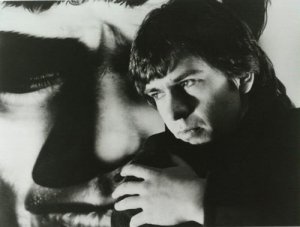 Birch's reference to "personality changes" is interesting as on Melt Gabriel wrote from within different characters: the scary opener Intruder -- with what sounds like knife being scraped along your spine -- adopts the persona of a night creeper who knows how to make his way across creaking floors and how to cut a telephone wire; No Self-Control is a character who inflicts pain on himself and others but doesn't know how to stop; I Don't Remember is the voice of a dislocated individual ("I've got no memory of anything at all") and Family Snapshot adopts the viewpoint of an assassin (perhaps, there is a final curve thrown).
As songs to open an album these were demanding -- the instrumental Start between No Self-Control and I Don't Remember offer a small breathing space -- and Gabriel didn't let up.
And Through the Wire, close to a radio song, came with blazing guitar from XTC's Dave Gregory and lyrics which ran in part "I'm ticking and clicking a metronome, I want you, prowling the waterhole, I wait for the kill . . ."
As James Scrivener read it for RBG Rock Reviews, this was "an anthem for latent depressives".
Well maybe, maybe not.
Throughout Melt, Gabriel introduces socio-political subtexts (No Self-Control, Family Snapshots, And Through the Wire, I Don't Remember, the almost jaunty Games Without Frontiers and Not One of Us) and they come overtly to a head on the most powerful piece on the album, his tribute to the murdered anti-apartheid activist Stephen Biko who was killed in a South African prison.
The starkness of Biko -- both musical and in its haiku-like lyrics -- gave it more power than the reductive sloganeering most common in rock music. It was a song which -- from the opening African chant, simple drum beats, guitar buzz and specificity of its lyric "September '77, Port Elizabeth, weather fine, it was business as usual in Police Room 619 . . ." -- demanded the listener stop.
The unnerving sound of bagpipes (actually a synthesizer replicating the sound) gave the song an unearthly quality and also a subtle anthemic mood.
And Gabriel calls down the spirit of Stephen Biko ("yihla moja", "the descending spirit") but with the counterpoint of chilly simplicity "the man is dead".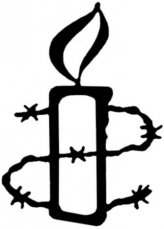 The final verse -- "you can blow out a candle but you can't blow out a fire, once the flame begins to catch, the wind will blow it higher" -- linked the imagery of the Amnesty International symbol with the incendiary power of revolution and an ideal. And the song ended with the warning, "the eyes of the world are wathcing now" while voices sang Senzenina ("what have we done?") at Biko's funeral. Then a crash like a coffin lid closing.
All added to the emotional and story-telling power of the song.
Few albums have managed to bring together inventive music -- propulsive rhythms, vibraphones, found sounds, chanting and rock guitars -- with songs which posessed such claustrophobic power and impulses.
As Kent noted, "the Music of Gabriel 3 often explodes over into an area where the components themselves can muster a very real sense of awe".
Interestingly Gabriel -- as Paul Simon would do for many albums after Graceland -- built these songs in a very different way.
"Traditionally I've begun with chords and melodies and sustained my early interest in an area through movement in those areas," he told Bruce Elder of Melody Maker that year. "This time I wanted to try the reverese of that and work from the rhythm. I think the rhythm track is always the spine of a piece of music and if you change the rhythm track you change the spine and hence the body that falls around that."
Yet this remarkable album was initially rejected by Atlantic, Gabriel's American record company.
As he told Elder: "One of the A&R men from the American record company who dropped the record when they heard it -- they called it too esoteric and commercial suicide -- visited England during the making of it and was trying hard to persuade me to make one track sound like the Doobie Brothers. That is an example of the short-sighted, bigoted attitude commonly found in the hierarchy of the American record insdustry. It will be ironic if this album turns out out to be more successful."
The album topped the UK charts and -- when later released in the US through Mercury -- went to 22 on the charts there. Which isn't bad for an album with songs about nasty intruders, assassins and a black activist many Americans had never heard of.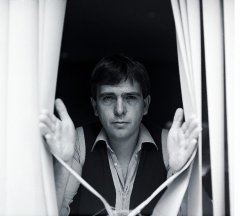 It needs be said however that while the album received almost universal praise there was one notable nay-sayer, NME's Paul Morley who in a two-and-a-half page interview-cum-think piece said "for all the tags of riskiness and vital realism that can possibly be hung on its songs and apparent conceptual coherence, [it] is a meticulously commercial LP. That is not to say automatically awful, but certainly not innovative.
"In times of stress something like this -- rewardingly and in a chart context unusually self/doom conscious -- turns up. The surprise would be if it had failed."
Morley also wrote of Gabriel's honesty being admirable, but his art shallow and that the album spat "melodramatic messages of despondency and confusion".
That must have made for some fiery pub debates with fellow NME writer Nick Kent.
The final words on this quite extraordinary, complex, difficult but rewarding album rightly go to Gabriel -- and come from that same Morley article.
"Emotion is what is important. And I still get a real rush when an idea comes through that really does something to me, and I hope I can relay that. I just think as I've gone on I've got more articulate at relaying that, those . . . . ideas is the wrong word . . . moods.
"I think there is a place where music plugs directly into the nervous system, and the words on top of it, they'r sort of abstraction, mental abstractions . . . but . . . it's a gut feeling".
These Essential Elsewhere pages deliberately point to albums which you might not have thought of, or have even heard . . .
But they might just open a door into a new kind of music, or an artist you didn't know of. Or someone you may have thought was just plain boring.
But here is the way into a new/interesting/different music . . .
Jump in.
The deep end won't be out of your depth . . .