Graham Reid | | 2 min read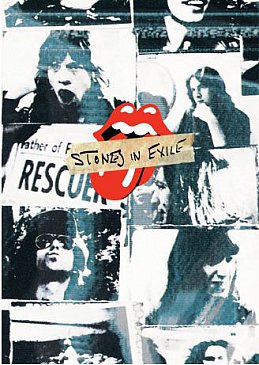 Keith Richards once offered a neat observations of Mick Jagger: "Mick's a lovely bunch of blokes."
Jagger, by all acounts, has that uncanny ability to switch his langauge and accent depending on who he is talking to: with the turn of his head he can go from plum-in-mouth when chatting with a lord or lady to a Jamaican accent if the next person is a Rasta from Kingston.
He's also mercurial his beliefs.
"Mick never looks back," says Charlie Watts -- and yet here are Mick and Charlie back at Olympic Studios and Mick's old house Stargoves where almost four decades ago they worked on the music which became their classic Exile on Main Street double album.
And Mick, who has always professed to not like the album much (the vocals are too buried) and can't understand all the fuss, now seems to have come around and is happy to participate in this two hour-plus doco about the fraught period of that album's birth.
Fleeing Britain's taxman and the on-going harrassment for drugs, the Stones headed off to the south of France where, as self-styled tax exiles, they would try to record a new album.
The time in Richards' hired home of Nellcote where the sessions took place has now passed into history and notoriety. As one French photographer (who came for an afternoon and stayed six months) says, just around the corner you had Marseilles which was the drug gateway to France from North Africa and the other way was Italy with the Mafia. This was a dangerous and tempting place for Richards to be.
This fascinating documentary -- with lots of footage and stills from the time, interviews with all the main participants, and the soundtrack of outtakes -- doesn't deny the drug and alcohol intake. But it more sensibly focuses on the difficulties of making music in a country where you don't speak the language and no one (other than perhaps Keith, saxophonist Bobby Keys and engineer Andy Johns, the latter two lapping up the sun, fun, hedonism and atmospere) much liked being there.
Bill Wyman complains you had to import everything from PG Tips and Branson Pickle, Watts bought a house seven hours drive away so ended up crashing at Keith's, Jagger married the pregant Bianca in the middle of it all and had to keep poping back to Paris where she lived, the "studio" was a small and hot basement, the horn players had to set up in the hall, there were kids and hangers-on . . .
Yet the resulting album -- with imporant overdubs at Olympic later -- redefined the Stones: there was a swampy mix of old blues, Dr John-style voodoo, touches of country and gospel, classic riffery . . .
There is the widespread belief that the album baffled critics and was widely dismissed but that's not entirely true: Rolling Stone magazine certainly didn't get it, but many other writers did. It serves to narrative better to have the album misunderstood or dismissed however.
Someone observes it was a look back at their deep past (Keith and Mick's love of blues and country as teenagers) and also a way forwaard.
Regrettably though the Stones never again revisited the tenor and mood of Exile on Main Street. Within a few years they were back to mainstream studios and much more crisply produced music. The woozy, bluesy and sun-soaked, drug-induced mood of the Exile sessions retreated into the past.
But this was a singular period for the Stones and this engrossing film -- which includes concert footage from their subsequent tour, as well as extended interviews with the main players in the bonus footage -- is an insight into a period of bohemian decadence, and the making of exceptional if very different music from a band that, against all the odds, survived.