Graham Reid | | 2 min read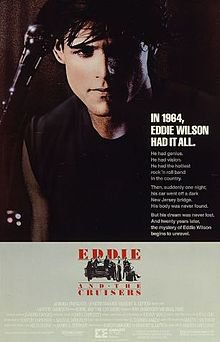 Although this B-grade rock-cum-mystery film from '83 has plot holes and continuity problems so big you could drive a pink '57 Chevy through them, it isn't without some interest, especially if Bruce Springsteen means anything to you.
In the most broadest of terms, it starts like Citizen Kane (a television reporter Maggie Foley -- played by Ellen Barkin -- goes in search of the real story behind the titular rock group whose leader disappeared in '64) but looks more like Grease (slick back greaser rockers Vs the college kid look) and sounds like . . . More of that in a minute.
The story goes that in '62-'63 Eddie and the Cruisers out of New Jersey enjoyed considerable pop success but by '64 it was all over: their saxophonist had died of a heart attack (or not, as we learn) and their lead singer Eddie (Michael Pare) had been killed in a car crash (or not) which happened the night after delivering their ambitious second album -- which was so dark the record company refused to release it.
Journalist Foley believes Eddie -- whose body was never found -- may have done a Rimbaud and disappeared (the album was entitled A Season in Hell after the French writer) and mystery surrounds how the tapes were removed the day after Eddie's death and never found. Sort of Give My Regards to Broad Street? (Nah, that's pushing it too far.)
Around the edge of this story is the band's manager (played by the young Joe Pantoliano, Ralph in The Sopranos) and a sort of Mike Love Vs Brian Wilson showdown when Eddie makes the more ambitious but gloomily Doors-like album. Sort of the anti-Smile.
Central is the band's lyricist ("Word Man") played by Tom Berenger who moved on to become a high school teacher after the band broke up. It was he who put the poetic ideas into Eddie's head and the words into his mouth.
So, plot holes?
Eddie isn't the brightest of lights so if anyone was going to do a Rimbaud it would be Word Man, everyone's hair is too long for the pre-Beatles era it is set in . . . and so on.
And no one was making music like these guys in '62 -- but that is the interesting part.
Singer/songwriter John Cafferty who provides the music here (and sang) delivers some terrific photocopies of Springsteen (sort of Seaside Bar Song meet The River) and Southside Johnny, and then for the little of A Season in Hell that we hear kind of Lou Reed's Street Hassle with a little Doors and Tomorrow Never Knows mixed together.
That of course is the problem: this is essentially an E Street Band sound (the saxophonist is black and played by Michael "Tunes" Attunes who was in Cafferty's real life Beaver Brown Band) and not even they were delivering a rock'n'soul revue with metaphorical lyrics and elegant piano parts in '62 . . . or '64.
Interestingly enough the cornerstone song The Dark Side here (which Cafferty and band recorded) did well in the States after the release of the film, and was better received than the movie.
Check it out, it's sort of kitsch fun and you can spot little plot tics and cultural signifiers if you are that way inclined -- and the music is pretty good, in a heavily borrowed way.
Like the sound of this, then check out this.