Graham Reid | | 1 min read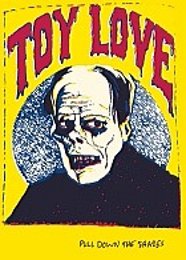 Anyone still wondering why all the fuss over thirtysomething years gone Toy Love -- the legacy award induction, double albums on vinyl, one of which has been the first New Zealand vinyl album to chart in decades -- need only tune in for this collection of video clips (Bride of Frankenstein animated by Joe Wylie), live footage which is manic in intensity (the Sweetwaters appearance) and stuff filmed for television appearance (Chris Knox managing to inject an edge of menace into the very New Wave sound of Squeeze).
Knox, who has been his own most harsh critic, said of this compilation to me recently "wooooow, hmmmm, wooooow!" . . . which pretty much encapsulates it.
The woooow is the sheer frantic and desperate attack Toy Love brought to their performances -- not just Knox but the whole band -- which broke through the wall of the screen (see the songs recorded up close and sweaty at the Rocktheatre in Wellington in early 1980).
The hmmmm might be reserved for their appearance on Australia's Countdown with Squeeze where they look and sound like yet another New Wave band. The interview in Sydney is interesting as they seem reserved and almost shy. Knox says "you really have to do something incredibly silly to get [Australian audiences] off their arses" and how New Zealand audiences are more open.
New Zealand stinks (for a band with ambitions) says Knox, Australia stinks even more and so does London where they were going to head but . . .
But after Australia they did come back . . . and that was the end of Toy Love.
Until now, when they are getting their much deserved time in the sun again.
Plenty of words have been spilled over their albums (see here for a look at the vinyl of one of the most recent) but these 50 minutes -- the footage far superior to the version below -- might just illuminate them even more for those who still don't quite get the fuss.
Elsewhere has earlier articles on Toy Love here, here and here.
There are articles about the magic of vinyl records here, here, here . . . and this odd confession!