Graham Reid | | 4 min read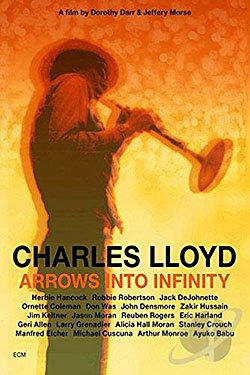 A very odd thing happened a few years ago when I was offered an interview with the great jazz saxophonist Charles Lloyd in advance of a New Zealand concert.
I agreed immediately because after all, this was the great Charles Lloyd whose albums in the previous 25 years on ECM had set a new threshold in not just his own illustrious career but in jazz itself.
More than that, the man had history which went right back to the Fifties when he'd played with the likes of Howlin' Wolf, and in the late Sixties he shared festival and concert bills with the Grateful Dead and the Steve Miller Band.
He was the first jazz guy to play the Fillmore and was also at the Monterey Jazz Festival where they recorded the album Forest Flower (he didn't know it was being taped), and counted among his fans not just the jazz cognoscenti but also John Densmore of the Doors, Robbie Robertson who in pre-Band/Dylan days was on a Lloyd session with Gabor Szabo . . .
But then came the very odd thing about the interview.
Charles was happy to be interviewed . . . but wouldn't speak.
It seems he liked to save his voice so the "interview" would have to be conducted by e-mail.
Breaking a lifetime's resistance to that charade of an "interview" by mail – because this was the great Charles Lloyd – I dutifully sent off my questions, remembering that this too was the man who – at the height of his fame in 1970 – walked away from it all and went into retreat in northern California for many years.
Charles Lloyd was different, so I made an exception.
Seems Charles was prone to making exceptions too . . . because when he landed in New Zealand he was interviewed on radio, and – unlike that knobhead Howard Devoto of Magazine whom I tried to interview on radio and pretended to be effectively mute – Lloyd chatted away.
I forgave him however, because this was the great Charles Lloyd . . . and his subsequent concert was exceptional. He even spoke on stage.
Lloyd was a rarity in the jazz world: he had a huge album with Forest Flower in late 66 which – like the Dave Brubeck's Quartet Time Out – reached out to an audience beyond jazz. It somehow captivated the hippie generation and yet Lloyd and his band (the young Keith Jarrett, Cecil McBee and Jack DeJohnette) did not compromise their music for one second.
Dizzy Gillespie said Lloyd was going to be the next big thing; the band was the first American jazz group invited by the Soviet Union to come over and play ("the KGB would follow us everywhere," said Lloyd); he was a cross-racial success and unifying figure at a time when America was dividing itself and jazz was going into decline . . .
Lloyd was a pioneer and rebel willing to take the heat, says producer Don Was (currently head of Blue Note) in this in-depth, two hour doco – made by Lloyd's longtime wife Dorothy Darr -- which benefits from period footage, interviews with the likes of Herbie Hancock, DeJohnette, Stanley Crouch, Robertson, Ornette Coleman and many others.
It doesn't shirk from pointing out how Lloyd's post-Forest Flower music and lyrics (because he started to sing like a black Bob Dylan at times) had more limited appeal. For others however he was – in retrospect – seen as like a West African griot reflecting his times.
But as the Seventies dawned and his music became more difficult (as did the times), Lloyd resisted the commercial imperatives being imposed on him because of his success, he got into serious drugs ("I thought I was sailing, that everything was great") and then retreated to Big Sur for spiritual healing, detox and to find his own path: "I pulled weeds literally and metaphorically".
It was an almost Zen-like rediscovery of his Self and the Un-self.
He made only very few appearances and recordings for a decade. Until he came upon the great and late French pianist Michel Petrucciani (then only 18) and working with him returned to the public domain.
In '89 he made his first album for ECM, the wonderful Fish Out of Water (with Bobo Stenson, Anders Jorman and Billy Hart) and since then he has enjoyed critical acclaim for his deeply emotional music . . . which might not command as much out of people's wallets but certainly engages heart, head and soul on a very intimate level.
His albums The Water is Wide and Lift Every Voice should be in any halfway serious music collection.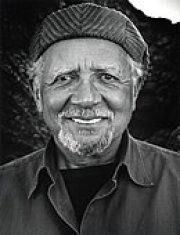 This patient doco (ECM, through Ode in New Zealand) – which includes archival and recent interviews which are honest and clear – illustrates the life of more than a jazzman, but that of a spiritual seeker who became as at home with poets like Lawrence Ferlinghetti, Gary Snyder and Charles Bukowski as he had once been with rock bands . . . . and then there was the journey back through Manfred Eicher's ECM label.
And a near-death experience in '86 after which he rededicated himself to music which would rise above the travails of life. Religious and spiritual music in fact, although he observes America is a religious country but not a spiritual one. He found his spirituality in Indian religions of self-realisation. Inevitably he would work with Indian musicians like Zakir Hussain, also among the interviewees here.
There is a quietness in the final 45 minutes, and although the gentlemanly Coleman and Lloyd were very different people and musicians they had "a beautiful connection" says Robertson.
"I like that he can take you to a state like children playing the playground," says the equally soft-spoken Lloyd about Coleman. They play pool together.
Towards the end he says, "The winds of grace are always blowing, we must set our sails high".
This is a thoroughly gripping, insightful documentary -- with considerable but judiciously edited live footage -- about a wonderful artist and generous, modest human being about whom you will learn much. And maybe even something about yourself.
And also see that Robbie Robertson has a very bad dye-job these days.
.