Graham Reid | | 9 min read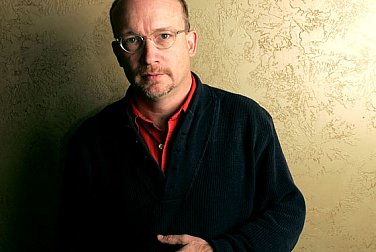 Award-winning filmmaker Alex Gibney is perhaps best known for his documentaries about Wikileaks, the Enron debacle, the sex scandal involving New York governor Eliot Spitzer and the career of disgraced cyclist Lance Armstrong.
But throughout his long career – he is now 61 and has been directing films for 35 years – there have always been a few docos about musicians, notably one on Jimi Hendrix and the blues, and he's just finished up one on James Brown.
But the one currently doing the rounds on DVD is the recently released Finding Fela (reviewed here) about the remarkable, charismatic but problematic Nigerian singer and political figure Fela Anikulapo Kuti who died in '97 after decades of political struggle in his homeland.
Fela the firebrand has most recently been the subject of a musical Fela! which started as an off-Broadway production, made the transition to the Great White Way, had a season in London and has toured Europe and the US.
It received 11 Tony awards in 2010 (and a trimmed-down concert version is currently playing in Auckland).
It was that production which gave Gibney his intro into doing a doco, but the result – a blend of archival footage of Fela interwoven with the creation of the Broadway show – is something different than what he originally intended as he tells Elsewhere.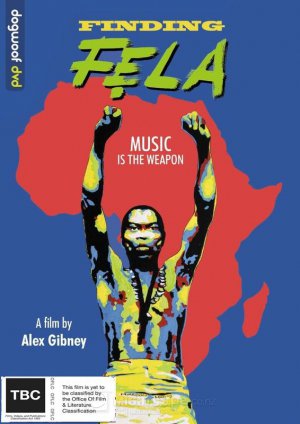 Alex, I should tell you I know exactly who Fela Anikulapo Kuti is so we needn't talk about his life but can turn attention directly to your documentary which I found engrossing. I understand the film began when you were going to follow that Broadway troupe when they went to Lagos to perform . . . but then you realised you needed to explain more about who Fela was for the general audience?
It was interesting: an American troupe doing this show about a Nigerian legend and taking it back to Nigeria seemed like an interesting thing. That was something that Steve Hendel, the guy who produced the Broadway show, approached me about doing.
But what happened was that the real Fela interposed himself and demanded to be heard, and the more we dug into archival material the more that came alive. So it morphed into a different film . . . and the whole idea of "finding Fela" became a parallel experience for me and it mirrored the experience that [Broadway director/choreographer] Bill T. Jones had gone through.
Luckily we had all this wonderful footage that Steve and others had taken of the making of the off-Broadway show and of them trying to figure out what parts of Fela's life to include and what was the essence of the man.
That seemed like an interesting way to go about an investigation of his art, but also a way of emphasising that his music lives in the here and now. So that excavation of the past was a way of bringing it into the present.
When did you first hear Fela's music?
I heard it back in the day, I was listening in the late Seventies when I was in college and I loved it, but I can't say I was a Fela completist until this movie. Frankly for me this really was kismet because I went to see the Broadway play and just loved it, then after that I happened to be contacted by Steve Hendel.
So I enjoyed the music before, but didn't really take a deep dive until the making of the film.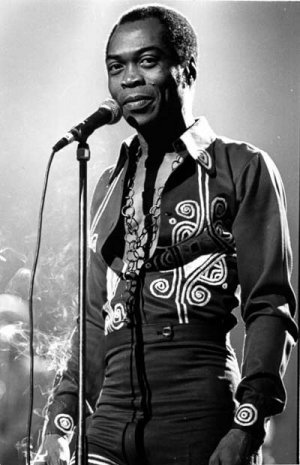 I heard Fela's music back then too, at a time I suspect very few other people did, but what the film did was put songs that I knew and thought I understood – like Lady O – into that broader context of his life and politics.
When you thought you needed to make a different film and went to look for Fela footage, were you surprised just how much was already out there?
I was, and that was one of the things that made us want to keep digging deeper. Then in a garage in Paris, Jack Gulick the producer found the outtakes from [the '82 French documentary] Music is the Weapon as well as some original master material. That was such a precious film, and got him at the height of his power.
That was an extraordinary find.
Then we found other material like photographs, and of course film of that great Berlin concert in '78 which hasn't been available, so we tried to preserve it.
Then there was oddball stuff like that performance of [Fela's spiritual advisor] Professor Hindu at that London club. That was wild stuff. So with all that it really began to come alive, then with certain key interviews – like with [American singer and Fela companion] Sandra Iszadore and his sons Femi and Seun, and his daughter Yeni – it slowly began to take shape on this multiple level.
The footage of him doing his thing is extraordinary, seeing him as the band leader.
I just did a film about James Brown and there a lot of interesting similarities, but also Fela's sinuousness as a performer and the ability to do that political call-and-response as he educated his audience about the issues of the day.
To bring that to life was really something.
And of course you had to do more, contextualise it in Nigerian politics, and Black American politics of the time which was extremely volatile.
Yeah, that was a tall order for a two hour film. But our way forward was to treat it formally as a musical because after all his music is a weapon. So by doing that it had that vibe where the music is telling the story of the man.
You were attracted to him by the politics as much as by the music? Because when I look at your film career you have made a lot of political films, they rather outweigh the music ones. Did you find that aspect – the war with Biafra and so on – a hook in themselves.
It was him searching for a voice really. I do political films, I guess you could call them that. I don't call them political films, I think of them more as moral tales because they are not political in the momentary sense of who's on top and who's going to get elected . . . but in the sense of making social change or being involved in that.
That was certainly Fela Kuti's mission and that interested me a lot, a guy who had something to say and was determined to say it.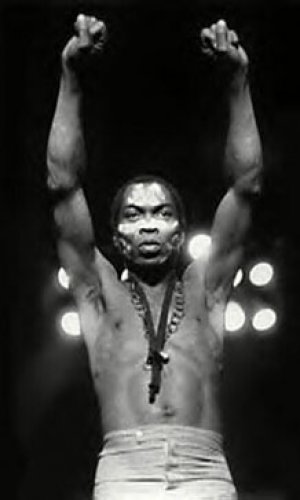 What really got me though, and got me excited as I reinvestigated more deeply than I ever did back in the Seventies, was his ability as an artist to both maintain that rage against injustice and abuses but at the same to be suffused with a sense of deep love. So much so that later some of his aesthetic pieces like Beast of No Nation includes all these very angry lyrics but nevertheless has this meditative, almost spiritual quality at times which acts to make it a much more powerful and enduring work of art.
Johnny Rotten of the Sex Pistols said something like, you don't sing songs like Anarchy in the UK or God Save the Queen because you hate the English but because you love them and hate seeing them being treated badly.
That is well said.
Interesting that you don't consider you films political but moral tales, they are often moral tales about immoral people.
Yes, a lot are about abuses of power and maybe that's where I connected with Fela Kuti. He was obsessed with calling out abuses of power.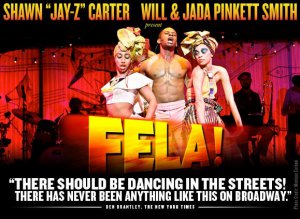 Bill T. Jones made a nice point when he said, 'This is hard medicine for our era'. But there is a punch pulled and you know what I'm going to bring up. Fela's attitude to women is laid out but he made the most appalling statements about what were then called homosexuals. Did it surprise you that Jones, a gay man, and his team would pull back from that, that it was too hard a call for them?
I didn't think it was too hard a call and obviously I asked him the question and he reckoned with it, particularly on the issue of Aids. [Kuti died of Aids-related illnesses].
But I think he decided that in the context – the context of Broadway play trying to resuscitate Fela's art and music – that it was going to be a hard way to end, so they would take a slice of his life.
That is often the best way for a bio-pic too.
But he reckoned hard with that because this is a man who has HIV and seen a a lot of his friends die and I think that was not an easy decision for him, and one which was nevertheless in its own way heartfelt because it was in the service of something he felt was important.
And he allowed himself to do that because the show focused on a moment rather that try to tell the whole life. If he felt he had to do that I'm certain he would have included it.
As you say, it is a Broadway show after all.
Yes, but in the film you see [Jones] grappling with it in the rehearsals, not just the Aids issue but sometimes the way Fela demeaned women. There was a lot of wonder about whether they would embrace that part of his character or whether they would sandpaper it.
Within the pop context of a Broadway production you can feel his swagger in a way that is sometimes uncomfortable in this day and time.
In our film we went further because it is a bitter, hard irony his attitude to women: on the one hand he idolised his mother and her death sent him into a tailspin from which he never really recovered.
But at the same time there is that quote where a woman can be president but when she's at home her man can kick her arse. You wouldn't go far endorsing that.
Then again this is only to say he was a flawed man, as we all are.
Right. I ended up doing another film right after that about James Brown, another deeply flawed character, far more flawed than Fela in terms of his abuse of women. And that must be pointed and be seen as part of the portrait of the man.
But the power of the music endures and sometimes out of that anger comes art. Like, 'If only we'd given Hitler more art lessons'.
He might have been a more successful painter and not invaded Poland.
Yeah, who cares if he was successful or not. I'd be happy if he'd stayed painting landscapes in Bavaria and not ascended to be head of the Third Reich.
This is another example perhaps of where you can respect the art and not necessarily like the artist. I think Ezra Pound was a literary genius but then there is the man you have to deal with.
Yes, his politics were terrible.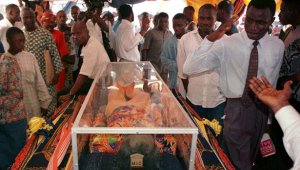 You mentioned in passing you found footage in a garage in Paris, how does that come about?
It wasn't casual, we knew where to look. It was uncertain how this material would be because it was not well stored . . . but suddenly there are the outtakes to this film which was hugely important, and not only that but split audio tracks which allowed us to do things we otherwise might not be able to do . . . like we could let certain songs play longer.
We also found magnificent footage of the funeral in Lagos, that was found in Rome. The cameraman who shot it still had it. I went over to his widow's apartment. It was just extraordinary to see the millions of people turn up in that stadium, that was very, very powerful. And for those people a statement in itself.
And at that time a dangerous statement to make because Nigeria was a dangerous country . . . and even more so now.
Yes, it's poor Nigeria. Its people haven't gotten the leaders they deserve. I've never been to Nigeria because the trip I was supposed to go on I couldn't make, so I sent my longtime cinematic partner Maryce Alberti.
I spoke to Femi when he came to New Zealand last year and asked him what the paramount problem in Nigeria today and without hesitation he said 'Corruption'. And not just political corruption but the guy at the service station wants a bribe to repair your car. Ironically and sadly it's the same thing Fela was talking about.
Right.
The DVD has important extra footage too, the interviews at greater length.
Thank you, it's something I'm very proud of so I'm glad it worked for you.