Graham Reid | | 2 min read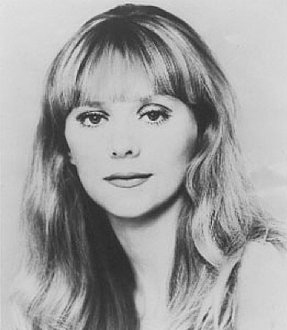 Jackie De Shannon (born Sharon Lee Myers) had great hits and an even better life: As a teenager in Illinois she recorded and wrote a few songs; Eddie Cochran heard a couple of her country tunes and got her to California where she teamed up with Sharon Sheeley to write (notably Dum Dum for Brenda Lee and The Great Impostor for the Fleetwoods); and then at 16 she was signed to Liberty Records.
It was all on: In 1963 she hit the charts with Needles and Pins (written by Jack Nitzsche and Sonny Bono, but sometimes credited to her) and her own When You Walk in the Room* (which had originally been the B-side to Till You Say You'll Be Mine).
Both caught the ear of the Beatles and the Searchers (the latter having chart success with covers of both) and when the Beatles toured the US in '64 they invited her to be the opening act. Ry Cooder was in her band.
She continued to write and while in the UK penned a couple of minor hits with Jimmy Page, then a session musician. Back in New York she wrote with Randy Newman (among them this dramatic song), she scored a number one with her version of Hal David and Burt Bacharach's What the World Need Now is Love, and then she moved to LA and became a songwriter. She co-penned Betty Davis Eyes (with Donna Weiss) which was a hit for Kim Carnes . . . And much more.
If some of this story sounds vaguely familiar it is because Carole King enjoyed a similar career as a singer and songwriter -- and the film Grace of My Heart mirrors their two careers.
Back when she opened for the Beatles (a thankless role, no one wanted to hear anyone other than the headliners) her label rush-released an album to cash in, Breakin' It Up on the Beatles Tour!
The title was meaningless and misleading: it suggests a live album but it wasn't, it was a cheap looking compilation -- but a terrific one despite itself.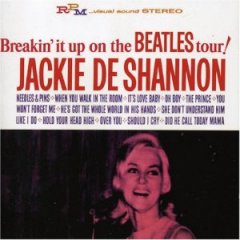 It pulled together her hits (Needles and Pins, When You Walk in the Room), Randy Newman's Did He Call Today Mama and her two co-writes with him (She Don't Understand Him Like I Do and Hold Your Head High), two she wrote with Sheeley (You Won't Forget Me and The Prince) and Allen Toussaint's Over You. And others.
De Shannon inhabits these songs like few singers at the time, or even now. These days women singers (post-Whitney, in the age of Idol shows) ululate and emote without fully understanding the words. De Shannon -- like Sinatra and all the best interpreters -- sees the words as a story to be told.
The standout on the Breakin' It Up album (which has been reissued on CD with extra tracks) is her treatment of She Don't Understand Him Like I Do.
With strings arranged by Jack Nitzsche, she delivers this song as a narrative. She aches in the right places, drops in a speak-sing line at exactly the right point and belts it out like Brenda Lee when the song needs it. She creates the drama and pulls you in.
She also drags notes and gets behind the beat like a jazz singer in places -- but everything is in the service of the song. It is exceptional.
And if you think you've heard that little signature horn phrase before, it is used by the great Buffy Sainte-Marie on The Big Ones Get Away.
But that's yet another story "from the vaults".
* In the clip below for When You Walk in the Room note how she fluffs the intro then gives a very knowing and natural wink. That's star quality.
For more one-off or unusual songs with an interesting backstory see From the Vaults.