Graham Reid | | 2 min read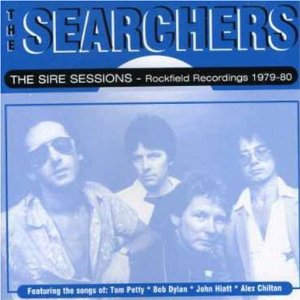 Despite the durability of Gerry and the Pacemakers' Ferry Cross the Mersey, there is little question that the most successful group out of Liverpool in the Sixties -- aside from that other one -- was the Searchers.
In the wake of the Beatles there were a dozen or so bands who rode into the charts -- Gerry, The Big Three, Billy J Kramer and the Dakotas, not to mention evaporating acts like Tommy Quickly or long stayers such as Cilla Black.
But when it comes to a hit count -- and in fact a musical influence on subsequent generations -- the Searchers stand out.
They scored plenty of hits (always some kind of measure) and they included Sweets for my Sweet, Sugar and Spice, their cover of Jackie de Shannon's hit Needles and Pins, Don't Throw Your Love Away, Ain't That Just Like Me, When You Walk in the Room (also a hit for De Shannon), the folk-rock of What Have They Done to the Rain?, Goodbye My Love . . .
Of course these were mostly songs chosen for them by Tony Hatch -- but the Searchers' close harmony sound and guitar jangle influenced bands like the Byrds, Tom Petty and the Heartbreakers, REM and many more.
The Ramones covered Needles and Pins because they'd loved the Searchers version.
But as with most bands of the Beatle era, things ran out when times changed and it was clear the Beatles' strength was in that they also wrote their own material. Them that didn't ended up playing workingmen's clubs and within a decade were on "the oldies" circuit.
Which was where -- after inevitable line-up changes -- the Searchers found themselves.
But then the Ramones' record label Sire picked them up (at Joey's insistence some say) and in 1979 the Searchers found themselves back in a studio (the best they'd ever had) and recording an album which bristled with their ringing melodies, chiming guitars and terrific songs penned by Petty (Lost in Your Eyes), Micky Jupp (Switchboard Susan), John Hiatt (Back to the War) and others. They also included some creditable originals.
The album was pure power-pop and also sounded like classic Searchers -- but with a whole lot more ooomph than their Sixties releases.
Critics hailed it as their Second Coming - and it almost was. Another version of the album followed with material by Dylan and others.
But it just didn't happen.
The album stalled, the Searchers' second act just petered out.
Not entirely though. The Searchers (in various versions) still tour and I've seen them a couple of times. Once they were exceptional and powered through one hit after another -- but because their Beatles-era audience was unfamiliar with their second coming Sire album they didn't play a single song from it.
The second time I saw them it was just sad. They played a bar inside the Auckland casino to the sound of slot machines in the background and the "act", such as it was, involved lots of stops and starts and "broad humour". It was as if they were back on the scampi and lager circuit in Britain.
I left when one of them told a mother-in-law joke.
But nothing denies the power pop thrill of their 1980 album -- or on this pop classic, the cannoning drums (Billy Adamson), and ringing guitar of John McNally coupled with his vocals and those of Mike Pender.
Years just fall away.
For more on-offs or songs with an interesting back-story see From the Vaults.