Graham Reid | | 2 min read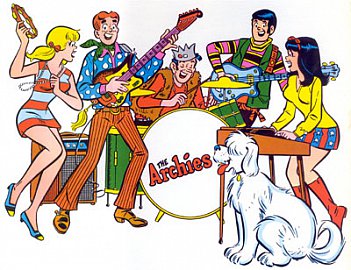 Okay, it's irritating rot-your-teeth bubblegum . . . but wait, there is more to this than you might think -- and remember it came out in the year of Altamont, Hendrix, the Manson murders and so on.
The Archies weren't a proper group of course, they were actually singer Ron Dante, session musicians and the great Toni Wine (more of her shortly). At the time this song was selling millions, Dante was also the singer in another studio band the Cuff Links (whose single Tracy was going Top 10) and had recorded the song Free which was scraping the bottom of the Top 100.
Dante is one of music's more interesting, if little known characters: in the early Sixties Don Kirshner signed him to sing demos and then write his own material; his parody of Leader of the Pack (Leader of the Laundromat) reached 19 on the US charts in '65; he was part of Dick Clark's Caravan of Stars and performed on the same bill as the Stones, the Animals, Little Richard and others; he wrote one of the first rock musicals (Billy Budd) which ran on Broadway in '67; sang the theme to a Doris Day western; and was spotted by songwriter/producer Jeff Barry . . .
And so, when Barry hooked in Toni Wine (again, more of her in a minute) he became the lead voice of the Archies on Bang Shang-A-Lang and then Sugar Sugar which Barry co-wrote with Andy Kim (who's another story again).
Dante went on to record solo albums under his own name but still popped up as the anonymous voice in studio bands; wrote and sang massively successful commercials for McDonalds, Pepsi and others; and then, improbably for a man who had sung Sugar Sugar just a few years before, became the publisher of The Paris Literary Review in '78 at the prompting of his neighbour the author George Plimpton when that literary journal was looking for new money to keep it afloat.
But enough of Dante.
Toni Wine who sings that soulful "I'm gonna make your life so sweet" line and is backing vocalist throughout Sugar Sugar. She too was a demo singer in her late teens; wrote Groovy Kind of Love with Carol Bayer (a hit for the Mindbenders) and they also cowrote songs covered by Dusty Springfield, the Cookies, Lesley Gore and the Ronettes; and wrote Black Pearl for Checkmates Ltd which gave Phil Spector one of the last hits of his Sixties career.
She sang on Sugar Sugar but quit the Archies after a dispute over payments; wrote Candida with Ellie Greenwood which was demoed by Tony Orlando and became a hit; with Greenwood she became Dawn (as in "Tony Orlando and Dawn") and penned hits for them; then quit and married Memphis producer Chip Moman so appeared on some of the Elvis in Memphis sessions as a backing singer.
She worked with Willie Nelson, Waylon Jennings and sang on Townes Van Zandt's Flyin' Shoes; toured again recently with Orlando and Dawn (when they came to New Zealand she sang Black Pearl with Moana who had covered it) and . . .
So Sugar Sugar may just be bubblegum -- but Dante and Wine have interesting back -- and forward -- stories beyond their brief time as a cartoon pop band.
For more oddities, one-offs or songs with an interesting backstory check the massive back-catalogue at From the Vaults.