Graham Reid | | <1 min read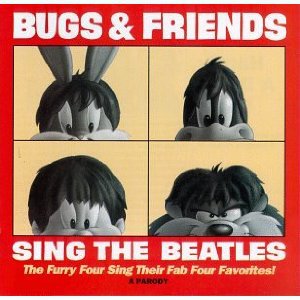 There have been thousands of covers and interpretations of Beatles' songs -- from the refined (orchestral and chamber groups) to the ridiculous (dogs barking out She Loves You), from jazz and Hawaiian (by way of Belgium see here!), from reggae to trip-hop and . . . well, then there were the Rutles (whose parodies were also covered).
There are also these exception and bizarre collections which manage to be both sublime and ridiculous at the same time.
So it was hardly a surprise when Bugs Bunny, Elmer Fudd, Daffy Duck and Yosemite Sam -- the furry four -- released an album of Beatles songs (with liner notes by "Taylor Derek").
Pretty silly -- but despite the interventions of Daffy on this, Elmer Fudd brings real pathos to the lyrics, as he does later on With a Little Help From My Friends.
Those dogs never really got pathos, did they?
For more oddities, one-offs or songs with an interesting backstory use the RSS feed for daily updates, and check the massive back-catalogue at From the Vaults.