Graham Reid | | <1 min read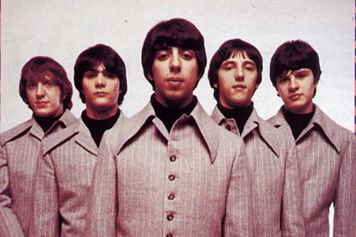 Very few today would even remember the MOR group the Buckinghams from the late Sixties. Their big hit was Kind of Drag ("when your baby don't love you") -- although Hey Baby ("they're playing our song") got a little radio mileage.
The Chicago-based Buckinghams (and think about that location in the late Sixties) were a close-harmony group like the the Ivy League out of Britain at the same time . . . but being American at the time of the Vietnam war they also had something to say. Hence Foreign Policy written by their producer James William Guercio -- who also managed the careers of Chicago (the band) and Blood Sweat and Tears.

With a sample from a JFK speech, the Buckinghams were doing history as it (almost) happened.

Theirs was a short career (although there have been the inevitable reformations since they broke up on late '68) but they managed to a get out a Greatest Hits -- and oddly enough that is where Foreign Policy (which wasn't a hit) appears.
Clearly they wanted this to be out there in the world -- so let's oblige them all over again. Interesting one, prog-rock with politics.
For more one-offs, oddities or songs with an interesting backstory see From the Vaults.