Graham Reid | | 1 min read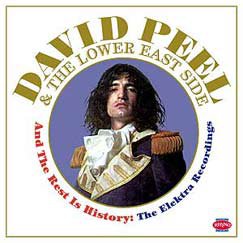 New York's David Peel was living proof of the adage, "It isn't what you know, it's who you know". And how you could milk that association -- however brief -- for all it's worth.
He was also one of those "only in New York" guys.
In the late Sixties when this insightful if reductive piece of political rhetoric was recorded, he was a street busker in the city who sang about marijuana, police brutality (easy) and more marijuana.
Inspired by the Fugs and the political climate of the time, and spotted by a local resident Danny Fields who worked for Elektra (and had signed the Stooges and MC5), his debut album Have a Marijuana (from which this is taken) was recorded live on the streets.
You might guess that Peel's story could have begun and ended there in the discount bins but he caught the eye and ears of John Lennon and Yoko Ono who had moved to the city and Lennon -- full of revolutionary spirit, palling around with the like of Jerry Rubin and other radicals -- saw in Peel the whole underground/anti-corporat/street poet/boho rock counterculture embodied.
He namechecked Peel on his Sometime in New York City album, signed Peel to Apple and produced his third album The Pope Smokes Dope (a modest seller we might say, and not included in the 2010 Apple reissues) and in appearance they became almost doppelgangers.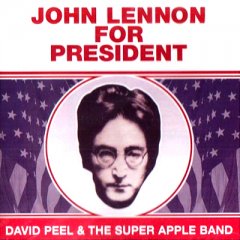 Peel, through the association and appearances on television with Lennon and Ono, became a star of sorts and was included on concert bills alongside some of the biggest names of the period.
After his sole album for Apple, Peel started his own label (Orange, naturally) and to give him credit he has recorded constantly since then: recent albums include Legalise Marijuana, Rock and Roll Outlaw and Marijuana Christmas. He also repeatedly namechecks Lennon, as you would.
David Peel is still out there doing it and while his time in the mainframe was brief, he has been accorded more than a footnote in some history books of the counterculture.
He was a running mate of AJ Weberman (the "garbologist" who hounded Dylan during this period and was founder of the Rock Liberation Front and the Dylan Liberation Front) although was a co-signatory (along with Lennon, Ono and Rubin) to a letter saying Weberman was slandering Dylan and should desist.
"Peel's an opportunist," said Weberman noting that Peel didn't want to upset his superstar sponsors.
Maybe he was. He certainly sang a song in praise of Dylan, although Dylan hated it and said not to use his name.
This track is found on the collection Dirty Water.
For more one-off or unusual songs with an interesting backstory see From the Vaults.