Graham Reid | | 1 min read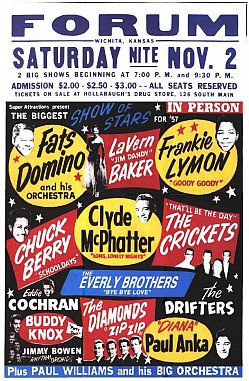 The sudden revival of Wanda Jackson's career - courtesy of Jack White and the album The Party Ain't Over in early 2011 -- has singled her out as a great female rock'n'roller at a time (the late Fifties) when she was out there on her own amongst all the boys.
Not exactly true.
There was also -- albeit briefly -- Janis Martin (whose hit My Boy Elvis she co-wrote with Aaron Schroeder who went on to pen I Got Stung, Good Luck Charm and It's Now or Never for the King) and . . . .
Okay not many.
But LaVern Baker was a rhythm'n'blues belter who had a million seller with Jim Dandy in '56 (aka Jim Dandy to the Rescue, covered by Black Oak Arkansas) and later sang with Jackie Wilson . . . which makes sense when you hear her belt out Voodoo Voodoo with the great King Curtis on sax.
Unfortunately this was a coulda-been hit: she recorded it in '58 (that's before Jackson's Let's Have A Party) but it wasn't released until '61. And by that time -- with Buddy Holly dead, Elvis having been in the army, Chuck Berry in jail and Little Richard back in the church for a spell -- the first wave of raw rock'n'roll had passed.
At the time the charts were filled with more bland acts and this slice of r'n'b rock'n'roll would have sounded like a throwback to an earlier era.
This has been lifted from the excellent box set of Fifties/early Sixties rebel rock'n'roll Loud Fast and Out of Control.
Like the sound of this? Then check out this DVD.
And keep an eye on From the Vaults.