Graham Reid | | 1 min read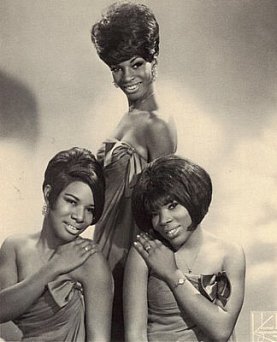 Beyonce's thrilling Bollywood-influenced dancefloor hit Single Ladies; Put a Ring On It reminded of the long tradition of songs about wedding rings, or the lack of them, or how tarnished a memory can be . . .
Elsewhere has already posted a number of such songs: Gary Lewis and the Playboys' pop hit This Diamond Ring and Freda Payne exceptional and ambiguous Band of Gold (about impotency on a wedding night, a rare topic in pop!)
And into this lineage we now acknowledge the great Martha Reeves and the Vandellas. Although best known for the clarion cry to a generation with Dancing in the Streets (which also became a socio-political text) and the dancefloor fillers Nowhere to Run and Heatwave, as well as their superb anti-Vietnam War song I Should Be Proud.
Their star had been steadily falling as the Sixties rolled on however.
But they had one last decent chart success with the poppy Jimmy Mack which had been previously recorded in 1964 but went unissued until Berry Gordy felt the time was right in early '67. Then the lyric about a long gone or distant lover took on new meaning with so many black soldiers in Vietnam.
On the flipside however was Third Finger Left Hand, the title of which it also shared with a 1940s romantic comedy. In many ways it is a fairly standard slice of Motown pop and the romantic sentiment seemed a little passe in 1967.
Yet it is exactly that kind of sentiment which also makes it timeless.
As long as there are people wanting to get married this song will always have a place, just as when people separate or have troubles in the marital bed This Diamond Ring and Band of Gold will make sense too.
This is an excellent overview of Martha Reeves and the Vandellas career.
For more oddities, one-offs or songs with an interesting backstory use the RSS feed for daily updates, and check the massive back-catalogue at From the Vaults.