Graham Reid | | 1 min read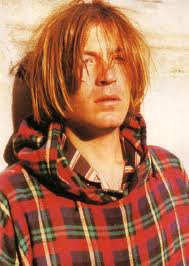 When, in 2004, I interviewed Evan Dando -- the golden boy of great promise who fronted the Lemonheads -- he was pleasingly unapologetic about having taken most drugs known to man . . . and a few only familiar to animals.
He thought taking drugs, getting out of it and generally having a good time were part of the contract in rock'n'roll.
But of course, these days he was clean and sober etc etc. Except a few days later he tried to knock up one of my sons for smack and when he appeared with the awful and disappointing DKY/MC5 the following night he was hopeless mess.
No matter. Dando's gift was being able to bridge aspects of alt.country (Gram Parsons particularly) with power pop and he was always a fine interpreter of other people's songs, right back to his earliest days when he delivered and excellent cover of the Mike (Monkees) Nesmith/Stone Poneys' Different Drum.
In 2009 with the Lemonheads he did a whole album of covers under the title Varshons, but again he took a sideways approach and did material by Townes Van Zandt, the obscure Sam Gopal, GG Allin, Wire, Christina Aguilera . . . and this gentle version/varshon of an early Leonard Cohen song with Liv Tyler.
Yep, that's Mr Dando. If you are going to do a melancholy Cohen ballad, why not have one of the world's most striking women along for the ride?
Part of the contract of rock'n'roll?
For more oddities, one-offs or songs with an interesting backstory use the RSS feed for daily updates, and check the massive back-catalogue at From the Vaults.