Graham Reid | | 1 min read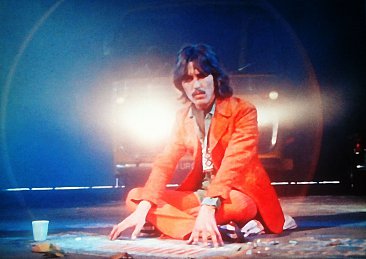 The great jazz flute and sax player Bud Shank -- who died in 2009, aged 82 -- had some form in turning his hand to popular songs (that's his flute on the Mamas and Papas' California Dreaming) but he also worked with the late Ravi Shankar, notably recording the thrilling piece Fire Night for Shankar's 1962 album Improvisations.
The Magical Mystery album from which this is lifted -- which also includes treatments of I Am the Walrus, Fool on the Hill, Flying, Hello Goodbye and Your Mother Should Know alongside other non-Beatle songs -- included contributions from Chet Baker (on flugel), guitarists Dennis Budimir (who'd also played on Fire Night) and Herb Ellis, and percussion player Victor Feldman.
Quite a line-up of jazz legends.
Perhaps the droning cool mood of Harrison's orginal (which appeared in Magical Mystery Tour) drew the West Coast coool school Shank to it. Perhaps because he lived in LA most of his working life he also could relate to the lines about friends having lost their way?
In Harrison's original the words "don't be long" also had a neatly ambiguous meaning: "Don't belong"?
The Shank album is available on iTunes (although they seem to have a weird running order, the vinyl had Beatles songs all on one side) so it's worth exploring if you think there is something going on beyond the lovely surface noise here from the original vinyl.
For more oddities, one-offs or songs with an interesting backstory use the RSS feed for daily updates, and check the massive back-catalogue at From the Vaults.